By
for on March 12th, 2017
Dated or Delightful? Howard's End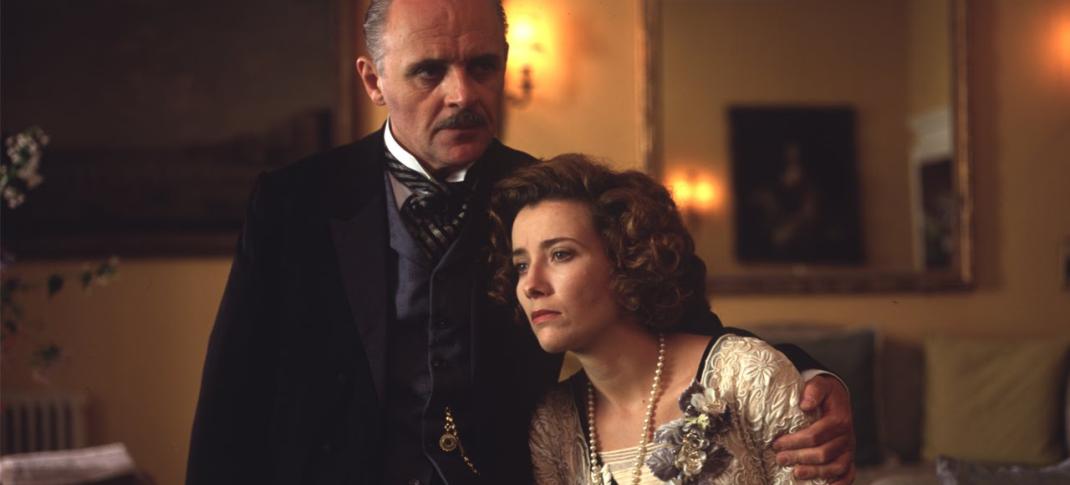 Twenty five years ago this week the Merchant Ivory period film Howard's End debuted in US theaters. Based on the novel by E.M. Forster, this lavish, elegant production met with critical acclaim winning three Oscars, two BAFTAs and a Golden Globe. In fact, the radiant Emma Thompson brought home one of each for her Best Actress performance as Margaret Schlegel. The film boasted an all-around impressive cast featuring Anthony Hopkins, Vanessa Redgrave, Helena Bonham Carter and Samuel West.
For those who aren't familiar with this movie, allow me to fill you in a bit. Howard's End is the name of a country house owned by the seriously ill Ruth Wilcox (Vanessa Redgrave). All through the film the question "Who will inherit England?" is symbolically posed. The answer changes as ownership of the house passes from one person to another.
The people with associations, whether intimate or distant, to Howard's End belong to one of three families each representing a different social class. The bourgeois Wilcoxes are rich and decidedly selfish capitalists; the aristocratic Schlegel sisters by contrast are enlightened humanists; and Leonard Bast (Samuel West) is a young man at the very bottom rung of the middle class. Though he yearns to lift himself up through self-improvement, Mr. Bast isn't in the position to attain the lifestyle to which he aspires. As you can imagine, when these groups veer into one another's paths, friendships, romance and tragedy all ensue.
So the question is this. How has Howard's End held up over the past few decades? Is it as enchanting and timeless as it was in 1992 or has it lost some of its Edwardian charm?  To find out I promptly picked up this classic from my local library and watched it with fresh 2017 eyes.
The fact that we are talking about a movie birthed by a team of period film masters — James Ivory (director), Ismail Merchant (producer) and screenwriter Ruth Prawer Jhabvala — makes it difficult to argue that they didn't get it right. In fact Time Magazine's Richard Corliss declared Howard's End to be "elegant and powerful, accommodating collisions of class and temperament with the grace of a perfect Edwardian hostess, Howard's End is the work to which all Merchant Ivory's other films have pointed and aspired."
The natural beauty, the exquisite costumes and the opulent sets are still a joy to behold. It's also true that the themes of this film feel current despite the fact that over a century has passed since the novel was published. The issues of wealth and class inequality are front and center as we speak. Howard's End is still relevant and full of the charm of England past. Nevertheless, the past twenty-five years have given us a wealth of excellent costume drama, no doubt inspired by Ivory Merchant's body of work. It's inevitable that these newer examples (Downton Abbey, Wolf Hall, Poldark, etc.) will be a point a comparison for a savvy period audience.
The first example I noticed had to do with the portrayal of poverty. Leonard Bast and his wife are struggling at the beginning of the film. He works as a lowly clerk and they live in a flat, judging by the vibration and noise, on top of a train station. As time goes on, their economic situation deteriorates and they claim to be starving, yet their physical appearance changes very little. Their clothing, while unfashionable, is not frayed or disheveled; they don't look ill (though apparently Leonard has an underlying heart condition) or unclean; and we're meant to know that they live in a poor neighborhood mainly because there's a woman hawking soup from a street cart and rubbish is scattered on the pavement. Not as smart as where the Schlegels live at Wickham place, to be sure, but it's also not a Seven Dials slum as depicted in the recent series Victoria.
Also to show the passage of time, the filmmakers employ a jarring effect. The screen fades to black then skips ahead within the same scene just like a bored viewer armed with a DVR remote who can't be bothered with small talk.  Here we see this technique utilized during a lengthy exchange involving a London luncheon date between Margaret and Mr. Wilcox (Anthony Hopkins).
My final observation involves the subtle humorous elements of Howard's End. While there's absolutely no fault in understated comedy, today's audience may pass it off as mere quirkiness and miss the intended tease or mockery. I daresay that Maggie Smith's pointed delivery of zingers as Downton's Dowager Countess is wildly popular with viewers today. After all I've yet to see a video of Helena Bonham Carter entitled 'Sh*t Helen Schlegel Says'.
That being said, there is apparent interest to return to Howard's End due, in part perhaps, to this notable anniversary. It has recently been announced that a new adaptation of the Forster novel is in the works. The BBC/Starz mini-series will star Hayley Atwell as Margaret and Matthew Macfadyen as Henry Wilcox. The script will be penned by American Oscar winning screenwriter Kenneth Lonergan. I'm interested to see how this classic book will be interpreted and how much it will differ from this beloved, award-winning film. 
Have you revisited Howard's End recently? After a quarter century, do you agree it's still an exceptional period drama? Please share your thoughts about the cast, the story, the remake, etc. in the comments section!
---
By
for on March 12th, 2017
More to Love from Telly Visions