By
for on May 1st, 2021
Contemporary Family Drama 'Us' is Coming to Masterpiece in June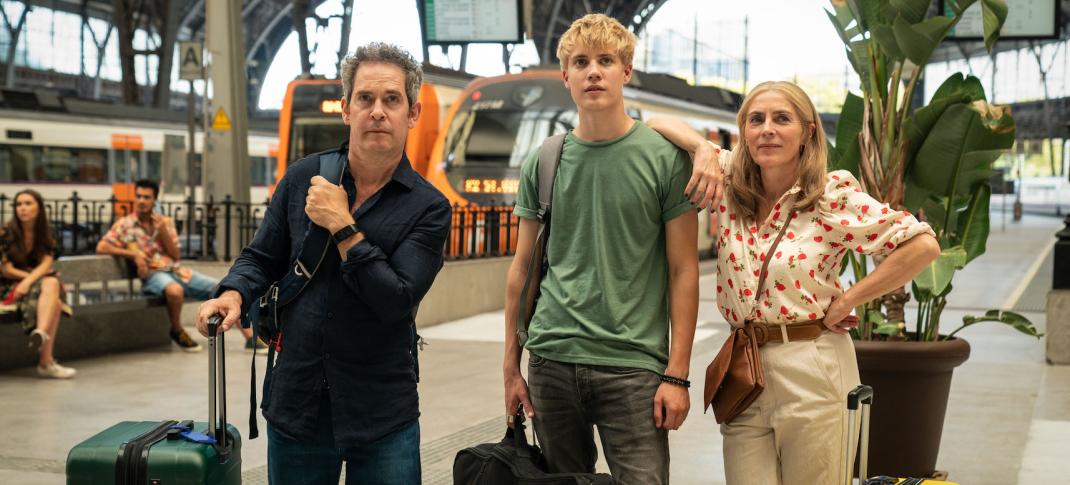 British drama Us will arrive on PBS' Masterpiece this summer, a heartfelt, witty story about a family on the edge of breaking apart. 
Based on a novel by best-selling author David Nicholls, Us follows the story of a couple who embark on a long-planned grand tour of Europe (remember traveling?!), even though the wife has already decided - and told her husband - that she thinks she might want to leave their marriage.
Baptiste's Tom Hollander and Luther's Saskia Reeves play Douglas Peterson and his wife Connie, who head off to see Paris, Amsterdam, Venice, and Barcelona with their distant teen son Albie, despite knowing that their relationship is essentially over. Tom Taylor plays Albie and the series also features Roadkill's Iain De Caestecker and Sherlock's Gina Bramhill as younger, newlywed versions of Douglas and Connie, at a when their unsuitability as partners seemed stimulating rather than stifling. 
The story opens in suburban Britain, with Douglas and Connie twenty years into their marriage. He is a left-brain type — a scientist — organized, numerical, and obsessively rational. Meanwhile, she is an artist with her right brain firing on all cylinders—visual, creative, unconventional. Out of the blue one night, she wakes up Douglas to announce, "I've been thinking about leaving. I think our marriage might be over."
This is all news to Douglas, who has been blindly contented with matrimony. He immediately decides to change his ways in order to change her mind. She agrees that they should at least go ahead with their planned European holiday, designed to introduce art-school-bound Albie to the glories of continental culture. At seventeen, he is not exactly thrilled to be doing the tourist beat with his parents.
Yet all three embark on a grand tour—three weeks, six countries, twelve cities—that is less about museums, monuments, and cafes than how family members can't help driving each other over the edge. The contentious incidents abroad are interspersed with flashbacks to happier days, showing how Douglas and Connie met and fell in love, despite their differences. These scenes also reveal a long-ago tragedy that bonds the couple, and that has deeply affected Albie.
Watch the trailer for the series below.
The four-part drama will air on Masterpiece in two feature-length installments on Sunday, June 20, and Sunday, June 27. 
What do you think of the look of Us? Have you read the book it's based on? Let's discuss in the comments.
---
By
for on May 1st, 2021
More to Love from Telly Visions