By
for on November 20th, 2017
'The Collection' Episode 7 Recap: War & Peace Offerings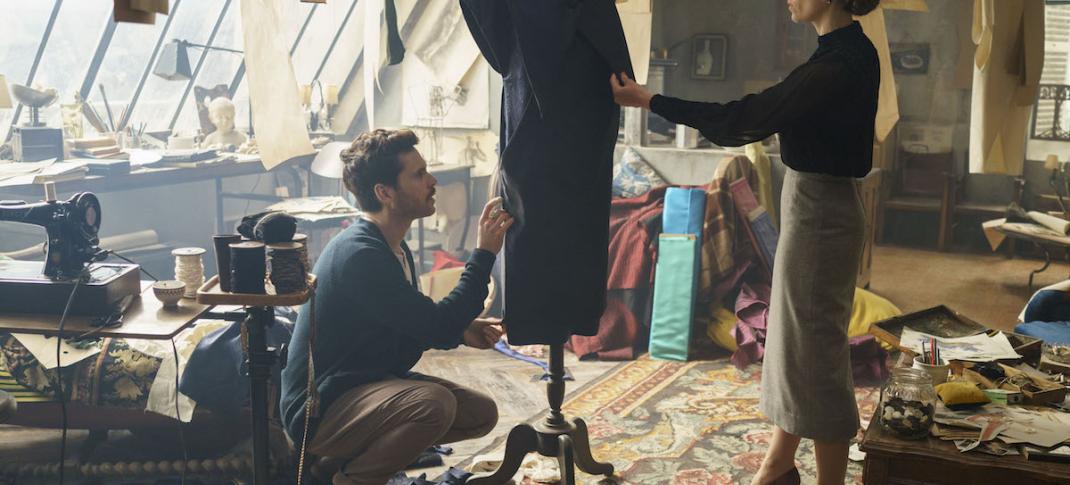 In The Collection's finale, everything the Sabine empire had sewed together finally unravels. 
Charlotte: This is not a cause. this is a business
Majorie: So why are you using your dirty laundry as window dressing?
With the sheer amount of plot left going into the show's final hour, I thought to myself this recap of The Collection would be extra long and involved. But in fact, everything came together so neatly, from the more far-fetched aspects like the Rossi article and the murdered sailor to the more deeply rooted plotlines like the relationships between the Sabine family, and Nina's three men in her life, I was startled... even as it then all fell apart. In the end, there was only one story: that of the house of Sabine. Paul, who has done his best to try and make everything work, when nothing is going his way except the clothes.
Everyone recognizes the loss of Charlotte as a huge deal. Everyone. Even Marjorie, who is a client, is trying to corner Paul and tell him he's been an utter fool, and pride be damned, get her back. What most don't realize is that the loss of Claude is the greater calamity, even as Juliette emerges from the shadows with drawings and ambitions of her own, that might one day get fulfilled, we hope. Just as long as she stops letting Victor undermine her confidence. 
Charlotte has no intention of coming back anyway, even when Yvette swallows her own pride in order to try and get Claude to come home. Charlotte's doing this not for revenge, but for herself, to build something where she's not dependant on anyone. The revenge part is just gravy. It's just that, like Paul, nothing wants to go her way either.  
No one wants to cross Paul. So they have no seamstresses, they have no models (Charlotte has to wear the clothes at the showing.) They have Nina, but only because Claude has not only decided he's doing this to be able to start their family but he's asked her to marry him. (The proposal is great, he casually tosses the ring box at her from across the room.) Nina, meanwhile, will help Claude, but she's really still torn about whether they should leave the baby with the family, or take it back. And they don't have Paul, whose gift for salesmanship, Claude realizes belatedly is the thing he needs. So when Paul comes around and all but begs Claude to come back, Claude waivers, and then accepts when his brother promises him both names on the label.
Paul: What don't you understand?
Yvette: Focusing on a tutu while this office still smells like detective.
Then there's the dead sailor storyline, which feels at first like an interruption when it starts, and more of a plot point to reinforce that Paul doesn't draw the dress designs, so when asked why he drew a star that's on a dead man's body, he can't. He didn't draw it. He doesn't even know where the drawing is. 
But with the detective back everyone seems to be trying to find a way to make this go away. Victor proposes turning himself in, which Paul vetoes. Paul has a better if more indirect idea: having Billy photoshop an image to prove he never saw the body. (Also! Today I Learned that photoshopping was an actual thing that happened in the 1940s, with a special technique of overlaying negatives. That's actually pretty neat.) But the request is one too many for Billy, who starts realizing that Sabine is not the honest man he says he is. In response, he resigns and asks Nina to run away with him. (That two marriage proposals in the span of 30 minutes. At least this one came with a kiss.) 
Then a late-breaking twist walks in: the wife of the dead sailor shows up in the Inspector's office with the late husband's wallet. Said wallet has not only a damning piece of evidence that the sailor did know Sabine, via a Sabine business card but also the phone number to the shop on a piece of paper in Claude's handwriting. And now the Inspector is showing up at Claude's flat (Nina answers the door) looking for him.
It's going to be a showdown at the Sabine Maison, in the middle of Paul throwing a party to bring in more business. Billy is resigning and telling Helen her husband isn't who she thinks he is. Juliette is upstairs wondering if Paul will like her designs. Claude is in residence, signing the paper to become a full partner. Charlotte is there trying to stop him and make a scene at the party. Yvette comes upstairs to try and keep her sons out of sight. But the stress of it all cases Paul to snap, and tell Claude the truth: their mother had his lover killed, in fact, the sailor beating Claude was also bought and paid for by the Sabines as well, the two of them have been keeping everything from him the whole time. But just as we think Claude will blow his top and turn everyone in....
Claude: I'm not here to cause a scene, or rip dresses off of any of your guests or anything. They didn't even see me come in.
Helen: I don't doubt it. You have a gift for disappearing.
....Charlotte is arrested for the murder. Yvette was trying to keep Paul and Claude away from it, because she had planted the evidence, made sure that shop number in the wallet wasn't to Claude's line, but Charlotte's, and even planted the dead man's dog tag in Charlotte's apartment.
She kept the outside forces at bay. But the inside implosion was too large. Claude leaves, ripping up the contract. Our last shot of him, we see him standing outside the police precinct considering what to do. Betray his family? Turn himself in instead of Charlotte? But what about Nina if he does?
Don't worry about Nina. No, she didn't run off with Billy either. He was left standing and waiting in vain. Instead, she's done the thing she needed to do this whole time. She's not trying to take her baby back. But she's walked up to the front door, and we assume will introduce herself and try to find a place in her son's life, like an adult. 
Will Paul recover? How can he? He lost Claude. He's lost his mother. He's lost Charlotte. And as a kicker, Helen leaves him too, having seen the Rossi article (it ran, unaltered, despite Billy's best efforts), and now thinks she married a Nazi collaborator, and that's what Billy meant when he was saying she didn't know her husband. Paul is left alone, staring into the fire, his empire fallen around his ears. Thus ends the Saga of the House of Sabine.
---
By
for on November 20th, 2017
More to Love from Telly Visions