By
for on March 22nd, 2022
'The Chelsea Detective': Episode 3 Recap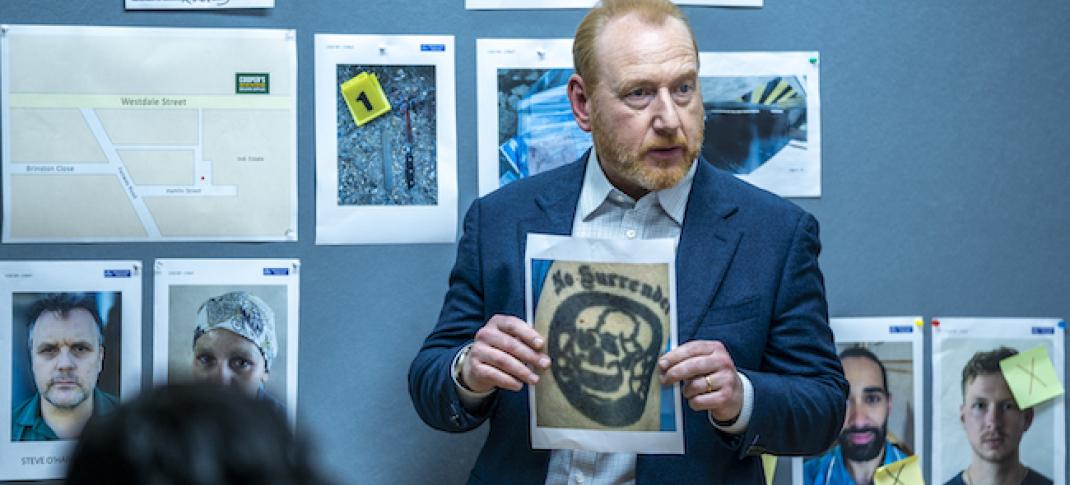 For the third and fourth episodes of Acorn TV's The Chelsea Detective, director Darcia Martin and writer Liz Lake take over, but the format—leisurely plots,  a crowd of likely suspects. and red herrings by the dozen—remains unchanged. That said, it's great to see Max (Adrian Scarborough) off-duty and socializing with his (much taller) friends, having attended a football (soccer) game at Chelsea Stadium, followed by beer. It's all very orderly and friendly, with no sign of the violence that so often erupts after a match.
But not everyone can go to their local game. Steve O'Hara (Che Walker) cooks dinner for his sick wife Siobhan (Sara Smart) and then leaves for his night job, doing security at Coopers Building Supplies' warehouse. His boss Artie Sylvester (Craig Blake) stops by and hands him an envelope. Later, the CCTV screens go dark and Steve goes out to investigate. Siobhan, concerned when he doesn't come home, calls and receives no reply.
Steve has been stabbed to death in an area outside the warehouse, and Max and his team, DS Priya Shamsie, DC Jess Lombard, and DC Connor Pollock, get on the case. Both Artie and Siobhan are shocked when Max and Priya break the news to them, particularly the implication that Steve may have been involved in drugs. Steve was something of a local hero. He won an award for a citizens' arrest of some teenage drug dealers, one of whom, Finn Davidson (Jack Cooper Stimson, World on Fire), was arrested. Siobhan's nurse, Paolo Mendez (Ricardo Castro) hovers protectively and after the police have gone, offers her a stronger dose of her usual medication. It's clear she does not have much longer to live.
The next day, Max is on a video call from home with Ashley who reports that a fentanyl-heroin mix was present in Steve's bloodstream, but nothing significant was discovered in environmental evidence, and neither is there CCTV coverage for the murder scene. Max is flustered as he's found the water supply on the houseboat has dried up, he has a mouth full of toothpaste, and at any moment, his ex-partner Astrid will arrive. Astrid makes a rocky start to the day worse. She has decided to sell their jointly owned flat and has dropped by to let him know, leaving some real estate company literature with him.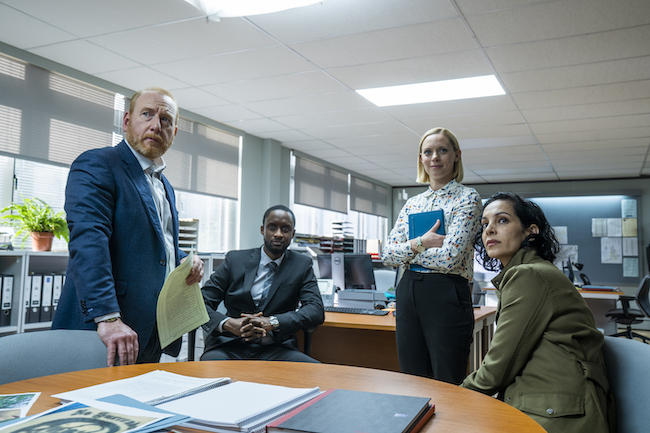 Meanwhile, Max's team has discovered threatening social media posts from Finn Davidson, who has been brought in for questioning. He was at the Chelsea game, and then at a nightclub (probably posh and fancy, from the team's sardonic comments) for the rest of the night. Pressed to see if he left at all, he admits going out for a smoke, and then that he visited his girlfriend's flat at 2:30 am to see if she wanted to come to the club. Not surprisingly, she dumped him soon after by text. Finn––white, privileged, arrogant––points out that if the police seize his phone to check texts they'll also see that his account of where and how he spent the night was true. Connor struggles to remain impartial, conscious that a young Black man in these circumstances might not have such courteous treatment or be able to afford a high-powered lawyer.
When Connor investigates the security camera shutdown of the night of the murder he can only conclude that Steve turned it off himself. Boss Artie, who is looking flakier by the moment, has already suggested that Steve may have left work to visit his wife, although Siobhan denies it.
The team has also discovered that Steve had another job at a very fancy garden center owned by Diana Hopkinson (Rebecca Front, Poldark), who is married to one of Chelsea's richest and shadiest inhabitants, businessman Ricky Hopkinson (Nigel Lindsay, Victoria). It's Chelsea's Open Gardens Day, so Max and Priya can easily join the well-heeled crowd in the Hopkinsons' garden. It's clear that the Fraud Department is longing to get their hands on him. Ricky says Steve didn't work for him, but Diana, flustered and shocked by the news of Steve's death, corrects him. Steve worked for her, doing occasional casual work at the garden center, which, we begin to suspect is her hobby, and probably a front for Ricky's less salubrious business interests. There doesn't seem to be anything more to be learned because the horticulturists didn't talk to the hired help.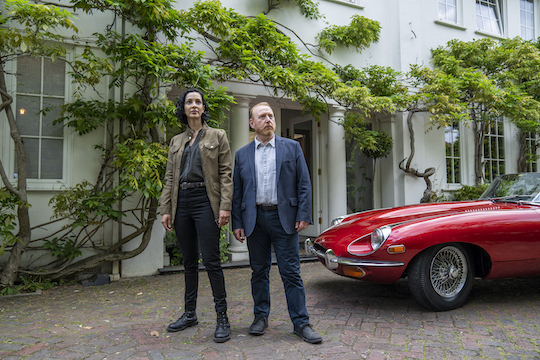 But the more the team dig, the more contradictory the evidence becomes. Another suspicious character shows up at the site of Steve's death, where flowers and candles have been left, and then runs when he hears police radio communications. The same man visits the warehouse at night, and Artie is caught injured by some falling timber while chasing him. He's identified as Steve's friend Taffy, and promptly disappears again.
Artie, who's been clearing out his phone contacts––always a suspicious move––tells the team that Steve would never have sold drugs, but that he did sell excess inventory at the warehouse,  to make ends meet, to which apparently Artie turned a blind eye.
CCTV captured between the warehouse and the O'Hara's house shows Paolo and Steve meeting the day before the murder, and Steve, the anti-drug champion, seems to be buying drugs. Two days before that, Paolo met in the same spot with known drug dealer Marac Ata (Cengis Dervis). Paolo, whose relationship with the dying woman seems very close, admits he cannot bear to see Siobhan suffer. In addition, Paolo is not licensed to practice palliative care nursing in the U.K. and is being paid by Diana Hopkinson's garden center. Diana doesn't know anything about it, but Ricky blusters on about giving a helping hand. And Taffy worked at the Garden Center but was let go because he was unreliable. But although there's a lot of messing around by all involved, there is still no one to charge for Steve's murder, and potential suspects are being ruled out because there is no real evidence or strong connections to be made.
Max visits his friend Carsten Hughes (Karl Collins), who we saw at the soccer game with him. Carsten, formerly a star player for Chelsea, now coaches a girls' team, identifies the tattoo. It signifies membership in a violent, racist football club, the Chelsea Head Hunters, with connections to drug dealing and other illegal activities. It reads "No surrender," above the image of a skull.
Max's credibility with his team rises hugely when he reveals his friendship with Carsten and his encyclopedic knowledge of Chelsea players. But now they turn their attention to Taffy while keeping an eye on the Hopkinsons. We've seen Diana burning documents, telling her husband it's his mess as usual. Taffy receives a call from Siobhan, but his phone is out of juice, and he's drunk and distressed. He leaves his phone on a park bench and takes refuge in a church that offers help to homeless people. Max and Priya find him there, having learned his real name is Brennan Clark. He has a history of violence, but he was under arrest the night Steve was murdered; what better alibi than a police cell.
Not only is he dealing with a frustrating case, but Max's relationship with Astrid has deteriorated. Max is shocked to find an advertisement for their flat in the local paper. She tells Max that after her last visit he was supposed to have chosen a real estate company, and when he didn't, she went ahead. She's already found a new place. Aunt Livvy visits and tells Max that she always thought he and Astrid were meant to be, but he says it's too late. He asks to see Livvy's photos of the herbaceous border contest, and there's a shot of Ricky, with his Chelsea Head Hunter tattoo clearly revealed.
This provides Max with a completely new angle. The Chelsea Head Hunters were infamous for violence at European football games. He starts to research the 2000 World Cup final between Leeds and Chelsea, which was held in Istanbul. The following year, the final was in Copenhagen and he finds a photograph that is significant enough for him to send to Priya in the middle of the night. When Nitin asks who called, she replies that it's someone "Ginger and beardy, very charismatic."
As a result of this, Max's team set up a chance meeting at the police station to see if Ricky and Marac recognize each other. Clearly, they do and finally we get to see the photograph, which shows Ricky, Steve, and a woman drinking before the game. There's only one person the woman could be, and Max visits Siobhan to find out the truth. He's found out her maiden name and that her brother was killed at the Istanbul match by Marac, who also sustained a severe injury. For twenty years she'd waited for revenge and instructed Steve to lure Marac into a meeting to kill him. But, in her words, Steve messed it up and became the murder victim, and Taffy, also part of their tight circle, let her down. 
Meanwhile, Marac is out and about and pays a visit to Ricky's property, where he's enjoying a swim. Marac waits at the end of the pool and pushes him underwater, holding him down. Diana sees what's happening and calls the police before running out to confront Marac—apparently, she knows nothing about the deadly pact of two decades. Max, Priya, Connor, and Jess arrive, and Connor tackles Marac, saving Ricky's life. The Fraud Squad has finally issued an arrest warrant, and Ricky screams out that he's the victim, furious that a Black man has both saved and arrested him.
It's a late day for the team, and Priya arrives home to find Nitin has painted the nursery in the yellow paint she'd chosen. Max goes home to find Carlsten is visiting with beer. Once again, calm at home ends a tortuous and unsettling case. The episode ends with its dedication to all victims of football violence. What did you think of this episode and the series so far? Let's discuss!
---
By
for on March 22nd, 2022
More to Love from Telly Visions