By
for on July 15th, 2015
A Chat with 'Vera's' Brenda Blethyn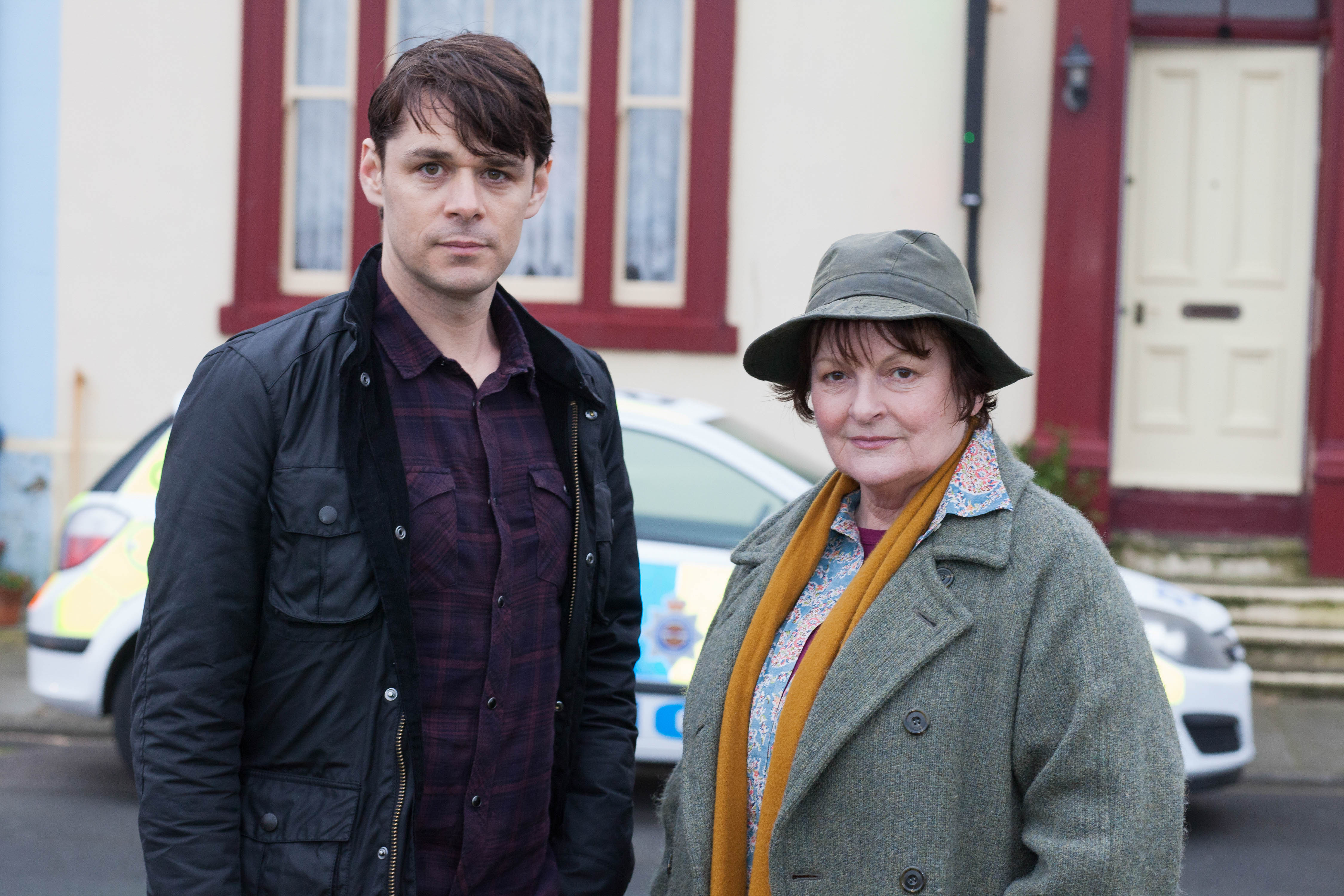 A few weeks ago I received a press release in my email from Acorn TV alerting me, as a blogger, that the streaming service was about to premiere a new episode of Vera Series 5 every Monday for the entire month of July.  (Editorial note: For those of you without Acorn TV access, Series 5 of Vera begins on WETA on July 17, and on other PBS stations around the country beginning at various points this month. Enjoy!)
What really caught my eye, however, were these words - INTERVIEW OPP: Brenda Blethyn. I immediately shot off a reply to Acorn's publicity assistant expressing my keen interest to interview the Academy Award nominated actress. After over a dozen emails and lot of re-watching of Vera episodes, I found myself sitting in my living room yesterday morning waiting for a conference call from Brenda Blethyn herself. 
This being my first interview with a well-known actress (or anyone really for that matter), I was a bit nervous and more than slightly giddy. Nonetheless, as soon as I got the first question out of the way, Ms. Blethyn put me at my ease. I know it's not very professional to gush about your interview subject and perhaps I should be more objective, but I just have to say that Brenda was gracious, generous with her laughter and obviously very passionate about her work. I was already a fan of her acting and now, after speaking with her, I've gotten the distinct impression she's a pretty awesome human being as well.
But enough from this star-struck blogger; please enjoy the conversation I shared with Brenda Blethyn wherein we discussed cast changes, Vera's fashion sense and why she enjoys playing our favorite Northumberland and City police officer, DCI Stanhope.
CC: I understand you're currently filming Series 6 of Vera. What keeps bringing you back to play this character?
BB: I just think it's a wonderfully conceived character. It's not your usual, run of the mill detective and the fact that's she's so ordinary in every respect apart from her incredible intellect at solving crime. She's someone anyone can relate to – old, young, clever, dunces – everyone can relate to Vera. She doesn't look like she's walked off a catwalk. She's not dependent on lipstick. I think the viewers appreciate that the whole family can watch Vera.
CC: Looking over your past roles, I noticed you've never played any character quite as long as Vera so I wondered if you just enjoyed playing her or if there were other motivations.
BB: Yeah, I do. And it's the most beautiful part of the country where Vera is filmed. It's in Northumberland which is the North East part of England right up where it joins onto Scotland.
CC: That was actually going to be my next question, about Northumberland. It's obvious you've spent a considerable amount of time there filming this series. If someone was visiting the area for the first time, what would you suggest as a must-see location or attraction?
BB: All of it. I can honestly say all of it. And there are so many different places. The seascapes are spectacular. There's some beautiful coastal villages. There are beautiful, beautiful moorlands. Honestly it's quite astonishing. In fact, I think the landscape is very definitely another character in a way in the series.
It's a bit of a microclimate up there. You can get all four seasons in one day at times. And the people of the North East are so friendly and, in fact, the tourism for the district has increased incredibly since Vera has been going out.
CC: That's similar to how the popularity of Doc Martin has brought tourists to Cornwall and the West Country.
BB: That's right and Doc Martin is a spin-off from Saving Grace, which is a film I made. Yes, it's wonderful for tourism. And Northumberland used to be, or certainly Newcastle which is the biggest city in Northumberland, used to have a big ship building industry and, of course, coal mining industry, but that is all gone now so the fact the television and film work is kind of regenerating the area and the promotion of tourism is fantastic.
CC: I saw your movie London River and read that you had to learn French for your role as a mother looking for her daughter after the 7/7 terrorist attacks. You didn't know French before the filming?
BB. No, I didn't. That was a bit of an experience. Because that film was made only about four years after the incident and I wasn't very keen to make it because I thought "Oh they're just gonna sensationalize it" and I thought it really does not need sensationalizing. It is sensational enough.
But I didn't know the director Rachid Bouchareb so I went along to meet him anyway - always a good thing to do- and I just found him such a sensitive man and was going to treat the subject matter with the greatest of respect and so I decided to work with him. But, of course, I wasn't immediately available and I had to learn some French and he waited a whole year for me. I was so flattered. And to work with Sotigui Kouyate, wonderful actor, it was a thrill. One of the highlights of my career, I'd say.
CC: I thought the film was very well done and I learned a lot about what happened during and after the incident as well.
BB: Right here in London it's the tenth anniversary on the seventh of July and so that film is showing on our television tomorrow.
CC: So looking back, which was the more difficult challenge?  Learning French or getting the hang of the Geordie accent for Vera?
BB: Geordie! It's a notoriously difficult one, but I had lots of help and of course lots of people on the production are Geordies. People from the area are complimentary so I'm very, very happy about that. Do you find it difficult to understand?
CC: I do put on the subtitles just so I don't miss anything but I think I get most of it anyway –but then I watch a lot of British television.
BB: Some of the accents in that area, and there are many, are very, very broad and I have trouble understanding some of them. But of course we couldn't use that for Vera because it would just be gobbledygook. No, I just had to remember what I learned at school and refresh my memory with the French so that was easier really.
CC: I was re-watching some of the older episodes and at the beginning of the series and noticed Vera was often quick to belittle and put her subordinates in their place but slow to praise them. I'm sensing that Vera is mellowing. Do you or perhaps her colleagues have gotten better at their jobs?
BB: No, I think it's just the circumstances you found her in some of the later episodes. No, it's still there.  She doesn't suffer fools gladly, but at the same time she understands that some people are foolish and can't help being foolish and some it's not their fault.
Underneath it all, she's tolerant but there's a job of work to be done. Particularly one character you're probably thinking of is Holly from the earlier episodes. She [Vera] can't stand people wanting a pat on the back all the time. Just do the work. We're all here.  We're all paid to do a job. Just do it.
She misses Holly actually. I miss Holly. I miss her. She's such a wonderful actress and wonderful friend. She's great, Wunmi Mosaku.
CC: I recall Holly had a scene where she was crying in the bathroom because she wanted to be told "well done" once in a while.
BB: Yeah, but right at the end of that episode you see that Vera really is sorry to see her go.
CC: Vera's work attire looks like she aims for comfort over appearance. How would you describe the philosophy behind her fashion sense?
BB: Well, it really is practicality. She grew up in that house which is right out on the headlands. She grew up and she lost her mum when she was young – she was forty when she was ten. She had to kind of look after her dad who was less than sympathetic really, almost leaning towards the criminal because he steals birds' eggs which is a crime, and she's always having to cover up for him. And tag along with him with he's out with his cronies, wheeling and dealing or stealing birds' eggs or whatever. 
And because of the climate there, you layer. That's what you do. It's the most practical for the terrain when you're walking across moorlands. Boots are the order of the day. So she's prepared for any eventuality at any time.  And she doesn't use a handbag so all these hundreds of pockets she's got all over the place. You might find a cheese roll in one pocket or a piece of forensics in another pocket. It's all practicality.
CC: I did notice she favors the floral prints on her dresses so you know there's a little femininity there.
BB: It's funny to hear that in a sentence. There is a little bit there. She has a go.  And they're rather nice dresses actually. It's just that she's had them for a while and she's not one to go shopping. She doesn't have a mirror. She doesn't look in a mirror.
But also if it's really hot, I am sweltering. I am so, so hot in all those things. But there again, when it's winter I'm the only comfortable one on set because everyone is freezing and I'm toasty warm.
In the books, also another reason for the layering is that Vera is a great big woman.  She's really very tall and big. And so I have to layer up because I can't make myself taller, but I can make myself wider. And so that's what we've done with the choices of costume. It's all designed so everything finishes at hip length so, under the mac especially; it just gives things extra width.
CC: In Series 5 DS Joe Ashworth has been promoted and Vera is assigned a new detective sergeant, Aidan Healy. Has the cast change gone smoothly and is it in your contract that your DS co-stars must be easy on the eyes?
BB: I'm lucky to go to work.  I've got to say I was very sad when David Leon decided to move on to pastures new because I thought the relationship worked very well as everybody did. So ITV were very, very careful who they chose next. It didn't have to be someone who is handsome. It just happened that Kenny Doughty was the best one that everyone saw for the job and fit in with the team. He's a joy to work with. He's a very good addition to the team. Have you seen any of the new series yet?
CC: I was able to get screeners of the first two episodes so I have seen Kenny Doughty come along and I recognized him from Stella with Ruth Jones.
BB: I didn't see that. Yeah, he was in that, but I didn't see it.
CC: I'm sure it is always very sad when someone leaves and it's hard for the new person to come in.
BB: That's always difficult and I was sad. In fact I think David's going to come visit us next week when we start episode 2 so that'll be nice to see him.
CC: I'm being told this is my last question. Vera has no children and is conspicuously uneasy around kids.  However, you've played many memorable mothers in films such as Little Voice and Secrets and Lies. Do you think Vera ever wishes she'd had a child of her own?
BB: I think she would think regrets in that order would be a waste of time really. She has had romance in her life that she would never talk about, but she did just touch on it in one episode there. Regrets? No, she's not lonely. She's a loner.
And she's okay with young people, it's just the toddlers. She wouldn't be a very good babysitter. You see in one episode where she's trying to entertain Joe's children. She blew up a forensic glove like a balloon to try to entertain them.
Regrets? She's married to the job. She lives and breathes that job. There wouldn't have been any time for that.  And that's not to say she won't find romance again. Who knows what's round the corner?
CC: Ooh, you may know something we don't know yet.
BB: Ah, no. I'm not saying anything. But it's possible, isn't it? Why not - snazzy dresser like her?
So Vera fans, the first episode of Series Five is now available to watch on Acorn TV with each consecutive episode to be added each Monday that follows. Select public television stations including WETA are also airing series five so check your local listings for times. 
Also here's a brief series five trailer to whet your appetite for more of the Northumberland landscape and Vera's incredible crime solving intellect…
Thoughts? Are you looking forward to seeing the new season of Vera? Let us know! 
---
By
for on July 15th, 2015
More to Love from Telly Visions