By
for on February 10th, 2014
The Challenges of British Telly Love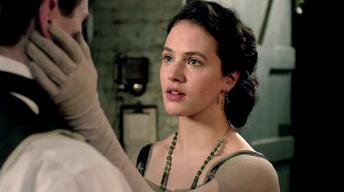 Valentine's Day
is quickly approaching so of course that signals the obligatory loving couples of television list.  Musing over my own marriage of two and half decades, I decided I wanted to highlight British telly relationships that had some barriers to their success.
Staying in love long term is hard work after all and overcoming hardship can bring a couple closer.  And after reading this list you may thank your lucky stars living with a slob or a neat freak is your biggest complaint.
Class distinctions: Lady Sybil Crawley and Tom Branson from Downton Abbey. An idealistic yet aristocratic young lady gets noticed by her family's politically radical yet handsome chauffer. At first Tom Branson (Allen Leech) merely encourages Lady Sybil (Jessica Brown Findlay) to follow her passions toward a more egalitarian society; however, it doesn't take long for him to fall for the free-spirited brunette beauty. 
The wooing goes on for a while because, while Sybil is a forward thinking young lady, she doesn't intend on foolishly opting out of the family she values and loves. Nevertheless, when push comes to shove Miss Crawley gives up her social status and previously comfortable lifestyle to follow her beloved Tom to Ireland. If you know Sybil at all, you know all those trappings never meant much to her anyhow. 
[This video is no longer available.]
Post-Human supernatural differences:  Annie and Mitchell from Being Human. If you think discrepancies in class are difficult to overcome, just think how problematic it would be if you and your lover were basically both dead but weren't members of the same supernatural species as it were. John Mitchell (Aidan Turner) was a WWI soldier who died on the battlefield and was brought back to life by a vampire.  Annie Sawyer (Lenora Crichlow) was killed by her cruel boyfriend Owen and came back as a ghost to haunt her Bristol home…she has unfinished business, you know. Mitchell, along with his werewolf friend George Sands (Russell Tovey), moves into Annie's house and the three supernaturals quickly become friends and, in many ways, one another's safety net for those times when their superhuman urges get the best of them.
After some period of cohabitation, it transpires that Annie and Mitchell have become more than friends. At first the ghost and vampire try for a more physical relationship (which poses a bit of challenge when one of the partners isn't actually corporeal any longer). However, Mitchell decides that since for most of vampire existence sex has equaled violence, he prefers that he and Annie love each other in a pure and spiritual way.  But more challenging than their lovemaking logistics is Mitchell's one big secret that he knows will destroy Annie's trust and drive the woman who is "the love of his long life" from him. 
Legal roadblocks: William Garrow and Lady Sarah Hill from Garrow's Law. Eighteenth century barrister William Garrow (Andrew Buchan) has a passion for more than the law. When he sees Lady Sarah Hill (Lyndsey Marshal) across an Old Bailey courtroom he is smitten as is she. Alas their attraction must go unexplored since Lady Sarah is married to prominent aristocrat and politician Sir Arthur Hill (Rupert Graves).
Though the couple is innocent of any wrong doing, Sir Arthur suspects their feelings for one another and accuses his wife of adultery with Garrow, going as far as to suggest that Sarah's newborn son is actually the barrister's. Though a horrible smirch on her reputation, Sarah is free to be with her true love now, right? 
Well, back in the 1700's a wife had no rights to her husband's property which includes anything he bought for her (clothing, jewelry, etc.) and even more shocking, children were considered property of the husband as well.  In order to regain custody of her son, Sarah fights an almost impossible battle in court. Asserting her innocence against the charges of adultery, Sarah can't risk taking up with Garrow. 
Fiancé: Tim Canterbury and Dawn Tinsley from The Office. Tim (Martin Freeman) and Dawn (Lucy Davis) are co-workers in the offices of Wernham-Hogg Paper Merchants in Slough. Surrounded by ineffective and, quite honestly, dysfunctional colleagues, the two friends spend their time pulling pranks on gullible yet irritating Gareth (Mackenzie Crook) and engaging in coy banter. For Tim, however, it's much more than harmless flirting. 
Their innocent dalliance turns problematic because Dawn is engaged to Lee, a lazy and insensitive Wernham-Hogg warehouse worker. While she has more than an inkling that Tim would be a more supportive partner, Dawn can't seem to let go of the idea that she doesn't deserve more than Lee. It's not until she rejects Tim's out and out confession of love that he realizes he needs to move on and does so with a new woman in the office making Dawn jealous for the first time.
When she returns to Slough at Christmas after an extended "vacation" in Florida with Lee, Dawn discovers that she and Tim still have that connection and affection for one another and decides to take a leap and opt for someone better in her life.
Religious vows: Sister Bernadette/Shelagh and Dr. Turner from Call the Midwife. In London's East End, the midwives and nuns of Nonnatus House work side by side with other medical professionals to serve the impoverished residents of Poplar. Moments of crisis and the joyful occasions of a safe delivery too form bonds that no one else can understand.
In the case of widower Dr. Patrick Turner (Stephen McGann) and Sister Bernadette (Laura Main) there is a slow burning realization that their feelings for one another, while forbidden, are more than friendly professionalism.  So when Sister Bernadette faces a health crisis she is also forced to consider the possibility that the choices she's made in her life may not be right for her any longer. 
[This video is no longer available.]
They don't like each other much: Smithy and Nessa from Gavin and Stacey. Dragged along on a double date with their respective best friends, Neil "Smithy" Smith (James Corden) and Vanessa "Nessa" Jenkins (Ruth Jones) find that they despise one another on sight. The thing is they have quite a bit in common. They both love to drink, they like food even more and their taste in hanky-panky seems to be in synch as well.
As their friends Gavin (Mathew Horne) and Stacey's (Joanna Page) whirlwind romance leads to a sprint towards the altar, Nessa and Smithy are forced to see one another on an uncomfortably regular basis. 
Over the course of Gavin and Stacey's newlywed ups and downs, Smithy and Nessa have just as many issues of their own. A son conceived on their first meeting, a new boyfriend for Nessa and the nagging attraction/repulsion they still have for one another occupy their minds and complicate their lives. In the end, perhaps the reason they dislike one another so much is that each sees him or herself in the other and doesn't necessarily always like the view.
Who is your favorite telly couple and what struggles did they face in order to be together?  Please share your lovey-dovey thoughts in the comments below.
---
By
for on February 10th, 2014
More to Love from Telly Visions