By
for on July 18th, 2017
In Celebration of the Jane Austen Bicentenary: 10 Reasons Why We Still Value Her Writing after 200 Years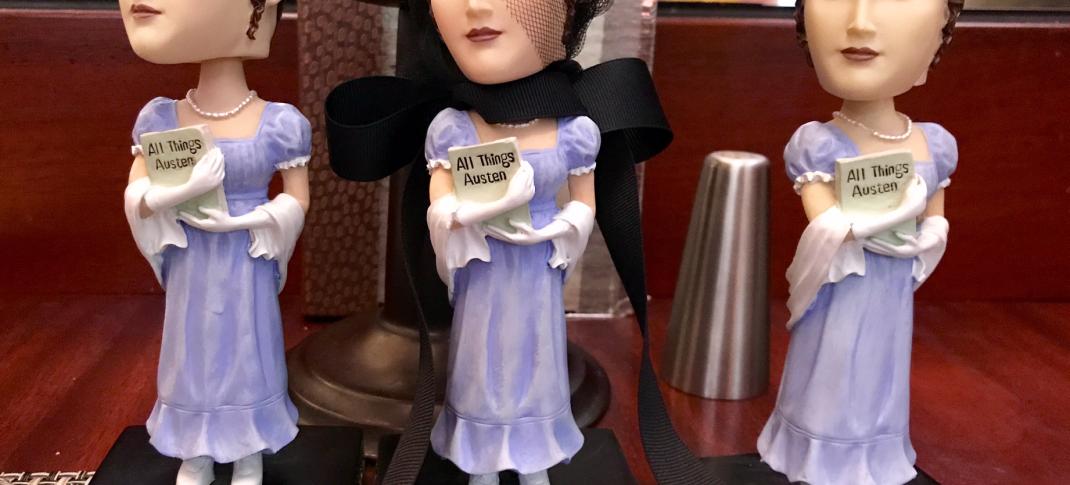 My friends and I met for brunch on Sunday to honor the bicentenary of our favorite author, Jane Austen. We brought our Austen bobblehead's to the party, ordered Austentini's, which unfortunately the bartender could not produce because they did not stock Limoncello (Scandalous!), and generally acted like the privileged heiresses that Austen loved to mock in her novels. (Caroline Bingley, anyone?) Our waiter was not amused.
Tuesday, July 18th marks 200 years since Miss Austen's death in 1817 at the crushing age of 41. Scholars continue to debate if it was cancer, Addison's disease, or arsenic poisoning that took her life. Regardless of the cause, she was cut down in her prime having only produced six novels, one novella and a sundry of minor works. While other early nineteenth century authors have fallen into obscurity, Austen's works have remained in print, grew in popularity throughout the Victorian era and have been embraced by Hollywood in the twentieth century—elevating her to pop culture icon with the new millennium. Would Austen be taken aback by her stardom two hundred years after her death? Most assuredly.
There is no question that her small literary legacy packs a powerful punch. Emma, her fourth novel, has survived the weight of scholarly scrutiny to change the face of fiction and the popular acclaim of her hero Mr. Darcy from Pride and Prejudice continues to produce the "Darcy Effect". Even her dark horse Mansfield Park recently received an elaborate annotated edition by the venerable Harvard University Press!
Each of her novels have been adapted for television multiple times for Masterpiece Classic who broadcast The Complete Jane Austen in 2008, including four new adaptations and repeating Emma (1996) staring Kate Beckinsale in the titular role and Pride and Prejudice (1995) staring Colin Firth as a Mr. Darcy who converted more to the Austen fandom than anyone before, or since. On the big screen, actress Emma Thompson shared the screenwriting credits with Austen when she adapted Sense and Sensibility, winning an Academy Award for their efforts, and her novella Lady Susan surfaced in 2016 as a new film by indie favorite Whit Stillman, entitled Love and Friendship. There are also numerous nonfiction books chronicling her life and times; sequels and spinoffs inspired by her plots and characters; as well as websites and blogs, and tie-in merchandise galore! All this from a parson's daughter who never married, published her works anonymously as "A Lady" and died unexalted. Austen's novels are like a long shot winning the Kentucky Derby.  Good breeding and money doesn't always produce the desired result, but talent will out.
After 200 years, in a time of cell phones, electronic games and the Kardashians, why do we still value Austen's writing? The answer is a visceral response for many and difficult to define. I leave it to Austen herself by sharing ten quotes from her novels that say much more than I could:
Wit
But there certainly are not so many men of large fortune in the world as there are pretty women to deserve them. The Narrator – Mansfield Park
Honesty
"Business, you know, may bring you money, but friendship hardly ever does." John Knightley – Emma
Shrewdness  
From politics, it was an easy step to silence. The Narrator – Northanger Abbey
Integrity
"We have all a better guide in ourselves, if we would attend to it, than any other person can be." Fanny Price – Mansfield Park
Humor
"If there is anything disagreeable going on men are always sure to get out of it." Mary Musgrove - Persuasion
Intelligence  
"You must learn some of my philosophy. Think only of the past as its remembrance gives you pleasure." Elizabeth Bennet – Pride and Prejudice
Misery
"One does not love a place the less for having suffered in it, unless it has been all suffering, nothing but suffering." Anne Elliot – Persuasion
Tolerance  
"One half of the world cannot understand the pleasures of the other." Emma Woodhouse – Emma
Folly
"I admire the activity of your benevolence," observed Mary, "but every impulse of feeling should be guided by reason; and, in my opinion, exertion should always be in proportion to what is required." Mary Bennet – Pride and Prejudice
Romance
"You pierce my soul. I am half agony, half hope. Tell me not that I am too late, that such precious feelings are gone for ever. I offer myself to you again with a heart even more your own than when you almost broke it, eight and a half years ago. Dare not say that a man forgets sooner than woman, that his love has an earlier death. I have loved none but you. Unjust I may have been, weak and resentful I have been, but never inconstant." Captain Wentworth – Persuasion
How has Jane Austen enriched your reading/viewing life? Which of her novels or movies do you cherish? Join in the worldwide Jane Austen 200 celebration today by leaving a comment here, on Twitter and Facebook honoring Austen's talent and enduring appeal. #JaneAusten200
---
By
for on July 18th, 2017
More to Love from Telly Visions