By
for on March 5th, 2016
Celebrate Mothering Sunday with Funny Telly Mums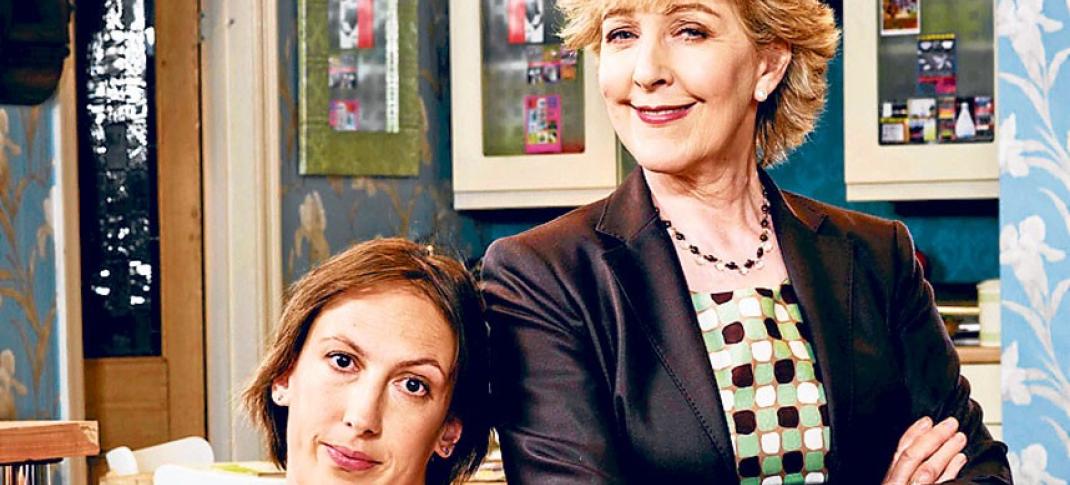 Seeing as families up and down the UK will be celebrating Mothering Sunday this weekend, it seemed the perfect time to honor some of the mums who've entertained us with their parenting skills - via the telly, of course. While not an exhaustive list, each woman chosen highlights various aspects and stages of motherhood with a British comedy touch. There are some of these maternal characters with whom you may not be familiar, but if you are a mother (or even if you just have one) you're sure to recognize the worry, the awkward questions, the power struggles and the pure love behind it all.
How many do you know and love and how many make you very glad you have the mom you were born to?
Sharon Morris (Sharon Horgan) - Catastrophe
A no-strings one week fling between an American advertising exec and an Irish teacher quickly escalates to a full-blown relationship when Sharon discovers she's pregnant and shares the news with Rob (Rob Delaney). He immediately agrees to return to London to work things out with the mother of his child and is eager to take an active role in the rearing of his progeny. Sharon, on the other hand, is not so sure she wants this stranger barging into her life, though the realization that this may be her only chance for a baby does carry weight in her decision.
In the early stages of her pregnancy, Sharon is blindsided with several medical complications which would have even the most serene mother-to-be freaking out. So it's no wonder she has concerns about the future for her and her baby. This late night discussion, though humorous, is very true to life and demonstrates the anxiety begins even before the baby is born.
Nessa Jenkins (Ruth Jones) – Gavin & Stacey
Some parents are firm believers that children need to be stimulated and educated from a very early age. Nessa, as you may know, has led a life full of rich and varied experiences (or has an amazing capacity to make stuff up). Either way she is obviously firmly in the camp that advocates engagement with your infant will lead to superior brain development. Here we find her giving Neil the baby a lesson on world affairs.
Sue Brockman (Claire Skinner) – Outnumbered
The Sue and Pete (Hugh Dennis) Brockman have reached that delicate tipping point where there are more children in the family than parents. Understandably this ratio produces opportunities for kids to run amok. Sue wears many hats. A mother of three rambunctious school-aged children, she works from home and looks after her aging dad as well.
Here a visibly drained Sue tries to answer her newly minted teen daughter's uncomfortable questions about childbirth...
Della Garry (Rebekah Staton) – Raised by Wolves
Single mum Della has a talent for DIY and a doomsday prepper outlook. While her children are technically home schooled students, Ms. Garry's a hands-off type of parent and mostly leaves them to mow the yard and teach themselves. Her tough love approach doesn't mean she's clueless about her brood. Della has a thorough knowledge of her six children and what they are capable of.
Her eldest daughters Germaine (Helen Monks) and Aretha (Alexa Davies) are polar opposites and Della knows how to play them against one another to keep them balanced and safe.
Pauline Pearson (Gina McKee) – Hebburn
Mrs. Pearson is the type of mum whom I identify with the most – a mother that feels most useful when she's looking after her children, even when they're grown. Though she may not seem particularly gutsy, when life's trials come, Pauline meets the challenges head-on
As a point of pride, she is meticulous in her research and makes every effort to assure that guests in her home feel comfortable and welcome. Heaven forbid they think her provincial.
Penny (Patricia Hodge) – Miranda
Miranda's mum is an upper middle class nightmare for her eccentric, free-spirited daughter. They butt heads on almost every topic from marriage to career to social engagements. Nonetheless, in the end I think Penny really does want her daughter to be happy whatever form it takes.
But as we all have experienced, there are times when the well-meaning nagging seems more like a outright rejection of your decisions as an adult. Beware when a mother and adult child who are forced into a corner and feel the need to lash out at one another's values and life choices. This quite serious confrontation is handled with good-natured wit but hits home all the same.
Peggy (Janine Duvitski) - Boy Meets Girl
As a child the best we can hope for is a mother who gives us unconditional love and acceptance. That is Peggy in a nutshell. Despite her eccentricities, or perhaps because of them, she is her transgender daughter Judy's (Rebecca Root) biggest supporter.
The way she explains her feelings about her daughter to Tony (Nigel Betts), the father of Judy's new boyfriend is poignant and beautiful and proof of what a mother's love can be.
Contrary to a popular advertising slogan, being a mother is the hardest job you'll ever love so make sure to thank yours on this Mothering Sunday!
---
By
for on March 5th, 2016