By
for on December 30th, 2015
Celebrate the End of an Era with Ten of 'Downton Abbey's' Best Moments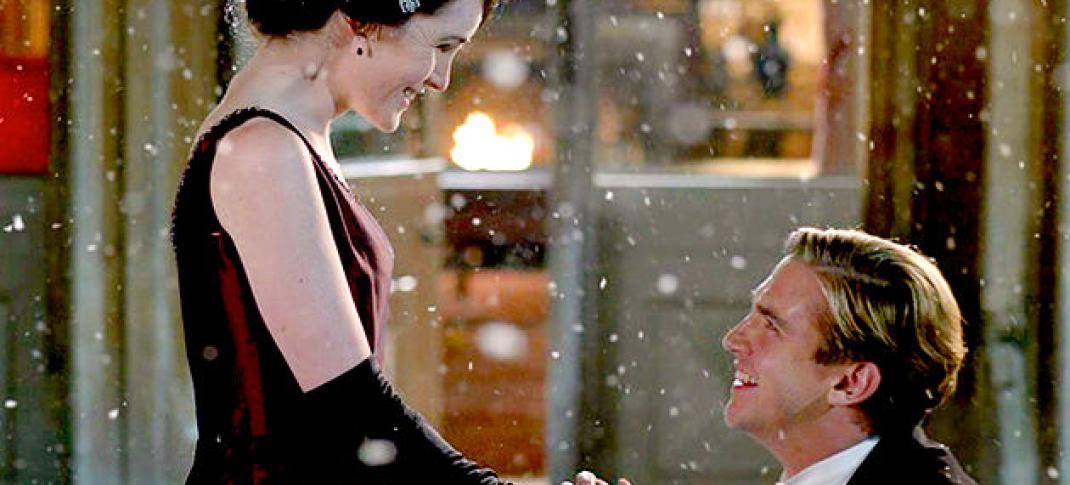 As we prepare to officially kick off the end of an era this weekend– otherwise known as the US premiere of the final season of Downton Abbey – it seemed appropriate to take a moment to really wallow in our heart-bursting nostalgia before the new episodes start.
Downton Abbey has been many things to many people – a game-changing, global ratings smash, a revitalizing reminder that no one does period dramas like the British, a regular source of devastating Maggie Smith quips. But, at its heart, Downton is about people, and the relationships between them, and despite its occasionally overly-soapy missteps (remember that time Matthew's paralysis was cured because it just turned out his doctor was wrong?), it has always gotten the emotional beats of its story right. And from upstairs to down, from servants to aristocrats, it's the characters who make up the heart of Downton Abbey, and the reason why, even when the storylines were almost too stupid to be believed, we still loved every silly, soapy, overly dramatic moment.
So, let's celebrate the beginning of the end with a look back at some of the show's great moments (or at least yours truly's favorite moments) and remember all the reasons that our Sunday nights will feel a bit emptier next year once Downton is gone.
(You will absolutely have deletions or additions to this list – so make sure you hit the comments to share your favorites!)
Matthew Proposes to Mary in the Snow. Remember when we all loved Mary Crawley? Remember when she was actually a likeable character, in spite of her many and well documented flaws? Remember when she got the perfect, fairytale marriage proposal from handsome, amazing Matthew Crawley in the snow on Christmas? Let me die.
I'm never getting over this scene. Ever. 
What Is a Weekend? Is this the most iconic scene from Downton Abbey? This Season 1 gem is probably the scene most viewers associate with the show, even those who don't tune in regularly anymore – and it's certainly the first moment where Downton officially crossed into the pop culture stratosphere. The Dowager Countess has gotten to deliver many, many additional quips and zingers over the years, but this is the moment that shows up on tshirts and tote bags. 
Carson and Mrs. Hughes at the Beach. The Season 4 Christmas special finally acknowledged that the true heart of Downton Abbey is Carson and Mrs. Hughes, and that the show needed to get on making this relationship happen. Of course, in true Downton style, this is possibly the most low-key start to a romantic pairing in history, but, hey, when you've been waiting for four years, time is relative.
 Basically: If you weren't screaming audibly when Carson and Mrs. Hughes waded into the ocean holding hands ("You can always hold my hand if you need to feel steady") then I'm not sure we can be friends. 
Edith Gets Left at the Altar. This scene really underlines the shift from "Edith as a total pointless irritation" to "Edith as perennial loser and endlessly suffering victim". (Remember when Edith wrote a letter outing her sister over the whole Mr. Pamuk dying in her bed situation? Remember when she believed that rando wounded soldier who showed up claiming to be her dead cousin? Ugh, Edith used to be the worst.) Of course, the decision by elderly boyfriend Sir Anthony Strallan to suddenly ditch Edith at the altar makes no sense at all if you think about it too hard – did he suddenly just then realize he was older than Edith was? – but it's tremendously dramatic, and the fallout completely revitalized Edith's character.
Part of me is still irritated that the show never fully embraced the concept of Bitchy Spinster Edith, having her wander down the halls of Downton in a constant, semi-drunk state, relentlessly snarking at any and all members of the household. But, okay. Since I can't have that, let's hope that in the series' last hurrah, they actually manage to let her find some joy.
Sybil and Branson Finally Kiss. If you've ever read the Downton Abbey recaps here, you'll probably remember that I was never the biggest Sybil and Branson fan. However, a season's worth of Branson maybe/maybe not courting that terrible school teacher has taught me that maybe these two were really not so bad after all! Plus, regardless of my feelings on the subject, the Sybil and Branson romance was one of the emotional linchpins of the first half of Downton Abbey, and Sybil's death left an emotional hole as large as Matthew's.
The moment where these two crazy star-crossed kids finally kissed, after surviving two seasons of obfuscation, waffling, emotional constipation and a World War, is exactly the sort of thing Downton does best. 
Mr. Pamuk Dies in Mary's Bed. The first truly series-defining moment of Downton Abbey came when Mary Crawley decided to engage in some illicit (and very adult) relations with a visiting Turkish diplomat. Unfortunately, Mr. Pamuk died in her bed and the eldest Crawley daughter was forced to smuggle his body from her room in the middle of the night, with the help of her ladies' maid and her mother.  That entire messy business was exactly as amazing as it sounds.
But, no matter how campy the actual dead-body-moving hijinks turned out to be (and oh, goodness, was it campy), Pamuk's death and the subsequent scandal involving Mary drove several significant storylines for the better part of the next two years, and provided important character development opportunities for several of the show's major players, including Mary, Edith, Robert and Cora. 
Rose Finally Gets Her Happy Ending. Rose MacClare was a Crawley cousin introduced during Season 3 of Downton Abbey, ostensibly to fill the plucky, pretty, socially conscious young girl role in the wake of Sybil's death. To say that the writers weren't always sure what to do with Rose is something of an understatement – thanks to a hostile relationship with her overbearing (and, quite frankly, terrible) mother, Rose did a lot of acting out. Over the course of her time on the show, she snuck out to meet various inappropriate suitors (including one who was married), dressed up as a kitchen maid to flirt with a guy below her station, and caused a scandal when she decided to date black musician Jack Ross. She also came to the rescue of the royal family when a scandalous letter surfaced, danced at her coming out ball with the Prince of Wales, and joined a charity organization dedicated to helping Russian refugees fleeing the fall of the Tsar. For me, Rose never really got her due as a character – so the fact that she did finally get a great love of her own was a nice surprise.
And, not for nothing, but Rose's eventual husband Atticus Aldrige is the most perfect man they've introduced on the show since Matthew died. Charming, adorable, and completely besotted with Rose, Atticus determinedly navigated many problems – from the cultural differences presented by their faiths (he's Jewish; Rose is Anglican) to his overbearing, frequently awful father – to make sure the two of them could be together. They're super cute. 
Shirley MacLaine is the Best Stunt Casting Ever. Oscar-winning actress Shirley MacLaine has played the role of Lord Robert Grantham's outspoken American mother-in-law several times over the past few seasons of Downton Abbey, and each appearance was more memorable than the last. Few actresses are of a mettle that could ever hope to successfully go toe-to-toe with Dame Maggie Smith's Dowager Countess, but MacLaine pulled it off, getting in plenty of her own zingers in the meantime. She's pitch-perfect as Martha Levinson, who bought herself a comfortable life and her daughter a title with her fortune, but since she's new money, she'll never be truly accepted by the British aristocracy. She's relentlessly American – modern, obnoxious and loud - but sometimes that's exactly the sort of thing that Downton needs.
Matthew Comes Home From the War.  Mary's in the middle of singing "If You Were the Only Girl in the World" during a recital for the soldiers who are convalescing at Downton when Matthew and William – who had been presumed missing during the fighting in France – suddenly appear. Everything about this scene is cathartic and incredible – from the Dowager Countess' wonderfully confused expression, to the whole room singing, to the amazing look of joy on Mary's face when she realized that Matthew was alive and safe, even though both of them where involved with other people at that point. Just the sort of super-soapy goodness Downton does best. 
Anna and Bates Get Married. Anna and Bates are possibly television's unluckiest and most long-suffering couple, considering that they have basically never been allowed to be happy together for more than five minutes in five years. But fans have never really minded so much, because the two of them are adorable together and pretty wonderful. Though their wedding was full of foreboding and angst – the two decided to finally tie the knot so that Anna could officially be his next of kin before he was inevitably arrested for the murder of his first wife Vera – the scene is genuinely a happy one, and still feels true to the (ridiculously self-sacrificing) nature of their characters. 
Those are just some of the moments that made the past five years of Downton Abbey wonderful. What are your picks? What did you hate the most? Let's dish in the comments. 
---
By
for on December 30th, 2015