By
for on April 30th, 2023
'Call The Midwife's Penultimate Episode of Season 12 Celebrates Family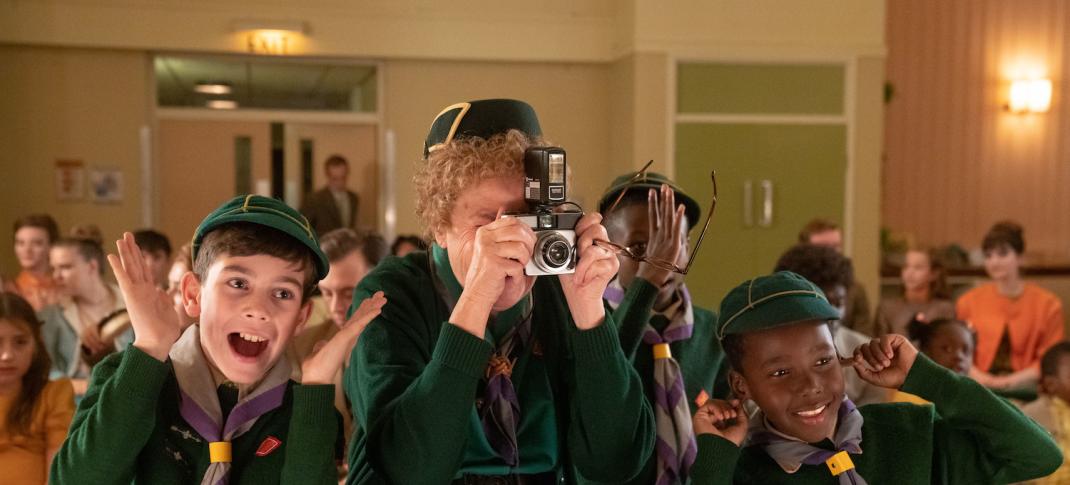 You don't expect to see a caravan (a tiny trailer) parked between looming brick buildings in London, but that's what Call the Midwife's penultimate episode opens on, as that's where the O'Connor family lives, construction worker Maurice (Niall McNamee), his pregnant wife Imelda (Gráinne Good), and their toddler son Paul, with another baby due very soon. Nurse Nancy is concerned that Imelda is evasive about where she'll give birth — clearly not here, with no running water — but the young woman doesn't want another hospital birth.
Nancy suggests the maternity home, which will provide her with the warmth and support her first birth lacked, but both Imelda and Maurice hope they'll get permanent housing any day. Poplar can't build new homes as fast as it demolishes the old, and the many displaced families make do as best they can, their names placed on a local council Housing List.
The next step is to apply in person at the Council Offices and wait to be assigned housing. It's more than likely, given the demand, that they'll return day after day. The O'Connors know their time in the caravan is limited, but to come home and find an empty space littered with their belongings is their worst nightmare, raising an even greater fear that the family, now officially homeless, will be separated. Maurice breaks into an abandoned building so they have shelter for the night. They can't afford anything else.
The family huddles in one room, hiding from a police search, as Imelda goes into labor. She's terrified the authorities will take her son and the new baby away when they learn the family is homeless, and she gives birth in the filthy, squalid, rat-infested room. There's a moment of panic when her daughter doesn't breathe, but it passes, and all seems to be as well as it can be. Maurice plans to join the housing line again, hoping his application will be fast-tracked now that they have two children. However, in the middle of this, Nurse Nancy returns to the caravan site, is very concerned to find no one knows where the O'Conners have gone, and asks Matthew for help.
Nonnatus House meanwhile joyously anticipates Trixie and Matthew's very posh wedding as beautiful hand-crafted invitations arrive for everyone, and there's much admiration of paper quality and so on. Sister Veronica has used her entrepreneurial skills well, planning the community's entry into the Bonny Britain Competition. Sponsored by Bentley's Dairy, families are encouraged to pose for a professional photograph and compete for prizes of canned evaporated milk, the grand national prize being a year's supply.
There's a near disaster when the photographer calls to let them know his car has broken down, but Nurse Phyllis steps in with her camera and rolls of film left over from her European trip. With an intuitive understanding of product placement, Sister Veronica makes sure milk cans are visible in each frame. A winning family, the Shahs, are chosen to advance to the national round.
Phyllis asks Nancy why she and Colette didn't pose for a photograph. Nancy feels she doesn't qualify as no "single mother" category exists. (Officially, Colette is still her younger sister.) Assuring her that she and Collette are a family, Phyllis doesn't want them to miss out, offering to take a photograph. But they're interrupted by Maurice O'Connor, begging for help. Imelda is sick, and the baby isn't nursing. Nancy horrified at the family's situation, tells Maurice to call an ambulance and admits mother and baby to the maternity home. Although she and her daughter are safe now, Paul is put in the foster care system.
Maurice will search for a hostel to stay in and keep working. Imelda says goodbye to her son, not knowing when the family will be united again. "Is this the best we can do?" she asks bitterly of Dr. Turner and Miss Higgins. At the clinic, Nurse Shelagh attends Rosemary Mason (Hannah Jane Fox), an older woman in late pregnancy with an unexpected baby. She's already in early labor, and as she waits for transport to St. Cuthbert's Hospital, Sister Monica Joan rubs her back and calms her. She talks soothingly about how she delivered Rosemary's first, but the nun seems to be remembering another mother — Rosemary's first baby wasn't a boy!
On Nurse Shelagh's first home visit to Rosemary and her new daughter Jacqueline, Rosemary isn't well. She thinks it's a slow recovery from childbirth, but her symptoms alarm Shelagh enough to call Dr. Turner. He diagnoses hepatitis, which is highly contagious. He suggests that if Rosemary doesn't want to return to the hospital, she'll have to institute basic precautions at home, including bottle feeding to protect the baby. No one else in the house is sick, and Rosemary denies that she's been anywhere or met anyone who could have infected her.
Cyril returns from Jamaica, having failed to convince Lucille to return. It's gloomy and rainy, and the first piece of mail he opens in the apartment is Trixie and Matthew's wedding invitation. He glances at a wedding photograph of himself and Lucille, which is heartbreaking. He visits Fred and Violet Buckle, who expected and hoped (as we all did) Lucille would be with him. The Buckles issue a standing invitation to tea (translates as dinner/main evening meal). Still, Cyril has his own plan for emotional and spiritual survival by volunteering at a men's homeless hostel.
The hostel manager, Norman Clint (Neil Bromley), explains the facility's mission, a warm bed and a hot meal only, and warns Cyril to keep religion out of it. Norman isn't heartless, but he knows the limits of what the hostel can provide. Cyril is put on the door with instructions to admit the first twenty in line only, and he greets each man with impeccable courtesy. He has to turn away a young man, Leon Chapman (Spike White), and Cyril gives him money to buy himself dinner. Norman warns Cyril Leon will buy drugs, not food.
Cyril chats with Nurse Phyllis in a wonderfully written scene where he explains that he came home alone from Jamaica and must keep busy. She is sympathetic and encouraging. Soon after that, Cyril finds Leon collapsed on the street. He takes Leon to Dr. Turner, who diagnoses hepatitis and urges Leon to go into rehab. Bu drugs are Leon's only reason to live, as he blurts out his life story of rejection to Cyril, starting with his birth mother, who found herself a new family and didn't want him. Despite his anger, he finds himself drawn to his mother's house in his wanderings on the street.
Since last week's episode, when Sister Monica Joan befriended a small dog, the Nonnatus House community has been alerted to her loneliness and lack of purpose. Sister Julienne is concerned when Sister Monica Joan announces she can't attend Compline and takes to her bed. Sister Julienne and Nurse Phyllis compare notes on her symptoms. She's been off her food, and now she doesn't seem to know where she is, distressed that she is being held prisoner and wants to go home. Dr. Turner diagnoses hepatitis and is concerned that her age makes her vulnerable.
When Cyril visits, Sister Monica Joan recognizes him, although he is warned she may not. He's missed her, he tells her. Nurse Phyllis and Sister Veronica form a truce of sorts, united by their love for Sister Monica Joan and the possibility that they could lose her.
Nurse Shelagh, returning for a follow-up visit to Rosemary, finds her patient in the street talking to a bedraggled young man. Rosemary tells her the whole story after Shelagh has hustled her back into the house. Sister Monica Joan wasn't wrong in her memories of that first baby — Rosemary was a teenager when she gave birth to her son, who she gave up for adoption. Leon found her, and that's how she caught hepatitis. But now she realizes she must tell her husband Arthur (Nick Harris) about that first baby and acknowledge Leon as a family member.
Trixie and Matthew take a break at a cafe. Matthew is stressed, and she's concerned too much is happening so soon after his father's death. She asks him outright if he wants to postpone the wedding, but he sees getting married as something wonderful in a terrible time, as well as being a tribute to his father, who loved her so much. Meanwhile, they are both outraged at the O'Connors' plight and decide to attend the meeting of the local Housing Subcommittee, on which Violet Buckle serves. Matthew interrupts the rambling protocol of the meeting by stating his outrage at the stultifying bureaucracy that has created a housing crisis.
Violet, taken aback, asks him about his role in development and demolition, referring to his family business, and Matthew offers his willingness to provide help and solutions. Trixie beams with pride. After the meeting, Violet challenges Matthew to serve on the subcommittee, which needs new blood, elections taking place next year. She's still not pleased with his interruption, but she adds a reminder about the bridesmaid dress fittings to show goodwill remains. It's a beginning, and certainly Matthew is willing to do what he can starting now.
The O'Connor family is still divided at the end of the episode, although both children are now with Imelda in emergency housing, while Maurice continues to work and stay at a men's hostel, saving money to get his family back together. On a happier note, Arthur Mason accepts the revelation of his wife's past with grace and a huge hug, and Leon, looking much healthier, meets the rest of the family. As for Sister Monica Joan, a wedding is coming up very soon, and have we ever known her to miss an opportunity to eat cake?
Stream Now
Call the Midwife
Call the Midwife is a moving and intimate insight into the colorful world of midwifery.
Image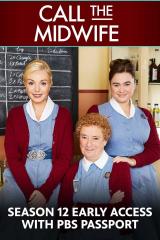 ---
By
for on April 30th, 2023
More to Love from Telly Visions