By
for on December 1st, 2016
'Call the Midwife' Renewed for Three Additional Seasons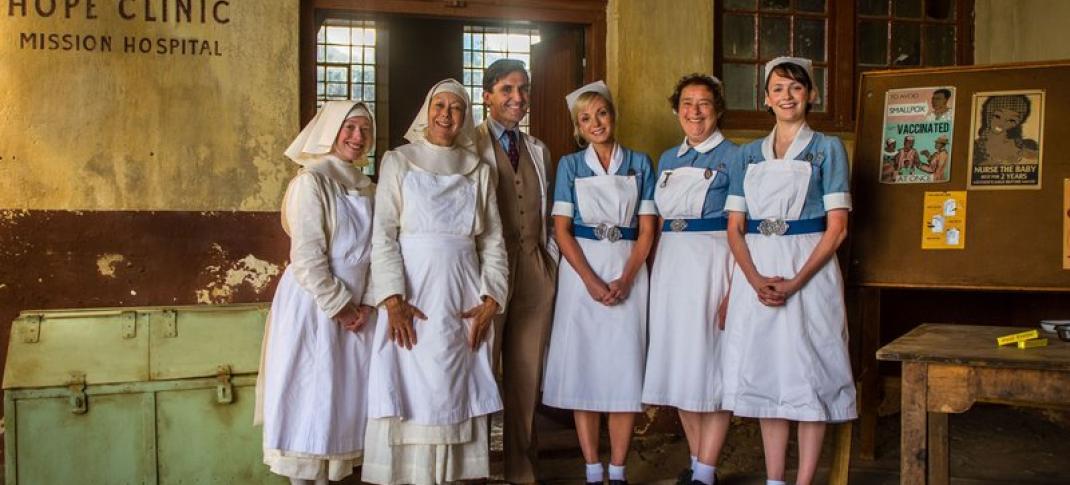 In good news you might have missed during the Thanksgiving holiday: popular period drama Call the Midwife is going to be sticking around awhile. The BBC announced last week that the series has been renewed – not just for a single season, or even two, but three.
The medical drama follows the story of a group of nurse midwives and nuns who care for the residents of the economically disadvantaged neighborhood of Poplar. Call the Midwife, of course, is so much more than that though – really digging into the personal stories of all the different women involved. (It's also great if you happen to need a good cry for whatever reason.)
This is renewal is really big deal. Even mega-popular HBO drama Game of Thrones tended to only get picked up for two seasons at a time. Call the Midwife's sixth season is already scheduled for 2017, so this announcement will take the drama all the way through Season 9, and midwives into the mid-1960s. The BBC press office also confirmed that three Christmas specials will also accompany each of the individual new seasons.
(Maybe this news will help dull some of the pain from the fact that Miranda Hart's Chummy won't be back for Season 6? Here's hoping.)
Here's the official tweet annoucing the three-season renewal: 
Just announced: Three more series of #CallTheMidwife have been commissioned for @BBCOne! https://t.co/hmeReXnYD2 pic.twitter.com/5FT1bU4CQv

— BBC One (@BBCOne) November 23, 2016
Call the Midwife has been one Britain's most popular drama series since it launched back in 2012. All five seasons to date have garnered near or over 10 million viewers per episode, which is a rather remarkable total.
The series' annual Christmas episode will air this December. The highly anticipated sixth season of Call the Midwife will begin in January in the UK, with a Spring airdate to follow in the U.S.
How do you all feel about the prospect of three more seasons of Call the Midwife? 
---
By
for on December 1st, 2016