By
for on April 12th, 2020
'Call the Midwife' Recap: Season 9 Episode 3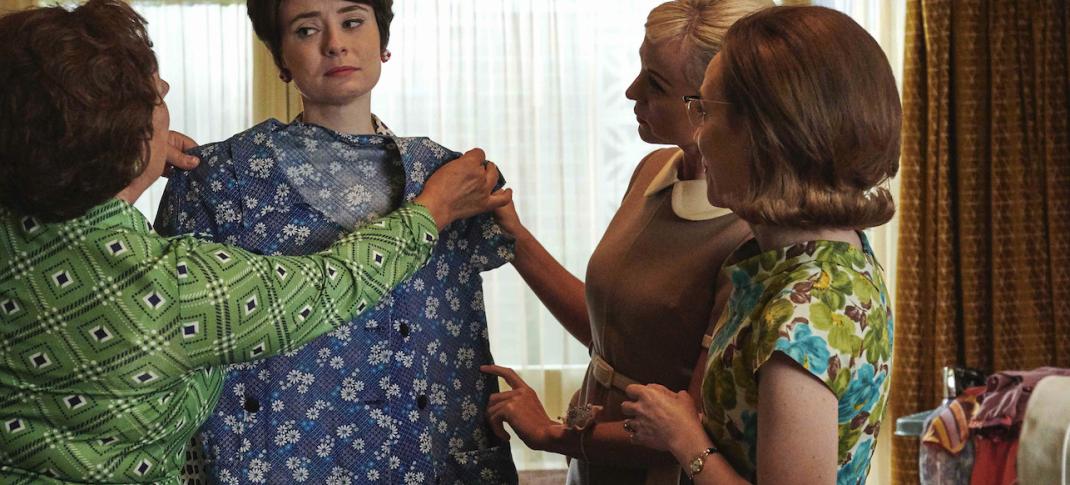 Welcome back to another Call the Midwife recap! Elderly narrator Jenny tells us that it is May and spring has truly arrived in Poplar. This week focuses on the outstanding service of Nurses Crane and Anderson (and in Lucille's case, how dedication to your job can mess with your private life.) The midwives also come together for a worthy and fashionable fundraising event spearheaded by Nurse Franklin and Mrs. Buckle.
Nurse Crane and the Mohammeds
Nurse Crane makes a routine visit to the school to check on the students' vaccinations. The Mohammed brothers, two well-mannered boys recently arrived from East Pakistan, are a concern to Phyllis. She finds them a little on the thin side and wonders who is looking after them at home. Miss Graham (Emilia Williams), who is evidently the only teacher at the school this year, says their father brought them the first day and since then they come to school on their own.
Phyllis follows her intuition and makes a surprise home visit to the Mohammeds. There she encounters an awful smell and an obviously unwell Mrs. Farzina Mohammed (Salma Hoque) whose sari is stained and her feet are badly chafed.
Phyllis sends the boys outside before posing some delicate questions to Mrs. M about bladder control and the whereabouts of her husband. Apparently, he is shamed by her "dirtiness" and has gone to live with friends. Embarrassed and upset, the homebound woman asks Nurse Crane to leave. Phyllis promises to come back and reiterates there is no shame in being sick.
When Nurse Crane returns, she has clothes for the boys and Dr. Turner is en route.  It turns out Mrs. M's incontinence started back in Pakistan when she lost her baby girl after four days in labor. Farzina refuses to let the doctor examine her so Nurse Crane enlists her sons to help locate their father. Once at Mr. Mohammed's lodgings, Phyllis asks him to help them communicate with his wife about her condition and treatment. He is hesitant and sullen, but she reminds him of his responsibility to his family. The boys plead with him and he relents.
Back at the flat, Mr. M serves as translator for Dr. Turner and Nurse Crane. At first the Mohammeds argue about how things have deteriorated between them since they lost their daughter.  Dr. Turner turns the focus back to helping Mrs. M and suggests having Nurse Crane doing the examination instead which Farzina agrees to.
Phyllis finds broken skin, infected sores and an obstetric fistula caused by Mrs. M's traumatic labor. This condition will require surgery to repair the damage.  Farzina fears going to a hospital, but when she asks if Phyllis will accompany her, of course the nurse immediately agrees. She also thoughtfully chooses a beautiful length of floral silk as a gift for a woman who definitely needs something pretty in her life after a horrible ordeal. What a compassionate advocate Phyllis is for her patients!
Meanwhile Dr. Turner councils Mr. Mohammad on what he hopes will be a full recovery for his wife. While the husband pleads his case that he didn't know she had an injury or that she was unwell, Patrick doesn't let him off the hook for abandoning his wife.
In the end, the entire family visits a recovering Mrs. M at St. Cuthbert's, and it looks as though they have a good chance of being a happy family again.
The Very Busy Life of Nurse Anderson
Lately Nurse Anderson and her beau's overloaded schedules have kept them apart. Case in point, a celebration of Cyril (Zephryn Taitte) for finishing his exams has to be postponed when Lucille is delayed by a delivery. And her life is about to get even more hectic when Sister Julienne chooses Lucille to fill in as supervisor of pupil midwives at St. Cuthbert's hospital.
Once there, Lucille meets a formidable patient in Mrs. Connie Blair (Hannah Onslow) who is on bed rest. Her superior attitude and openly rude behavior towards Nurse Anderson would fluster the most patient soul. (Anyone else reminded of one of Catherine Tate's unpleasant sketch comedy characters?) But unfortunately, Nurse Anderson has encountered this type of animosity before and keeps her interactions professional and authoritative.
Bored and uncomfortable, Mrs. Blair becomes more argumentative. When Lucille reprimands her for leaving her magazines all over the floor, Connie gets out of bed and Lucille notices the back of her nightgown is wet. She quickly concludes that her patient is having a contraction and calls for a wheelchair to take her to the labor unit. This only provokes more complaints from Connie who has already deilvered two children at home without any complications.
As Lucille and Connie take the elevator to the delivery rooms, it (predictably) gets stuck between floors. The firemen arrive pretty quickly, but they don't have an easy fix, so Lucille asks for a delivery pack seeing as Connie's labor has progressed quickly.
Meanwhile back at Nonnatus House, Cyril comes to pick up Lucille for a date and has to wait again with Sister Monica Joan. As usual she is excited about the telly and all its amazing adventures. This time it's a drama series, The Third Man, featuring a character named Harry Lime. They both enjoy the program and the company very much.
On the elevator, Connie opens up to Lucille as they wait to be rescued. Her unpleasantness stems from not feeling safe or in control at the hospital (and possibly from some low self-esteem issues caused by her mother). It soon becomes obvious that the baby is coming and will be delivered in the elevator. Nurse Anderson assures Connie that she is a strong woman and is in charge. In a few pushes, a baby girl arrives.  There's a moment of tension when a vial of ergometrine needed to deliver the afterbirth breaks as it's passed through the elevator gate- but they get more so no big deal really.
Connie immediately apologizes to Lucille for how she treated her. They both agree to a fresh start. As they emerge from the elevator, the hospital staff applaud the new mother and her cool-headed midwife. Their story even makes the local paper. I couldn't help wondering why we never saw Mr. Blair though…
Afterwards, Nurse Anderson suggests to Sister Julienne that hospital patients should be given copies of their discharge instructions so the midwives will be in the loop regarding home after care. Julienne likes the idea. Lucille also says she appreciates the chance to work at the hospital, but she prefers her work in the community built by the staff of Nonnatus House.
As for Lucille and Cyril, they get to celebrate not only his exams, but her successful emergency delivery at their favorite Caribbean café.  Inspired by her bravery, Cyril finally gives preaching to their local congregation a try as Lucille proudly stands by beaming.
Fashion Show Fundraiser
And finally, for the lighthearted and community-spirited plot line we've all come to expect from CTM...
Shelagh Turner approaches Nurse Franklin and Councilwoman Buckle to join in the fundraising effort for a much-needed maternity home incubator. Violet knows of a grant that will match donations and suggests that, if Trixie is involved, the fundraiser should be a fashion show.
Trixie, Valerie and Sister Frances brainstorm the idea of sprucing up out-of-date clothes to make them more "au courant". Trixie gives the event a catchy title, Style on a Shoestring!
Later, the ladies meet up at the Turner house for a group sewing/fitting session.  Being the organized shop owner and politician she is, Violet has the price structure, fashion commentary and even the refreshments well in hand.
The day of the fundraiser, the audience is loving the refurbished fashions they models are sporting. That is until Trixie comes out in her haute couture outfit. Extraordinary short and racy, Nurse Franklin's ensemble causes some of the more conservative Poplarites to actually exit the building in protest. And Trixie loves every minute of the hubbub! I daresay the function was a roaring success and brought in plenty of shillings for the incubator fund.
As I watch these episodes, especially during the current crisis we are all facing, I am thankful more than ever for doctors, nurses and other healthcare workers who go above and beyond for their patients.
The persistance, compassion and sacrifice we see season after season on Call the Midwife is genuine and happening in our communities as I write this. I hope you and your families are safe and well and that watching an uplifting series like this brings you some happiness and hope. Please share any thoughts in the comments and see you next week!
---
By
for on April 12th, 2020
More to Love from Telly Visions