By
for on April 24th, 2022
'Call the Midwife' Recap: Season 11 Episode 6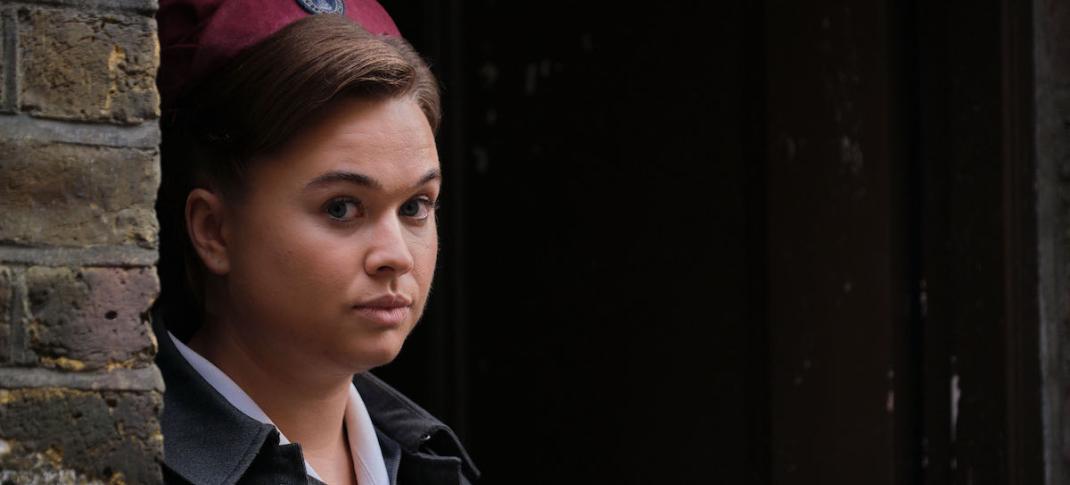 As we return to Poplar on Call the Midwife, we immediately notice the Nonnatus staff is depleted. As you probably recall, Nurses Franklin and Crane left home at the end of the last episode; Trixie to nurse her ailing godmother in Italy, Phyllis set out on her dream holiday trip around Europe. Nurse Robinson suffered a miscarriage, so she's been on leave since that tragic event. The specifics of all these comings and goings can be found here.
But as we all know by now, the midwives of Nonnatus keep calm and carry on. That is unless a bird gets in the house, then there's chaos. While the trapped raven merely unsettles most of the midwives, Sister Monica Joan sees it as an omen that death is near. Despite Sister Julienne's insistence folklore is not at play, the elder nun is convinced otherwise and goes to Miss Higgins for some spiritualist expertise.
The secretary refers her to a reclusive clairvoyant who lives nearby. MJ shows up unannounced at the flat of Mrs. Dulcie Greenhalgh (Frances Tomelty) in hopes this stranger will be able to reveal the secrets of the beyond. The woman unceremoniously tells the Sister to get lost
Over the course of several visits, Monica Joan makes some headway with Mrs. Greenhalgh through offers of cake and medical help. First, she learns how the clairvoyant lost her reputation and family to the curse of her gift. On another occasion, MJ convinces Dulcie to allow her to look at the wound on her face which causes her a lot of shame. The elderly nun is kind and doesn't shrink from her patient's disfigurement.
Monica Joan brings Dr. Turner to examine Mrs. Greenhalgh and he agrees with his elder's diagnosis. The patient has a form of skin cancer called a rodent ulcer (what we now call basal cell carcinoma). Patrick refers her to St. Cuthbert's for treatment, but Mrs. Greenhalgh sees no point in extending a life with no purpose.
Once again, it's MJ to the rescue! She has tracked down Dulcie's son, Arnold. Now she has plenty of incentive to get well which includes surgery and radiotherapy.
Mrs. Greenhalgh is so thankful for Monica Joan's help that she offers to do a reading for her at last. But once she's communicated with her spirit guides, she's hesitant to break the vague bad news. Something unfortunate will happen at Nonnatus House.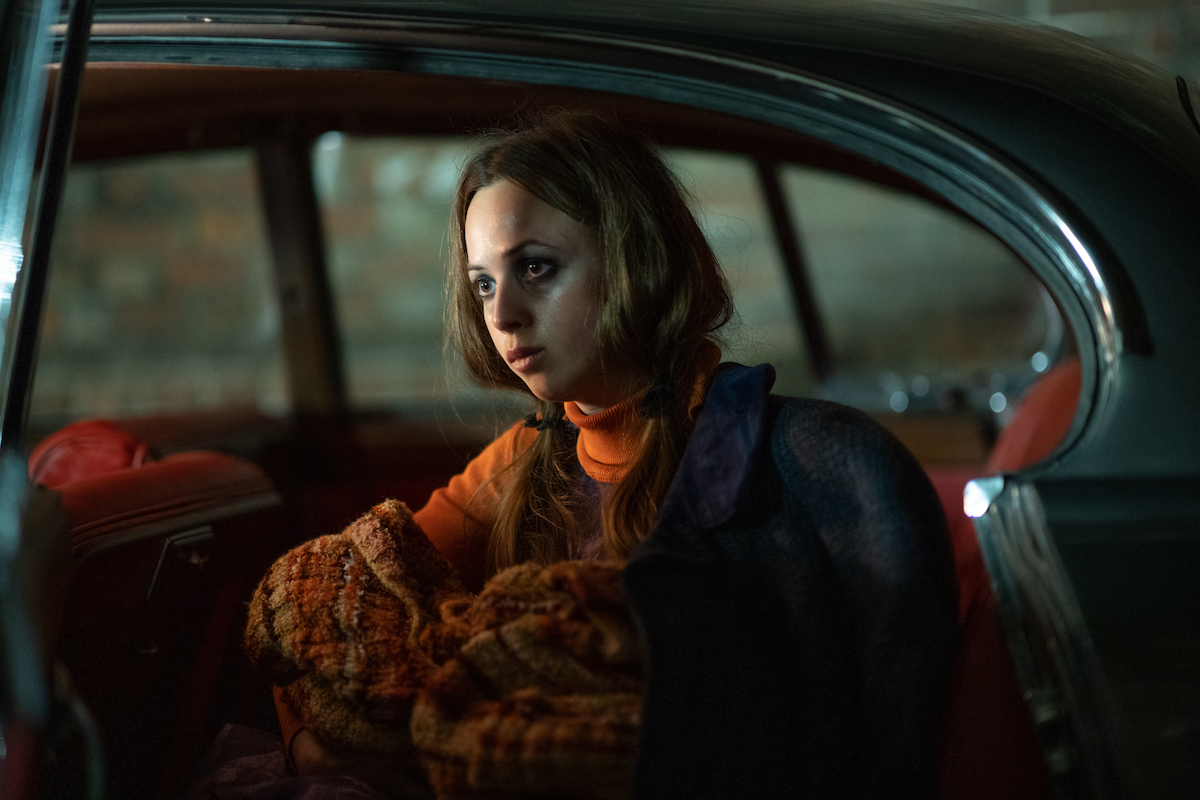 Meanwhile, Matthew Aylward is checking on one of his family's warehouse properties and discovers that a "collective" of hippies are squatting there. When he sees that one of the occupants is a young pregnant woman, he agrees to let them stay on the premises until the baby is born. Clover (Elizabeth Roberts) is less abrasive and disrespectful than the others. She just wants to have her baby naturally, with her friends around her for support.
Concerned that a building without electricity or running water isn't a  safe place to give birth, Matthew notifies Sister Julienne of the girl's situation. She sends Sister Frances out to talk to their prospective patient. When she arrives, Clover is having an argument out the window with her estranged father. She dismisses both her dad and the nun; she just wants to be left alone to have her baby.
The night of the big art happening, Clover goes into labor, but none of her self-involved, stoned housemates can hear her calls for help.
Fortunately, Matthew has just stopped by with some paraffin heaters and finds the scared young woman alone and in pain. She's too far along to go to the hospital so Mr. Aylward calls for a midwife. Nurse Turner, who is filling in for her absent colleagues, arrives and quickly puts this young patient (whose real name is Susan) at ease.
Happily, Clover/Susan's infant appears to have a good chance of survival. Shelagh breaks down sobbing after the emergency is over, but it was obvious she had the grace under pressure necessary to get her patient through a traumatic time. Beyond that, this storyline seemed a bit all over the place.
What do we take away from this? Matthew is looking after lost pregnant girls while Trixie's away; Don't rely on hippies to keep their promises; One more thing that could go wrong with your newborn is gastroschisis?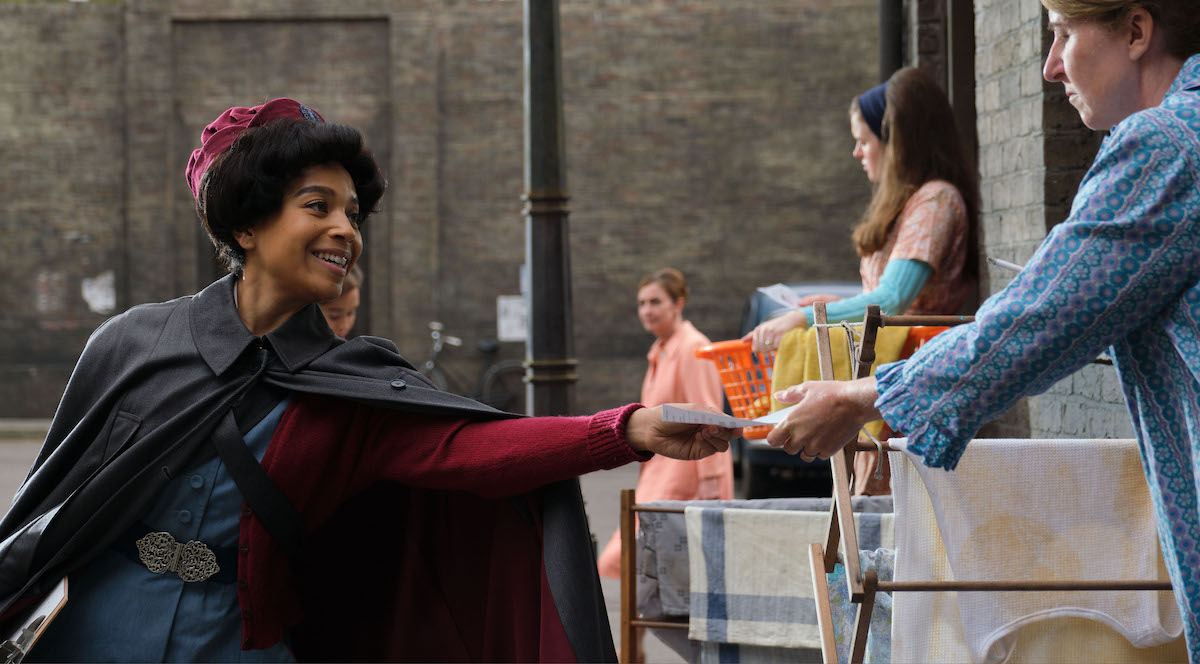 Finally, we witness an all-too-familiar conundrum for medical personnel. As the Nonnatus team struggles to maintain their caseload with a diminished staff, Dr. Turner is in a race to introduce his new measles vaccination initiative to the residents of Poplar. He wants to demonstrate that a systematic plan, rather than the hit-and-miss approach of the district health committee, could irradicate measles. Miss Higgins does her administrative magic, and all the staff do their darndest to get babies and toddlers their jabs.
When one mother cancels her son's appointment, Nurse Robinson confronts her.
"Can you imagine losing your child to a preventable disease? Could any wound cut deeper? It doesn't matter where you are, what you're doing, all you feel is that pain inside you and it just keeps on hurting."
Obviously, Lucille knows whereof she speaks. She's been trying to distract herself with work, refusing to discuss the grief and pain of her miscarriage with Cyril or anyone else. Now she realizes the only way to heal is to share their pain together.
Thus ends another installment of Call the Midwife. Perhaps because last week was chockablock with drama, this episode is somewhat lackluster in comparison. What are your thoughts? Do you give Mrs. Greenhalgh's reading any credence? Premonition of a raven or not, with only two episodes to go, something is bound to happen in Poplar.
---
By
for on April 24th, 2022