By
for on September 3rd, 2020
British Films to Soothe the Soul: 'Fisherman's Friends'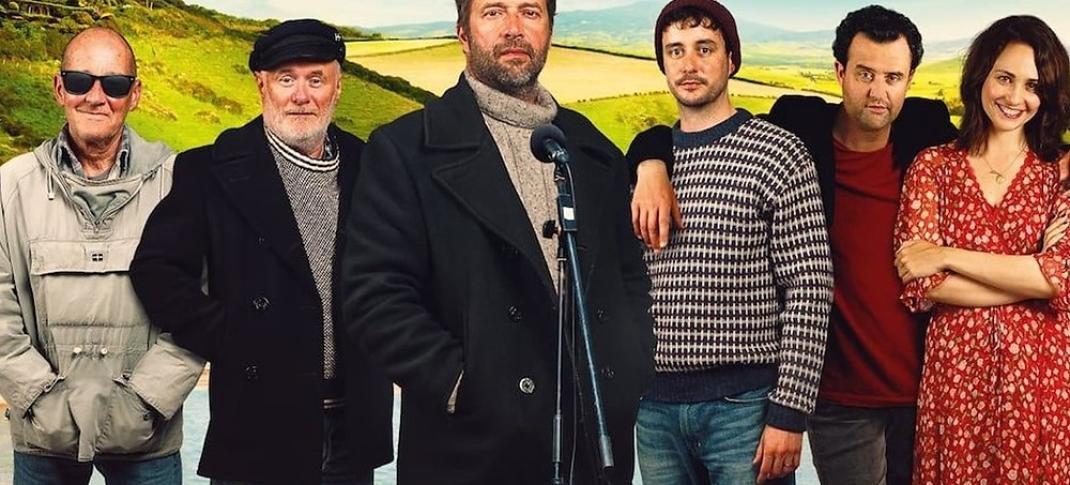 Times are still uncertain and if, like me, you foolhardily waded into the insane real estate market here in the U.S., you likely need to make time for a little self-care to keep you from ending up in a fetal position on the floor. So the other night I decided to put down the packing tape and watch a lovely little movie called Fisherman's Friends instead. And for almost two hours, I didn't think about closing costs, COVID-19, or the upcoming election and it was such a relief!
Fisherman's Friends is not, in this case, a strong menthol throat lozenge, but a 2019 feel-good film based on a true story (what movie isn't these days, right?). In it, a band of sea shanty singing Cornish fishermen and lifeboatmen are discovered by a London music executive who is able to snag them a contract with a major record label. The real-life "buoy" band scored a top-ten single and an appearance at the famed Glastonbury Festival. They still perform in the off-season when not out catching lobsters.
The film weaves threads of the real Fisherman's Friends' journey with a rom-com element and the timeless lesson that fame and fortune do not guarantee a happy life.
Daniel Mays (Vera Drake, Line of Duty) plays Danny, a fast track, music label manager who finds himself in an idyllic Cornwall village for a stag weekend with some work chums.  After happening upon the singing sailors, his boss insists Danny try to sign the group to a contract. To get these guys on board, Danny must win over Jim (James Purefoy), the skeptical and protective leader of the salty ensemble. To add to the awkwardness, Danny becomes smitten with Jim's daughter Alwyn (Tuppence Middleton), a single mother who is not easily swept off her feet.
It turns out that Danny's boss, Troy (Noel Clarke), was just playing an unkind prank and orders his subordinate to drop the fisherman and return to London Town. Alas, the once cynical Danny has already been charmed by this village where family, tradition, and integrity hold far more weight than wealth and celebrity. For the rest of the movie, Danny's task is to prove himself trustworthy to this proud Cornish community in order to make good on his promise and find fulfillment for himself.
Check out the trailer below.  I dare you to keep your toes from tapping. (And if the scenery looks familiar, Fisherman's Friends was filmed in Port Isaac, the setting for a little TV series you may have heard of called Doc Martin.)
You can find this funny, gentle escape from reality on most of the usual VOD platforms- Amazon, Google Play, Apple TV, etc. Of course, I checked it out on DVD at my library.  It's rated PG-13 and also features David Hayman, Maggie Steed, and Sam Swainsbury.
Does Fisherman's Friends sound like bouillabaisse for your soul? Will you seek it out or let it sail on by? The comments await your verdict!
---
By
for on September 3rd, 2020
More to Love from Telly Visions