By
for on September 24th, 2022
British Actresses You Should Know: Samantha Morton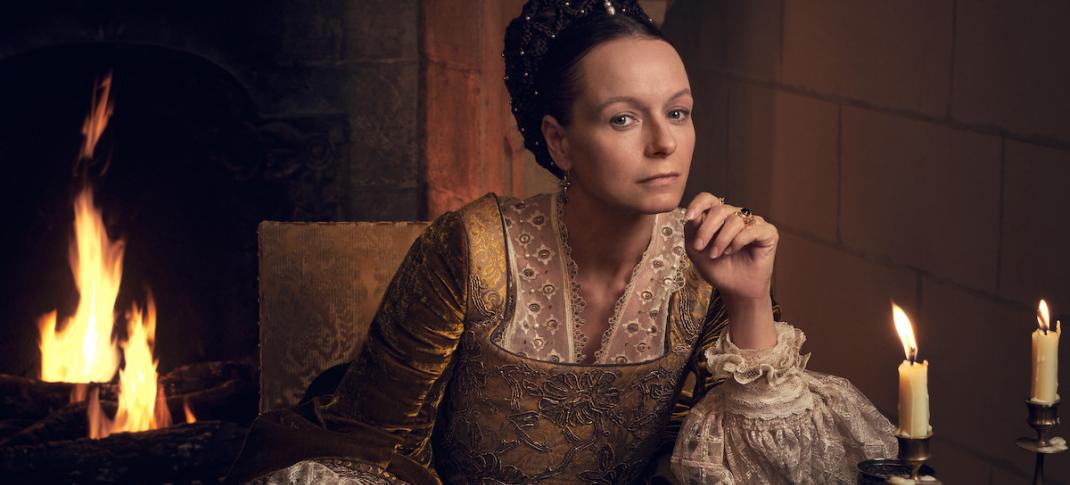 Samantha Morton may currently reign as the much-maligned French queen Catherine de Medici on Starz's The Serpent Queen, but this is hardly the first remarkable performance from this critically acclaimed actress who deserves much more mainstream attention than she tends to get. 
She's been nominated for an Oscar twice and starred in everything from period pieces and crime thrillers to zombie apocalypse dramas. And if you don't know Morton's work, well…the time to fix that is right now.
Here are our picks for some of her best performances over the years. 
Sweet and Lowdown
A 1999 American comedy-drama from Woody Allen, Sweet and Lowdown is a mockumentary-style film set in the 1930s that tells the story of a jazz guitarist (Sean Penn) who falls in love with a mute woman (Morton).
Morton garnered her first Oscar nomination for Best Supporting Actress for her complicated and physical performance as Hallie, and her chemistry with Penn is deeply odd and strangely charming.
In America
Morton snagged her second Academy Award nomination (this time for Best Actress) for her role as matriarch Sarah Sullivan in In America, this tale of an Irish immigrant family's attempt to make a new life for themselves in New York City following the death of a beloved child. 
A frank depiction of what it's like to be both poor and a stranger to your own surroundings, In America is a less sentimental film than many might expect but still profoundly moving in its own way.
Elizabeth: The Golden Age
Though we tend to ignore the sequel Elizabeth: The Golden Age in favor of its (admittedly superior) predecessor, it's still a sumptuous historical tale of several of the most critical moments in Elizabeth I's long and groundbreaking reign. 
Morton plays the best sort of performative, scheming Mary Stuart—the execution scene where she reveals she's dressed in the red of martyrdom is iconic—and is more than a match for Cate Blanchett's desperate, emotionally torn Virgin Queen. The latter can't decide whether to sentence her cousin to death.
The Last Panthers
Morton stars alongside the great John Hurt in this thrilling six-part heist drama, The Last Panthers, inspired by the notorious Balkan jewel thieves, the Pink Panthers. (The show is also notable because David Bowie arranged to use "Blackstar," the title track from his final album, as its theme song.)
She plays Naomi Franckom, an insurance loss adjuster on the trail of an organized gang of diamond thieves.
Rillington Place
Based on the life story of one of Britain's most notorious serial killers, Rillington Place retells the story of John Reginald Christie, a man who killed at least eight women, including his wife, throughout the 1940s and early 1950s, hiding their bodies in various places around his yard and in the walls of the property. (Whose address was, yes, at 10 Rillington Place.)
Morton plays Christie's wife, Ethel, the point of view character in the series' first episode, as she slowly realizes that her husband is not only not the man he appears to be but is worse than she could have imagined. (And who, spoiler alert, pays the ultimate price for her blindness to his crimes.)
Harlots
One of the most underrated period dramas of the past five years, Harlots is a surprisingly feminist romp that follows the story of two rival brothels in Georgian London, featuring strong, complicated women with rich lives well beyond their work in the sex trade.
Morton plays Margaret Wells, the madam of a middle-class brothel in Covent Garden who has come by her position through years of hard work and hustling. She has grand ambitions for her daughters Charlotte (Jessica Brown Findlay) and Lucy (Eloise Smythe) and seeks to match them both as mistresses to wealthy men, even if it strains her relationship with them. Her rivalry with Lydia Quigley (Lesley Manville) is both vicious and decades-old, driving much of the initial drama at the center of the show. Unsurprisingly, watching Morton and Manville circle each other makes for riveting TV.
The Walking Dead / Tales From The Walking Dead
Morton played one of the most gruesome and terrifying villains in Seasons 9 and 10 of the long-running AMC zombie series, and if you've ever seen The Walking Dead, you know that's saying something. 
Her performance as the ruthless, vicious Alpha—leader of the group known as the Whisperers who liked to literally wear the faces of the dead—was thrilling and shocking and introduced her to a legion of new fans. Morton was so famous in the role that she reprised it for the spinoff anthology series Tales from the Walking Dead, in an episode that explored the character's more human origins. 
The Serpent Queen
Starz's latest female-focused historical drama The Serpent Queen explores the life of French queen Catherine de Medici, a woman generally demonized by history for a variety of real and imaginary sins but celebrated by this series as one willing to do anything to survive. And Morton's fierce performance as Catherine, who is fully aware of what everyone's saying about her and leans into their worst imaginings of what that might mean, is mesmerizing to watch. 
---
By
for on September 24th, 2022
More to Love from Telly Visions