By
for on December 29th, 2021
British Actors You Should Know: Jamie Dornan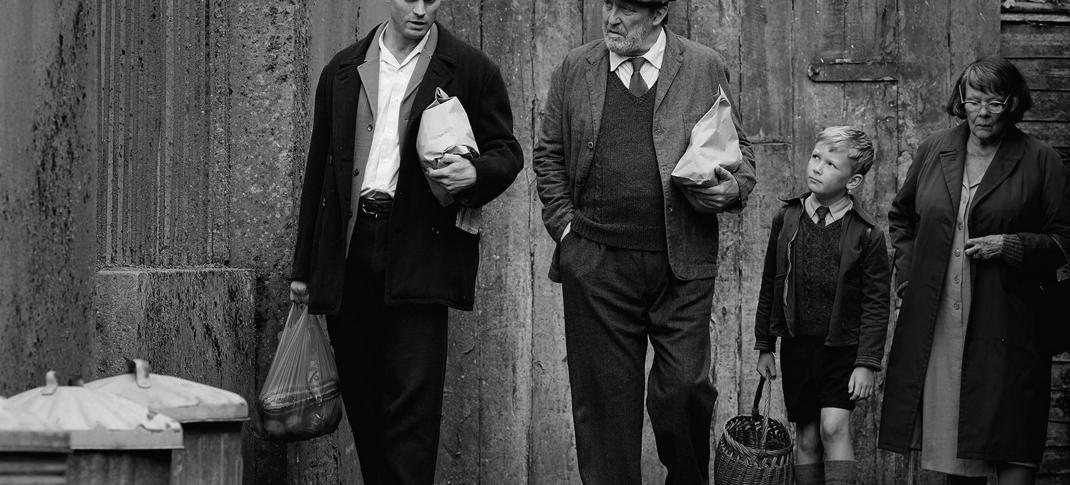 When I mention Jamie Dornan, what comes to mind? Christian Grey? His performance in one of this year's most acclaimed movies, Belfast? The embarrassingly endearing stories he tells on the Graham Norton chat show?
Seven years ago, I wrote a profile on the Northern Irish actor when he was a relative newcomer with just a few familiar items on his IMDB page. The most significant credit on his CV back then was his role as a serial killer in the BBC thriller The Fall, for which he won a Breakthrough and Rising Star award and a BAFTA leading actor nomination. It seemed like it was about time to update Mr. Dornan's Telly Visions bio and let you in on what makes him a British actor you should know now.
I'll just make a quick mention of Dornan's participation in the Fifty Shades of Grey films produced between 2015-2018. Based on the best-selling erotic book series by EL James, he was cast as the handsome, wealthy, but psychologically scarred Christian Grey. Despite the poor reviews by critics and audiences alike, his gig as the Fifty Shades guy was big news at the time and didn't seem to have damaged Jamie's career. 
On to some brighter highlights…
The Fall 
We have to start with the character who made viewers sit up and notice Dornan's mesmerizing turn as Paul Spector in The Fall, as a psychopathic serial killer. Paul is a complex character who transforms into whatever he needs to be around his wife, children, and therapy clients, despite having a murderous addiction.
Over three seasons, Spector is relentlessly pursued by Metropolitan Police superintendent Stella Gibson (Gillian Anderson). I won't spoil the ending, but if you haven't seen this edge-of-your-seat drama, you can catch the complete series streaming on PBS Passport.
Anthropoid
Jamie makes his first foray into the WWII era in Anthropoid, a film about a historical mission to assassinate Reinhard Heydrich— the principal architect of the Holocaust. Czech exiles played by Dornan and Cillian Murphy parachute into Nazi-occupied Prague in December 1941. Connections with other Resistance members are made, and plans to carry out the risky plot are put into action. 
A Private War
Rosamund Pike stars as a fearless journalist, Marie Colvin, in A Private War, a biographical war drama. Dornan portrays Paul Conroy, the freelance photographer who teamed up with Colvin to document the world's most war-torn regions. I noticed Jamie had taken on the tricky Scouse accent of his character and then discovered that the actual Paul Conroy was a consultant on the film's set. Dornan credits him with helping them portray situations depicted in the movie as truthfully as possible.
My Dinner with Herve
In this HBO movie, My Dinner with Herve, Jamie plays Danny Tate, a British journalist assigned to interview Fantasy Island star Herve Villechaize (Peter Dinklage). The film follows the two men on a wild night in LA wherein Herve recounts his colorful life, and both men acknowledge their struggles and failures.
Wild Mountain Thyme
Dornan takes on a proper, quirky, Irish rom-com with Wild Mountain Thyme, a John Patrick Shanley project about property, legacy, and love. He plays Anthony Reilly, a bashful farmer besotted since childhood with the girl next door. Rosemary Muldoon (Emily Blunt) feels the same; however, her gruff manner makes the self-conscious Anthony waver in his intentions. It's a will they or won't they proposition until the very end.
Barb & Star Go to Vista Del Mar
Barb (Annie Mumolo) and Star (Kristin Wigg) are best friends. They leave their Midwestern town searching for the adventure of a lifetime - in Florida in Barb & Star Go to Vista Del Mar. Jamie's character Edgar is a henchman on a mission to win the love of the eccentric villain, Sharon Fisherman (also Wigg). I apologize. I only include this movie for the song and dance clip that follow. I'm sure you'll agree Dornan showed A LOT of commitment.
Belfast
I'm happy to end this list with probably the most authentic storytelling Jamie Dornan has been a part of so far. Kenneth Branagh's semi-autobiographical film Belfast tells how his family faced the violence of The Troubles in their neighborhood in 1969. We experience the action from the perspective of Buddy (Jude Hill), a nine-year-old boy who loves his family and his home. Dornan plays his father, Pa, a man who is equal parts charming and caring. He struggles to set things right financially for his family by working away from home in England. 
While Oscar nominations have yet to be announced, Mr. Dornan has already received Golden Globe and Critic's Choice nominations for his supporting performance in Belfast.
Based on the variety of genres and characters he's taken on so far. I'd wager there are plenty of interesting roles coming for this multi-talented actor. Do you have a favorite Jamie Dornan movie or TV series? Let's chat about it in the comments!
(Originally posted 01/29/2015. Updated 01/05/2021)
---
By
for on December 29th, 2021