By
for on March 21st, 2018
British Acting Rites of Passage: 'Midsomer Murders' Guest Stars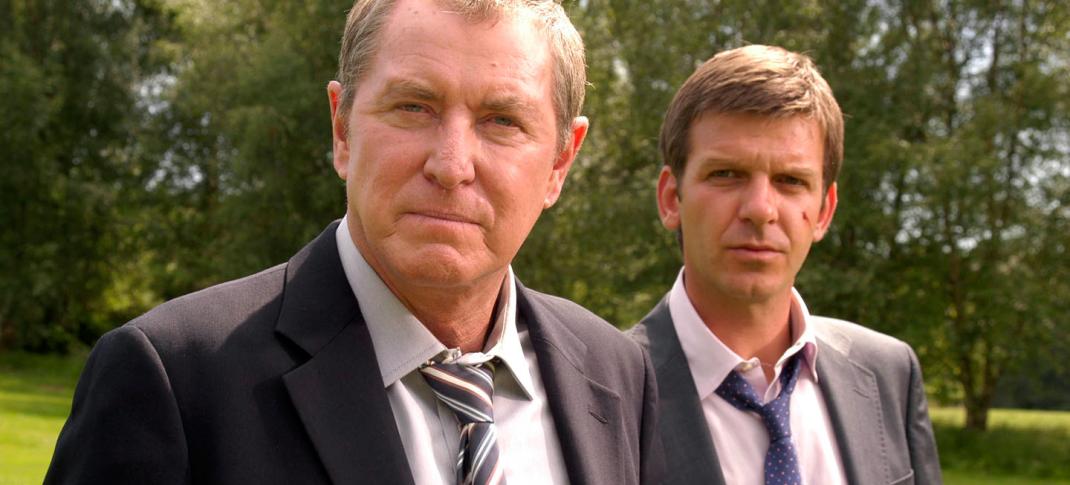 On my British entertainment page on Facebook, I often post mini-profiles of actors and actresses on their birthdays. These posts always include a short list of the performer's most memorable credits. Inevitably someone will comment, "Were they ever on Midsomer Murders?" This running joke gave me an idea.
As a telly addict, one of my favorite things to do when watching an older TV series is to try to spot familiar actors in guest starring roles. I find this activity yields the best results when the program is one of the popular mystery genre, as they require a fresh supply of victims and suspects for each episode. I deduced then that the UK's longest running contemporary detective drama, Midsomer Murders, would be the perfect vehicle to launch a new series of before-they-were-famous type of posts.
The series' very first episode, "The Killings at Badger's Drift", aired in the UK on March 23, 1997 followed by 121 other installments that portrayed homicide, blackmail, greed, and betrayal amidst the bucolic splendor of southern England. Filming for the 20th season of Midsomer Murders was completed last year and will be broadcast on ITV in the UK sometime in 2018.
Let's take a look at just a sampling of the many familiar faces who paid a visit to the pastoral but deadly Midsomer County.
Jenny Agutter
Best known as: Beloved Sister Julienne from Call the Midwife, her earlier career credits include The Railway Children, Logan's Run and An American Werewolf in London
Her Midsomer Episode: "The Creeper" from Season 12, originally broadcast on January 27, 2010
Character: Lady Isobel Chettham, a woman whose aristocratic husband has fallen on hard economic times, assists in the murders of two victims in order to hide a family secret
Others you might recognize in this episode: The late Rik Mayall (The Young Ones and Man Down)
Orlando Bloom
Best known as: Legolas in the The Lord of the Rings and The Hobbit trilogies and as Will Turner in the Pirates of the Caribbean film franchise
His Midsomer Episode: "Judgement Day" from Season 3, which was broadcast on January 29, 2000
Character: Peter Drinkwater, local thief, womanizer and victim of murder by pitchfork
Others you might recognize from this episode: Tobias Menzies (Outlander, Rome and Game of Thrones), Timothy West (Edward the King and Nicholas and Alexandra)
Best known as: Robert Crawley, the Earl of Grantham in Downton Abbey ; Ian Fletcher in Twenty-Twelve and W1A; and  Mr. Brown in the recent Paddington films.
His Midsomer Episode: "Ring Out Your Dead" from Season 5, which aired September 15, 2002
Character: Hugh Barton, a failing stock trader, is a suspect who has designs on his Uncle Reggie's fortune and has recently learned of a substancial change to the will.
Others you might recognize in this episode: Gemma Jones (Sense and Sensibility and Bridget Jones's Diary), Clare Holman (Inspector Lewis), Adrian Scarborough  (Cranford and Gosford Park)
Best known as: The 12th Doctor in Doctor Who and Malcolm Tucker from the political satire sitcom The Thick of It
His Midsomer Episode: "Death in Chorus" from Season 9, which aired on September 3, 2006
Character: Laurence Barker, perfectionistic conductor of the Midsomer Worthy choir, is supected due to feuds with a rival and his covert attempts to protect his wife from her connection to a murder victim
Others you might recognize from this episode: Annabelle Apsion (Violet Buckle from Call the Midwife)
Henry Cavill
Best known as: Charles Brandon in The Tudors and Clark Kent in Man of Steel and various other Superman-related film projects
His Midsomer Episode: "The Green Man" from Season 7, originally broadcast on November 2, 2003
Character: Simon Mayfield, a local hooligan who scuffles with a hermit in the woods and ends up in an animal trap with a bullet in his head.
Others you might recognize from this episode: David Bradley (Harry Potter, Broadchurch and Doctor Who), Cherie Lunghi (Excalibur and The Brief)
Best known as: Ellie Miller in Broadchurch, Sophie in the sitcom Peep Show, and has been cast to play Queen Elizabeth II in the next season of The Crown
Her Midsomer Episode: "Small Mercies" from Season 12, which aired October 28, 2009
Character: Bernice, a trusting childlike woman, who answered an advert for a waitress/maid at the village hotel and soon began a relationship with the owner. Her siimplistic understanding of good and bad has led her to murder three victims.
Best known as: Lance from Detectorists, the voice of Dobby the House Elf in Harry Potter, Alfred Hitchcock in The Girl and Truman Capote in Infamous
His Midsomer Episodes: Jones actually had a recurring role over Seasons 2 and 3 in 1999 and 2000. He appeared in four episodes – "Strangler's Wood", "Dead Man's Eleven", "Death of a Stranger" and "Judgement Day".
Character: Dan Peterson, a pathologist at the Causton CID who occasionally covered for resident pathologist Dr. Bullard when he was away
Best known as: Evil Delores Umbridge in the Harry Potter films and for her multi-award-winning role as Vera Drake
Her Midsomer Episode: "Dead Man's Eleven" from Season 2 aired on September 12, 1999
Character: Christine Cooper, outwardly a very religious woman, but suspicious for living beyond the means of her husband's security guard salary
Others you might recognize from the episode:  The late Robert Hardy (Harry Potter and All Creatures Great and Small)
If you'd like to see these entertaining guest appearances yourself, all 19 seasons of Midsomer Murders are available to stream on Acorn TV and Netflix, and many of them air on your local PBS station. (So check your local listings!) Also please share any memorable Midsomer performances you can recall from actors before they were famous in our comments section.
---
By
for on March 21st, 2018
More to Love from Telly Visions