By
for on May 27th, 2022
'Bridgerton' Season 3 Begins Filming With a Different Romance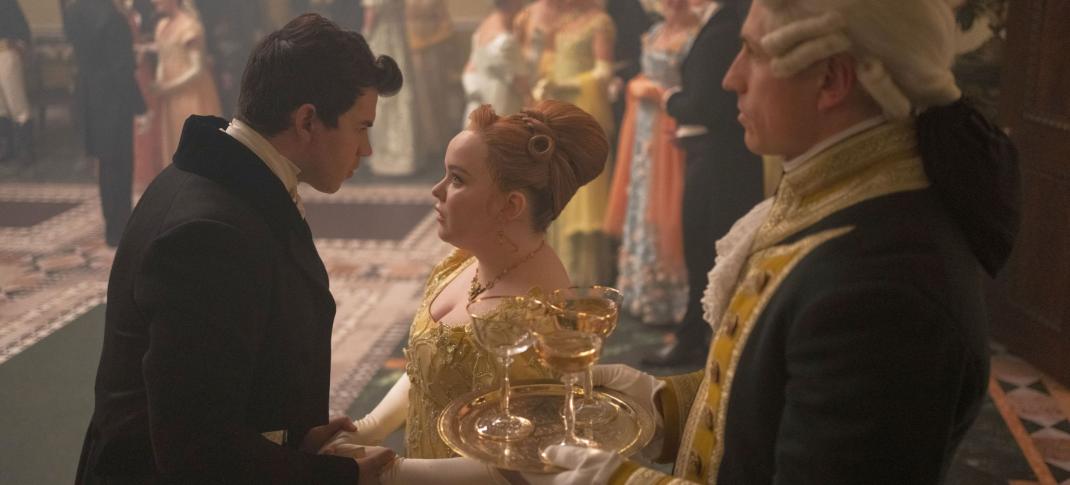 This may be Stranger Things weekend over at Netflix, but across the pond in London, cameras are starting to roll on one of the streaming service's biggest British hits, Bridgerton. Actress Nicola Coughlan (Derry Girls), who plays Penelope Featherington, put on her Lady Whistledown bonnet and dropped the gossip via Instagram, with a photo showing her call time. This is a little sooner than most initially thought filming would begin (rumor was it would be mid-to-late summer), but then again, there are a lot of changes afoot for the coming season.
Coughlan has been the primary source of information for the upcoming season, with a recent reveal at the show's FYSEE panel earlier this month. When asked about her role in the upcoming season, she confirmed a rumor that had been gaining steam since Season 2 ended, that Bridgerton would be changing the order of the novel's love stories. Season 3 will focus on book four, Romancing Mr. Bridgerton, Colin (Luke Newton) and Penelope's love story. It will put the popular will-they-or-won't-they couple front and center, rather than going in order and covering book three, An Offer From A Gentleman, in which Benedict (Luke Thompson) finds true love.
"Like Lady Whistledown, I have been keeping a secret for quite some time, and I can confirm to you all that Season 3 is Colin and Penelope's love story." Coughlan admitted, "I have kept that secret since two weeks into Season 2." Shondaland then followed up with an official Lady Whistledown formatted letter on social media, confirming the news.
Miss Penelope Featherington cannot remain a wallflower forever, as all plants thrive best in the sunlight. pic.twitter.com/ZcszXnbkmg

— Bridgerton (@bridgerton) May 16, 2022
Explaining why the show has decided to change things up, the new showrunner, Jess Brownell, who is taking the reins from Chris Van Dusen after two successful seasons, explained to Variety that it felt like the right time. (It also helps keep things fresh, instead of a third story where a Bridgerton sibling meets someone at a ball and falls head over heels.)
I really feel like it's Colin and Penelope's time. Because we've been watching both of these actors on our screens since Season 1, we've already invested in them a little bit. We know who they are as people. I feel like, especially in the last season, there are these moments of tension between them where it's like, Colin walks up to the line of almost realizing that Penelope has feelings for him but doesn't quite get there. Instead of treading water on that dynamic, we wanted to push it into their season. It really felt like the perfect moment to tee it up.
But those who love Benedict's story (or were eager to see Bridgerton Does Cinderella) should not worry that the second son is getting shafted. Nor does it seem like his romance will get folded into a subplot, though considering the bulk of the actual falling in love takes place outside of London, far away from his brothers and sisters, that would be a perfectly logical choice. Brownell reminded everyone, "[Executive producer] Shonda Rhimes has said publicly before that she wants to have eight seasons. We hope to get to tell every sibling's love story, and they will always be in each season."
Bridgerton Seasons 1 and 2 are streaming on Netflix. Bridgerton Season 3 is now filming and is expected to arrive late next year.
---
By
for on May 27th, 2022
More to Love from Telly Visions