By
for on May 12th, 2022
'Bridgerton' Announces High Profile Recasting For Season 3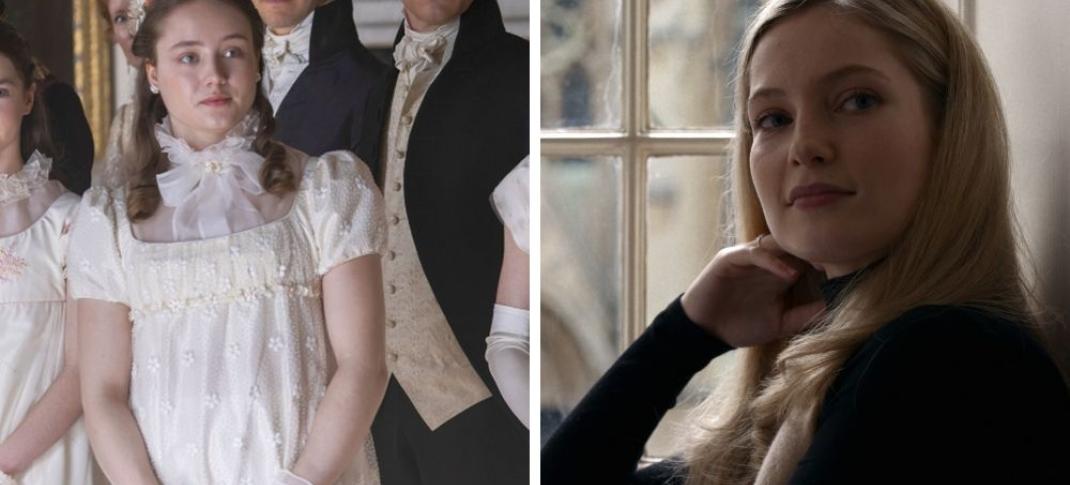 Bridgerton came in with a grand plan: To adapt a series of eight novels (nine if you include the book of epilogues), produced to the level one might see a drama about dragons and death. So far, the show has been a hit, but it's not without its problems. The big one might have escaped the notice of those who never read the book, Francesca Bridgerton, the third Bridgerton daughter and sixth sibling overall. Religated to the schoolroom in Season 1, her becoming more of a character in Season 2 was derailed when actress Ruby Stokes was cast to headline a different fantasy Netflix series. After hoping to make the filming schedule work for Season 3, Bridgerton has faced reality and recast the role.
An actress from another hit Netflix series, Hannah Dodd, will play the new Francesca. Dodd last appeared as the younger version of Sienna Miller's character Sophie in Anatomy of a Scandal. Stokes will disappear off to star in Lockwood and Co., another adaptation of popular novels, while Dodd will hopefully bring Francesca up to speed for viewers, many of whom don't even realize one of the (many) Bridgerton siblings has been left out of the narrative thus far. Considering her romance is coming up soon, Season 3 has a lot of work to do. 
Bridgerton Season 2 was as delightful as the first season, even if the series moved much farther away from the source material for its second outing. But as the show rounds into Season 3 production, there are questions about how it plans to treat the next six books. Seasons 1 and 2 were generally faithful to the structure of the overall series, if not the novels themselves. However, rumor has it that as the show continues (now under the direction of a new showrunner), the series will become more ensemble-like, and more than one Bridgerton will have a romance at a time. 
If that's the case, Francesca's romance (which technically occurs in the sixth book) will likely happen sooner than later. Book 6 may sound like it's still far off down the line (after all, Season 2 was Book 2, so that's ostensibly three more seasons to go), but it's not. Books 4, 5, and 6 all begin at different times, but the bulk of the romantic action occurs simultaneously. It's a bit like an Alan Ayckbourn play on paper, where a character walking out of a room in Book 4 enters a different room in Book 6, and their actions in Book 5 may or may not have implications for later chapters in Books 4 and 6. 
That means Francesca has one more season to stop being a cipher to fans and start being a necessary part of the show. This is not Stokes' fault, nor the producers; filming for Season 2 was already underway when Stokes was cast in Lockwood and pulled from filming, so there was nothing to be done but hope for better next season. Hopefully, by changing the actor, Francesca can get at least a bit more front and center screen time and perhaps stop being the Bridgerton sibling everyone forgot. 
Bridgerton Season 3 is expected to start filming in London later in the summer of 2022 after the upcoming Queen Charlotte limited series wraps. Currently, there's no release date, but fans can probably bet on the show returning in the second half of 2023 if everything stays on schedule.
---
By
for on May 12th, 2022
More to Love from Telly Visions