By
for on July 28th, 2017
Bake Like 'The Great British Baking Show': Mini Mousse Cakes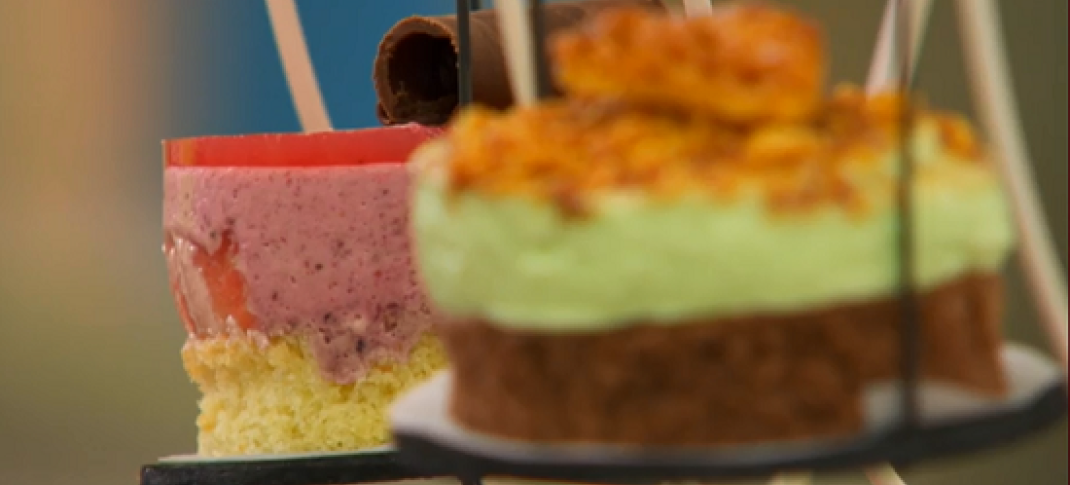 Week seven was dessert week on The Great British Baking Show featuring three new challenges for our pre-quarter finalists: Jane, Benjamina, Selasi, Candice, Tom and Andrew. Judges Mary Berry and Paul Hollywood really put them through their paces asking them to produce roulades, marjolaine gateaus and dozens of mini mousse cakes. As the British sunshine beat down on the baking tent, raising the temperature inside, almost all of the contestant's mini mousse cakes had a meltdown during the Show Stopper Challenge.  
In a reversal of last week's best and worst bakers, our key competitors switched hats. After fearing he would be sent packing after his Botanical Week disasters, Andrew was awarded Star Baker of the week, wowing the judges in all three challenges—especially with his two mini mousse cakes inspired by his childhood ice cream favorite flavors: forest fruits mousse on vanilla sponge and mint chocolate mousse with honeycomb topping. Not quite the pink bubble gum or mint chocolate chip ice cream flavors I enjoyed at Baskin Robbins in my youth, but close enough. Like the great competitor that he is, the presentation of his desserts a top a moving Ferris Wheel was, well, just P.T. Barnum-like showmanship! And, in a complete turn-around, Tom, who was Star Baker last week and during Bread Week was sent home, proving that no one rests on their laurels in the eyes of the judges.
The contestants were given four hours to make 24 mini mousse cakes in two flavors. Whenever you are working with ingredients that require a stabilizer like gelatin, or chilling, to attain a proper "set", the odds of success increase when time is shortened. Four hours to make a multi-layered dessert of this complexity really tested the contestants technical and artistic skills. Many failed. Except for Jane and Andrew, no one else really produced a mini mousse cake "showing many textures" that judge Mary Berry required, nor did they achieve the "melt in your mouth" quality that Paul Hollywood wanted in a mousse. So, what went wrong? Foam.
Created in the 1700's by chefs of the French nobility, mousse actually means foam in the French language. Foam is created when you incorporate air into a liquid. Mousse is all about foam—the volume you make by whisking egg whites or cream and gently adding them to a flavor base. The trick to making a good mousse is creating the foam/volume and then stabilizing it with gelatin or by chilling. It seems simple, but as we witnessed in the Show Stopper Challenge, even the top six amateur bakers in Britain couldn't make it happen within the time they were given.
Don't be discouraged by this dramatic meltdown created by the judges' impossible time restraints. Making mousse is really quite easy and enjoyable, requiring moderate skill and proper chilling. I remember attempting my first mousse when I was sixteen. I used a Julia Child Mousseline au Chocolat recipe from Mastering the Art of French Cooking. Like our contestants' mousses, it uses whipped egg whites as the volume generator. It was fabulous. My family was impressed. I was amazed. There is nothing quite like your spoon gently breaking the surface; gliding through the smooth texture; air bubbles popping in your mouth as you savor the rich, decadent flavor. Yum.
Are you ready to make Andrew's winning recipes for his Show Stopper Mint Chocolate Mini Mousse Cake?  It is a three-layer mini mousse cake with a chocolate sponge base, mint mousse center, topped with crumbled honeycomb. The recipe is available from the Great British Baking Show website. To add further confidence to your baking/dessert making arsenal, try a Rich Raspberry Chocolate Mousse Cake, which includes a crunchy biscuit base, a rich mousse center, topped with fresh raspberries. It should be a knock out at your next dinner party!
Hark. Hide the pies. King Henry VIII has entered the tent for Tudor Week, as The Great British Baking Show continues, taking a trip back in time to make recipes that would have been served in the 1500's. Don't miss the quarter final showdown on WETA. Ready, set, bake! 
---
By
for on July 28th, 2017
More to Love from Telly Visions