By
for on November 5th, 2023
Someone Should Tell 'Annika' That 1984 Didn't Have This Many Daddy Issues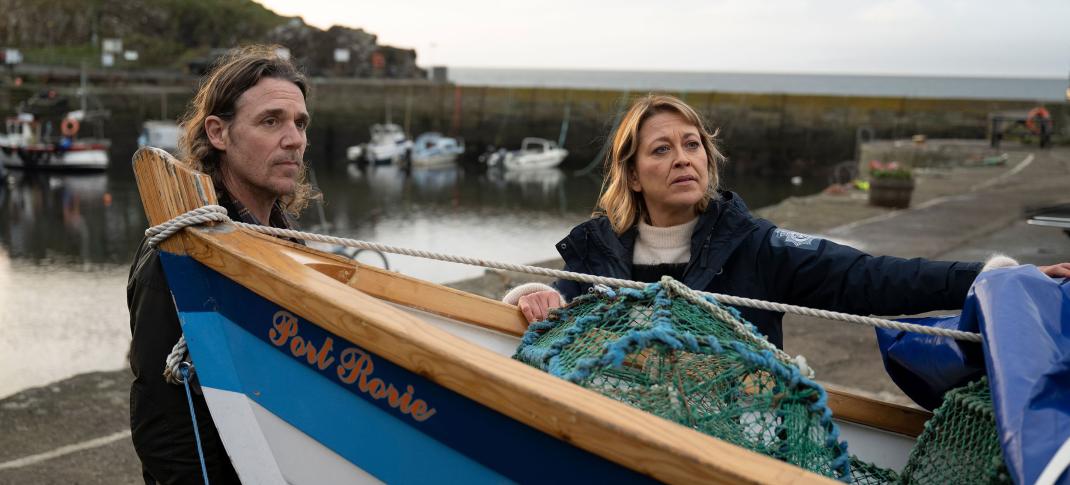 We've reached the halfway point of Annika's second season, and the most prominent life crisis on the table, telling Michael he's Morgan's father without blowing everything to smithereens, has been accomplished. No one is suing anyone for custody, no one quit their jobs, and best of all, no one blabbed to Morgan. Once he calmed down, Michael took three girl's worth of fatherhood training and smoothly slid right into that subtle paternal role without looking like he was doing anything at all. Annika couldn't have asked for a better outcome. Naturally, that's why this week, two different complications will show up at once.
Michael: Annika likes to wait a few years before she tells me the big stuff.
But first, let's hit the case of the week, which takes the team (now minus Tyrone, who officially transferred) to the Isle of Jura in the Inner Hebrides. Unfortunately, the mode of transportation is helicopter, not boat, which Annika is far less comfortable with, babbling on about how George Orwell chose to write 1984 here to keep from panicking. Michael is patient with that; less so with learning she forgot to mention Tyrone's official replacement is Episode 2's DC Harper Weston. At being asked if the body is secure, Harper gives Michael a look — it's frozen in an ice block, stored in a fishery's freezer unit (there's no police station or morgue), so I'll go with that's a yes.
Super pregnant Blair was left behind, not because she wasn't perfectly capable of traveling by helicopter, but because Annika couldn't handle the idea. She'll handle the logistics from Glasgow (grumpily, I might add). Harper's got everything on lock anyway, from when the body was dumped to when it was found to where it came from, either Jura but probably the much larger neighboring island, Islay. The fishermen who reeled in the ice block hailed local dockmaster Salty Stewart (Matt Costello), who will confirm the block was found directly between the two isles and pulls a list of those out boating early that morning.
That's when Eilidh Das (Sophia McLean) shows up and identifies the body in the ice as her husband, Qaiyum Das, who disappeared with half their savings and his ex-girlfriend, Janine, ten days ago. Eilidh is convinced Janine murdered Qaiyum, as she owns an ice factory. Harper checks it out, only to find Qaiyum (Ryaan Ali) alive and well and slightly confused at being told he's been murdered. So much for that. Stewart's list is primarily local fishing boats, but one is an oddity: Chris Gray (Angela Costello) from the local Islay hotel is an oddity. She usually only pilots her tourist boat during mid-day.
Salty's list is bunk; Chris was not out on the water, but poaching (illegal, not murder); the manager Celeste (Jenny Whiffen) confirms, though Annika does note Chris slips Celeste money the following day. Annika's still there because the hotel conference is for the Scotland Institute of Psychotherapy, and there, at the lectern, is Dr. Jake Strathearn (Paul McGann), doing a presentation about a mother and daughter, which sounds suspiciously like Annika and Morgan. It's not, but Annika stays to confront him, and they end up spending the night together, a fact Morgan immediately picks up on the next morning when Annika calls to check in and accidentally forgets where she's aiming her phone.
Harper gets the real ID as Ronan McIntyre, a local boy who works as a produce runner and hasn't been seen in a few days. He stays in one of the cottages owned by Oliver Forbes (Grant O'Rourke) and Abeni Ogunwe (Adura Onashile). Ollie clearly hates Ronan, who doesn't pay to stay there and treats them like servants. He's also said to have fathered half the island preschool and Abeni's pregnancy besides. She's infatuated with Ronan, says he paid for their IVF treatments, and knows about his ridiculous butt tattoo. They have a private jetty, and there was a whole "Dad-To-Be" lock-in the night of the murder where Ollie didn't come home until 7 a.m., and a cottage lost power.
Ronan was last seen at the Islay hotel the afternoon of the murder, the same day Chris was there and supposedly got in some kind of fight. (Celeste says this is why Chris gave her money; they can't ask Chris. She's off somewhere on her boat.) The answer is in the fight footage, as it was with Ronan, who was very drunk and who she beat pretty badly. When Harper tracks her down and tells her Ronan's dead, she collapses in shock just as her phone starts ringing; Harper takes the call to find it's Blair trying to call Tina McIntyre, Ronan's sister and next of kin. This entire island is super inbred, is what I'm saying.
Rornan's boat is still at the hotel, and Michael finds an ice chest big enough to freeze a man, though it's currently filled with venison. He's checking the cabin when he realizes someone set the gas and locked him in. Luckily, he escapes before the boat blows up, and Annika takes down the dude who destroyed their best evidence and nearly her best officer with it. The dude's name is Fergus Gordon (Edward Corrie), and he, too, had no idea Ronan was dead; he was just mad because Ronan emailed him that morning to cancel their whiskey contract, effectively bankrupting him.
With Jake back in the picture, Morgan is now calling him up, angling to get him to convince Annika to let her go on an eco-retreat despite being grounded. Jake grins at her tactics but doesn't play ball. Michael, personally, thinks it's a good idea and tells Annika that, especially since Eirn and Morgan broke up. (Even Blair thinks Erin was a jerk about it.) It'll help, be a distraction, and it's future-focused. But Michael, continuing to win at subtle parenting from the sidelines, says it has to be Annika's decision. Neither he nor Jake can tell her what to do. (It should also be noted Michael has not passed judgment on Jake, another win in how the two are handling this relationship.)
As for the case, Chris is in the clear; she broke her finger in the fight and was in hospital all night. But she says her brother was a button pusher, the kind of guy who got under your skin and reveled in going over the line until you lost control. The ferry cafe owner confirms that Ronan did make it back to Jura that night; he left his boat behind since he was too drunk to drive and had been beaten pretty hard by his sister. His watch, broken in the scuffle, was among his things found at the cottage. Five rounds of IVF, and everyone says it's not yours? All it takes is Blair finding CCTV of Ollie leaving the pub for an hour to confirm the obvious.
And that's before Abeni turns out to be an amateur ice carver, who had an ice block not form two days ago and knows Olly did it. Unfortunately, she is also now in labor. So Annika stays to deliver a baby and listens to her confession while Michael and Harper arrest the father-to-be. Daddy issues everywhere. Paternity: it's tough, notes Michael. (He should know.) But he's doing it well since Annika's going to allow Morgan to go on her eco-retreat. And she's driving home with Jake! So there's only one way to end this episode, and it's with the only calamity left: the unwanted and unasked-for arrival of paterfamilias Magnus Strandhed (Sven Henriksen).
Stream Now
Annika
Nicola Walker (Unforgotten) stars as DI Annika Strandhed who juggles cases and a daughter.
Image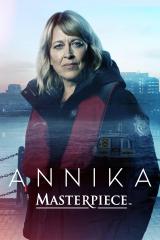 ---
By
for on November 5th, 2023
More to Love from Telly Visions