By
for on January 16th, 2022
'All Creatures Great and Small': Season 2, Episode 2 Recap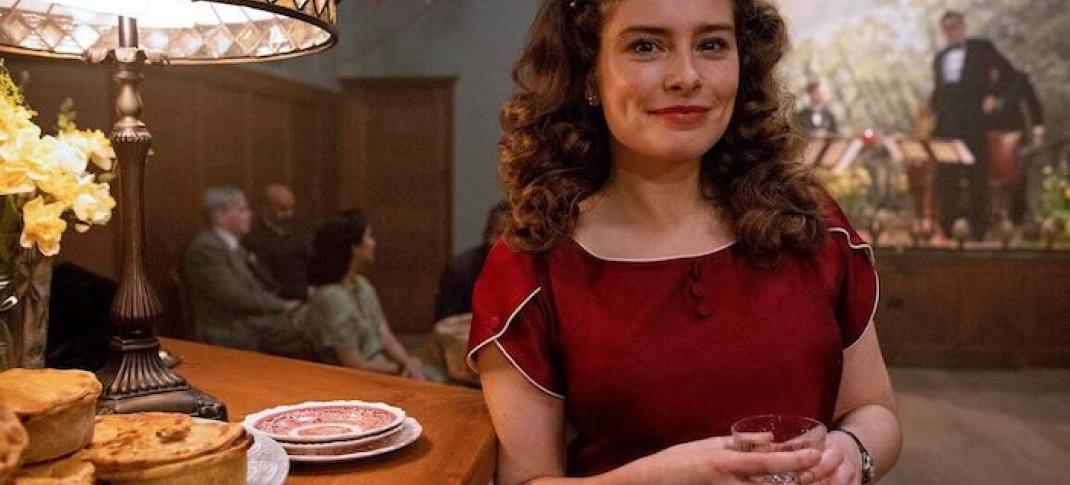 The second episode of All Creatures Great and Small Season 2 opens with a visitor to Skeldale House, divorcee Diana Brompton (Dorothy Atkinson). She's selling tickets for that evening's Daffodil Ball, an event to raise funds for the restoration of the church steeple. She warms up by flirting with Tristan, who eagerly buys four tickets using James's money, despite James's protests that they don't have dates. Mrs. Brompton switches into high flirtation gear when Siegfried arrives. Once she's gone, they enjoy a good gossip session.
Mrs. Hall, who is very disapproving, remarks:
If that woman were even more forward she'd be here yesterday.
Siegfried is astonished––wasn't Mrs. Brompton just being friendly?  Avidly, the others fill him in. Tristan says he heard her husband ran off with the housekeeper. Mrs. Hall says she'd heard it was the gardener. But there's work to be done, and the postman arrives with some interesting mail. Siegfried has a postcard from Dorothy, Mrs. Hall's friend, who we last saw at Christmas, when they seemed to be forming an attachment.
However, Dorothy is soaking up the sun in Malta. We don't know when or if she'll be back. James has received a letter from the Glasgow practice where we saw him last week, with a formal job offer. Annoyed that Siegfried wouldn't leave Tristan to help with surgery, he views a rapidly-filling waiting room and asks Mrs. Hall to help him to direct patients.
To his surprise, Helen arrives. She'd met Tristan and Siegfried, about to leave for farm visits, who had told her James wanted to see her about something. James is confused, but after Helen gently teases him, invites her to accompany him to the Ball. She admits she's barely been out anywhere, but accepts. Today she is glowing and lively, much more responsive to James than she was in last week's episode.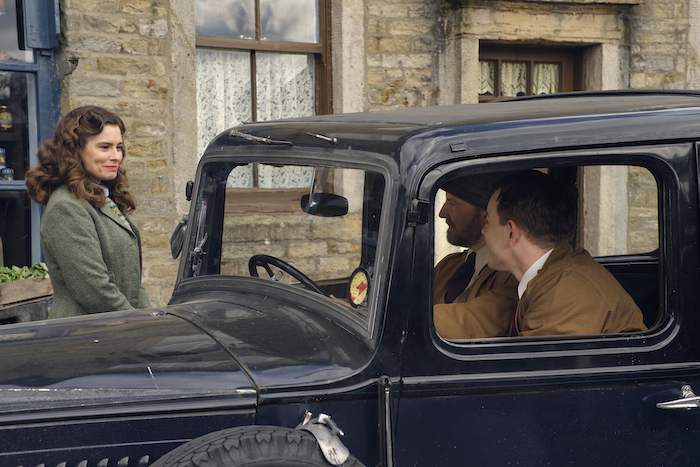 Then an emergency case, a dog whose leg had been caught in a trap, arrives. The owner, Gerald Hammond (Will Thorp) is very concerned. He knows there's a possibility he could lose his pet, or the dog could lose a paw or a leg. Anxious and jittery for something to do while he waits for news on his beloved pooch, he adjusts the clock and Mrs. Hall admits she sets it to run fast so that she'll be left alone all the sooner. Mrs. Hall takes Gerald under her wing and provides him with tea, cake, and sympathy. Very soon, they're on first-name terms. He still suffers from a wound from World War I, and we learn he lied about his age to enlist early. Expecting a grand adventure, he was soon disillusioned, but he still remembers the camaraderie and the struggle of the war.
Elsewhere, Siegfried and Tristan are on their way to visit a large number of clients, including one Colonel Merrick whose animal was supposed to have been seen the day before. Siegfried engages in a little standard Tristan-baiting (the tie again) but won't respond when Tristan attempts to start up a conversation, particularly when he asks about Dorothy. Siegfried, whose fault it is that yesterday's visit never took place, claims grandly to Colonel Merrick (James Fleet) that there was an "administrative balls-up," but is taken aback to discover that in the meantime the Colonel sent for his business rival George Pandi (Kriss Dosanjh) who we met briefly in Season 1.
Pandi, smirking at Siegfried's discomfiture, offers to take other patients off his hands if he isn't able to handle them. Merrick generously allows Siegfried to take a look at the calf (naturally, with no payment) which is suffering from a blockage. Pandi has administered a draught, but Siegfried warns Merrick that the adorable black and white ball of fluff could be suffering from something more serious, which might require surgery.
Client Mr. Dinsdale (Mark Noble) has a huge pig with a hematoma on its head and a bad attitude. We find out that Siegfried had called the day before, but suddenly discovered he had "left the scalpel at home." Now it's Tristan's turn. Ominously, Mr. Dinsdale comments, "He's either very brave or very stupid," as  Tristan enters the sty and then runs for his life, vaulting over the gate. Siegfried enjoys it all immensely, particularly when he finds the pig's name is Buttercup. A second attempt seems set to end the same way, but as Tristan dives over the gate, the farmer's daughter Anabel (Ella Bruccoleri) calls out that he's been successful. We know the pig blundered into the gate head first, effecting crude surgery, but Tristan is happy to take the credit.
Having sent sixteen patients home while he performed surgery on Gerald's beloved dog, James and Mrs. Hall await their return. Before they become inundated, James shares his news about the Glasgow job offer with Mrs. Hall and admits he doesn't know what to do. Scrupulously fair, Mrs. Hall doesn't take sides, or tell him what the right thing to do is, but she points out that his parents would want him to do what's best for him. He decides to think about it. The patients include a familiar face, Annie Chapman (Cleo Sylvestre), whose remote house James and Helen took refuge in on Christmas Eve after helping with a difficult puppy delivery. Annie has named one of Suzie's pups James in his honor.
On the drive home, the relationship between the Farnon brothers deteriorates once more. Siegfried, who has noticed significant glances between Tristan and Anabel, asks whether Tristan is still courting Maggie. Tristan gives a long rambling explanation of how he and Maggie are ships that pass in the night and collide with icebergs (or something), and, by the way, we don't use the term court. "We date."
"We're not Americans!" Siegfried says, horrified.
But Tristan persists. Siegfried is out of date, he's in a rut professionally, not to mention in his love life.
The argument continues, with a slight variation, at Skeldale House, where Helen, looking very sharp in a dark red dress, is having tea with Mrs. Hall while James finishes up with the patients. If Tristan had been allowed to stay at the surgery today, James wouldn't be running late since they could have used both examining rooms. They need to modernize! X-ray machines! Mrs. Hall makes the unhelpful comment that it isn't natural having a machine that looks at your insides. Siegfried insists that he is forward-thinking, and any time James has a suggestion, he'll listen. (Does anyone believe him?)
At the Ball, James admits that he isn't much of a dancer. Most of his experience was accompanying his mother to tea dances where he had to dance with her and other old ladies. But Helen is enjoying herself, and forgives him for stepping on her toes. She even teaches him a few moves.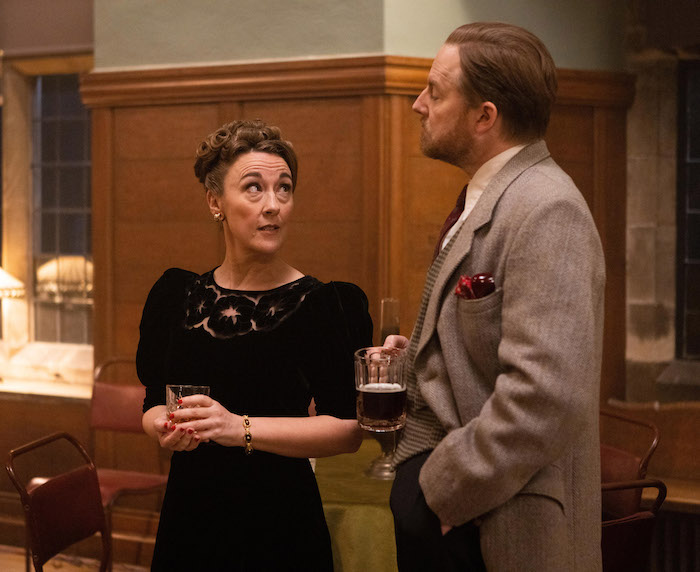 As expected, Tristan pairs up with Anabel––he doesn't seem overly embarrassed that she knew the truth about the lancing mishap earlier, and in fact, it seems to add to his appeal. Siegfried zooms in on the scandalous Diana Brompton and as they're joking about the rumors concerning her husband's infidelity, Colonel Merrick and George Pandi interrupt. His calf is still sick. At first Siegfried is relatively polite, but things heat up when Pandi suggests that Siegfried has lost it. Diana coos that she loves a bit of drama, as the Colonel and Siegfried lock horns:
Colonel Merrick: Now hear this, Farnon. This cow is still unwell. You told me it needed an operation. If you're not willing to come up and sort out, I can always take my custom elsewhere.

Siegfried: Custom suggests a transfer of money for services rendered.... Because we're the finest in the district with three highly qualified vets and enough work to necessitate the expansion of our practice, we don't have to fight like jackals over scraps left by others. If you really want the best possible care for your animals, call during our normal business hours. Otherwise, go with the reserve team. Good evening.
You have to give it to Siegfried. The Colonel backs off as fast as an attacking sow. And then, having appropriately demonstrated his masculinity, Siegfried invites Diana to accompany him to a nearby venue to "continue the evening." Goodness, Siegfried! The dam has broken.
Outside, Tristan and Anabel are continuing their evening rather publicly, and Diana reminds him to come up for air. He frees an arm and waves at them.
Inside, Helen thanks James profusely for bringing her back into the world, but after he leaves to fetch drinks she introduces him to an old friend, Fernley (Chris Kaye). Fernley asks Helen for a dance after she assures him that she and James are not together. Really, Helen? What are you doing? She explains to James that she and Fernley have known each other for years and once danced competitively together. James turns away muttering "Idiot," probably meaning himself.
The next morning, breakfast at Skeldale is a leisurely, mellow affair for once, both Tristan and Siegfried bearing, in Mrs. Hall's words, "inane expressions and a smug sense of satisfaction." Claiming it's putting her off her breakfast, she goes to the surgery to summon James, who is readying Mr. Hammond's dog to go home. He's healed well, and Mr. Hammond asks Mrs. Hall if she'd like to go for a walk with them, and she declines; this took me a while to figure out, as Mr. Hammond may have been suggesting she bring the practice's dog Jess, who's become very fond of the patient, and that walking the dogs is the men's job. Not to be put off, Mr. Hammond offers to set the clock forward for daylight savings (presumably coming up very soon since it's springtime).
Promising that he'll give Colonel Merrick "a show he won't forget," Siegfried accompanied by Tristan and James go to operate on his calf. In a gesture to show how forward-thinking he is, he has acquired brand-new, snow-white medical coats for them. He makes a great show of involving the Colonel in the process, while the Colonel huffs and puffs and tells him to get on with it. He makes a large incision in the calf's side, displaying the rumen.
James suggests that the Colonel will benefit from seeing the procedure up close, and Siegfried wields the scalpel, sending an explosion of fermented grass over everyone. The Colonel, who receives a face-full of stomach content, backs away whimpering. Siegfried reaches inside and pulls out the piece of wire that was the source of the calf's distress as the Colonel splutters. Covered in brown stuff (almost as thoroughly as the Colonel) Siegfried announces:
It's Mr. Farnon and my bill will be in the post ... (to his colleagues) I thought that went rather well.
So what did happen last night, with James and Helen? Apparently, James disappeared, leaving Helen to find her own way home, an act that is not as horrific as you might think because she was surrounded by neighbors and people she'd grown up with. But it still seems rather rude. Yet she arrives at Skeldale House to apologize for abandoning him, and saying now that she would have liked to dance with him again. She explains that she was feeling happy, able to meet old friends for the first time since the Marital Mishap. James tells her that's how he felt on his visit to Glasgow, but she tells him his home is here in Darrowby now.
Last night was the first time I felt like myself again and I was only there because of you.
She kisses his cheek and he grins and grins after she's gone.
Everything's grand, he tells the rest of the household, still with a big smile on his face, as he goes to join them in the living room. In the hall, one of the brown-spattered medical coats falls from the coat tree to the floor.
Are you getting tired of Helen and James's mixed messages to each other? Are you rooting for Mrs. Hall and Mr. Hammond? Do you think Dorothy will come back and pick things up with Siegfried? What did you think of this episode, and the series so far? Let's discuss!
---
By
for on January 16th, 2022