By
for on March 11th, 2023
Acorn TV's Mystery Series 'Holding' is Entertaining, Stylish & Satisfying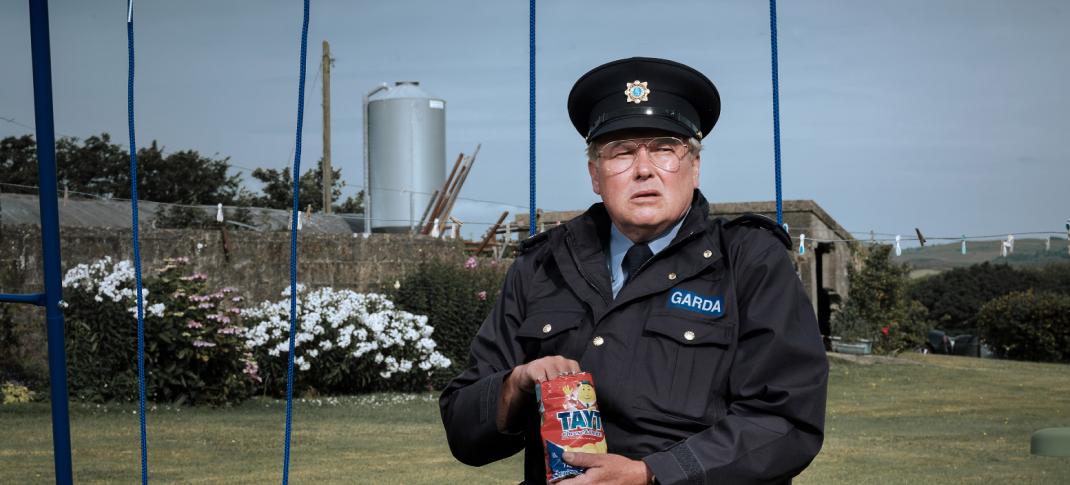 Based on Graham Norton's best-selling novel of the same name, Holding is a complex, thoughtful small town mystery that is a welcome relief from Irish charm or Irish noir overload. The four-part series airing on Acorn TV is directed by Kathy Burke, and created by Dominic Treadwell-Collins and Karen Cogan. The fine ensemble cast is led by Conleth Hill (Game of Thrones) as Sgt. P.J. Collins, with Siobhán McSweeney (Derry Girls) as troubled Bríd Riordan, and Brenda Fricker (My Left Foot) as housekeeper Mrs. Meaney.
Mrs. Meaney: The longer you stay quiet, the harder it is to get your voice back.
The action takes place in the picturesque sleepy Cork village of Duneen, where superficial prettiness hides tragedy and buried secrets. P.J. Collins isn't much of a career cop. He's the sole Garda officer in the village, and the barracks (a row house) has been both office and home for just over three years, long enough for him to still be regarded as something of a newcomer. A typical day for him starts with the majestic arrival of Mrs. Meaney on her three-wheeled scooter, an angel of death bearing generous quantities of artery-blocking fats and carbs that she'll transform into a full Irish breakfast.
You may find the first episode, with its introduction of most of the main characters, and not much explanation of their relationships, confusing watching, but stick with it. The series finds its pace and becomes a cleverly-plotted, rich piece of story-telling, solving not only the murder, but revealing P.J.'s transformation into a better cop and a fully-rounded, happier, and more functional human being.
P.J. glumly snacks on comfort food throughout the day because something vital — companionship, love, purpose — is missing, and we suspect he carries a vast amount of sadness. He has to deal with people like village busybody Mrs. O'Driscoll (Pauline McLynn), who summons him because a resident's house has been painted brown, not the attractive pastels she prefers. He patiently repeats that it's not a crime, not a Garda matter, and leaves for the first real call of the day, clutching a grotesquely large breakfast sandwich.
P.J. has been summoned to a building site where a house once lived in by the Burke family is to be demolished. Human remains have been found, and the conclusion everyone jumps to is that they're those of local legend Tommy Burke. Tommy never showed up for his wedding and has not been seen since. His jilted bride Bríd (Siobhán McSweeney), is now married to Anthony Riordan (Gary Shelford), who clearly despises her for her heavy drinking. Bríd loves her children, but the family is stressed by the presence of her mother, Kitty Harrington (Olwen Fouéré), who suffers from alcoholism and dementia.
Bríd wasn't the only woman Tommy wronged. He also had an affair with neighbor Evelyn Ross (Charlene McKenna), who works in the local pub. She's the youngest of three sisters who own a small dairy farm managed by Abigail Ross (Helen Behan). The third sister, Florence (Amy Conroy), is in love with fellow teacher Susan Hickey (Eleanor Tiernan), and they, plus Susan's teenage son Stephen (Sky Yang), are about to leave for San Francisco. Sharp-tongued Mrs. O'Driscoll points out that there's no point going to all that trouble since everyone who emigrates comes back to Duneen. Why bother? Isn't Ireland the gayest place on earth?
That's precisely why Florence and Susan want to leave, tired of their role as Duneen's token gay family on display in the pub. Just to keep things awkward, Evelyn is having an affair with the much-younger Stephen, who changes his mind about going to San Francisco when he's offered a place on the county hurling team, and the affair ends abruptly when he suggests she becomes a WAG.
P.J. takes charge of the crime scene and only to be surprised by the arrival of sophisticated Dublin Detective Linus Dunn (Clinton Liberty), who decides the bodies of Tommy's parents should be exhumed for a DNA test, as a wedding ring with Bríd and Tommy's initials is found in the grave. P.J. knows the village won't like it, but Linus ignores him. P.J. is proved right when the villagers storm the exhumation (on a Sunday! During mass!), although Linus has followed the correct procedures. Interestingly, the introduction of Linus as an outsider makes the village more receptive to P.J.
When Forensics declares murder to be the cause of death, P.J. becomes overwhelmed, sitting in his car, stuffing bread into his mouth, muttering, "I can't, I can't." As they wait for the DNA results, Bríd goes missing, leaving her children with the Ross sisters. Once again, P.J. and Linus disagree since Linus believes they should be following up on Tommy, who may still be alive. But P.J. talks to Anthony, who doesn't seem concerned that his wife is missing, and then to her son Cathal who suggests she may have gone to a karaoke bar that serves good sandwiches. (He is a sandwich fan.)
P.J. is alarmed to find Bríd's car abandoned at the side of the road but finds her drunk and disruptive in the karaoke bar. He escorts her out and feeds her crisps (potato chips) and then Alka Selzer. Meanwhile, Anthony decides to take the children to his mother's and challenges Bríd to stay sober for a week, after which he'll allow the children to see her. She has no choice but to agree. P.J. questions Bríd about the wedding ring. She confirms it's hers; she threw it away after Tommy stood her up. She's shaken and sad, touched by P.J.'s tenderness, as he cheers her up with ridiculous imitations of Benny Hill and a red squirrel.
These two lonely, damaged people are drawn to each other and become lovers, able to joke about body hair and their imperfect bodies. As Bríd says, "I've had enough shame." But he's disturbed to find Kitty rinsing a bloodstained garment in the bathtub and virtually no food in the home, something he finds almost as worrying as the hate mail Bríd has received urging her to confess.
Then comes the disappointing and unexpected news that there is no DNA match, and the skeleton is not Tommy's –– there's also the bombshell Evelyn drops that she received a letter from him a year after his disappearance. She knows it was from him because it included an Oscar Wilde quote she'd had tattooed on her torso: "One world was not enough for two. Like me and you."
It looks like the case has run out of steam as the series turns focus to Stephen breaking his arm, and his big break (on the county hurling team) falls through. Mrs. Driscoll criticizes P.J. for his failure (as does a local radio presenter, an audio cameo by Graham Norton). But as work progresses on the construction site, the bones of a baby are found nearby. Is there a connection with Tommy? Linus is called back, as he and P.J., now friends and allies, operate as the ideal police team. P.J. confesses he has an eating problem, which doesn't surprise Linus, who's seen the stickers with 'No' written on them inside the refrigerator. Linus refuses to shame him.
A new witness emerges, Mrs. Meaney, who has quit as P.J.'s housekeeper. She knows it is her responsibility to help them solve the case. She shares an extraordinary, decades-old story of violence, trust, and friendship, opening up a whole new perspective on the history of the Ross and Burke families. But Tommy's murderer is still unknown. Linus, realizing they must look beyond the generation of the Ross sisters, and Bríd seeks advice from his superiors on how he should deal with questioning a witness with dementia, referring to Bríd's mother, Kitty. The case narrows in on the Ross sisters and their extraordinary loyalty to each other.
What makes Holding worth watching? It's funny, moving, and tenderly depicts friendship, imperfect families, and eccentric communities. It has enough complexity to keep you guessing and enjoy a last-minute twist. P.J. is a genuinely likable hero who realizes he is worthy of affection and friendship and finds the courage to conquer his greatest fears. This mostly peaceful village may not get another murder, but we can imagine that P.J. will thrive in the future.
---
By
for on March 11th, 2023
More to Love from Telly Visions