By
for on May 3rd, 2021
8 British Shows To Stream In May of 2021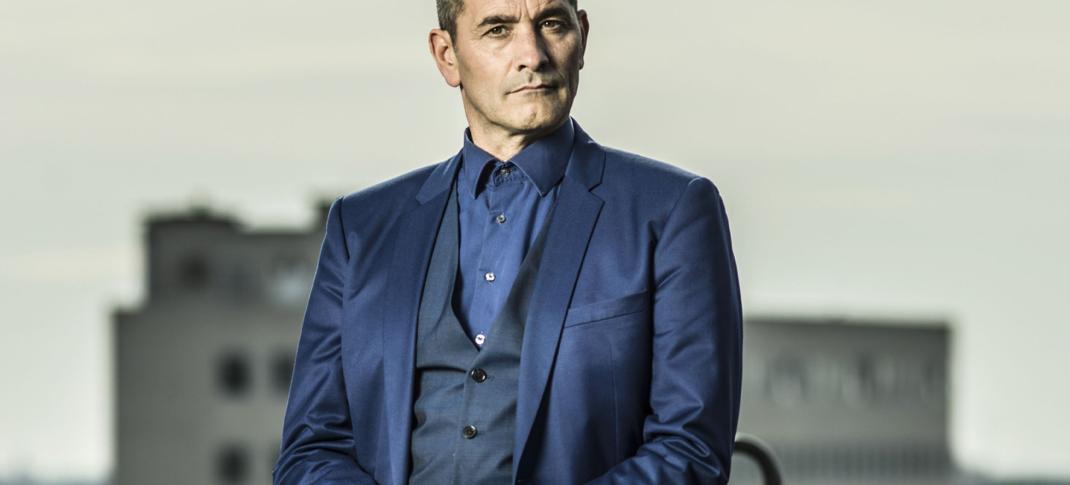 After last year's mass importing of British shows to help American TV fill in the pandemic gaps in programming, May is surprisingly a quiet month in U.K. TV. For the first time in a long time, Netflix doesn't have any new debuts. But that doesn't mean there's nothing to watch.
So, what's coming to the U.S. in British TV this May? Let's run down the biggest titles arriving this month.
PBS
Professor T Season 3 
With Atlantic Crossing and World on Fire continuing for Masterpiece, the only new arrival for Passport is Professor T.
This Walter's Choice series, which ran from 2015-2018 was big enough on Channel 4 when it aired in the U.K. that there's now an English language remake, starring Ben Miller that will be coming to linear PBS in July. However, fans can get a taste of the original criminology professor Jasper Teerlinck (Koen De Bouw) on Passport first.  All episodes of Season 3 arrive on May 27. 
Hulu
Baewatch: Parental Guidance 
For lovers of Love Island, Hulu has a couple of reality series from across the pond this month, both arriving on May 25. The first, Baewatch, is a Channel 4 series that's a bit like America's Temptation Island, where couples go on vacation to see if their relationships can handle a little competition. Hulu is getting Season 1 to start, but I assume Season2 and 3 won't be far behind.
Escape from the City
For fans of Escape to the Country, there's now the Australian Escape From The City. The HouseHunters style reality series follows a group of hosts and realtors as they guide families, couples, and individuals through their life-changing decision to escape the city. It also arrives on Hulu on May 25
HBO/HBO Max
Oslo
HBO's main British import this month isn't a series, it's a movie. Adapted from the Tony Award-winning play of the same name, Oslo is based on the true story of negotiations and secret backchannel talks that led to the 1993 Oslo Peace Accords.
Ruth Wilson (His Dark Materials) stars as Mona Juul, a Norwegian foreign minister, and Andrew Scott (Fleabag) plays her husband, Terje Rød-Larsen. The film debuts May 29 and streams on HBO Max starting the next day.
AMC+/AMC
Too Close
AMC+'s big premiere this month is Too Close, a three-part miniseries starring Emily Watson (Little Women).
Watson plays Emma Robertson, a forensic psychiatrist assigned to study sociopath Connie Mortensen. Robertson believes if she can achieve a breakthrough with the famous murderer, she can make her career, but only finds a tangled web of mind games instead. The series begins on May 20.
Acorn TV
The Drowning
Acorn TV has two major premieres for May, starting with The Drowning, which drops all four episodes on May 6. The series stars Jill Halfpenny (Liar) as Jodie, a woman mourning her son's death, only to believe she's found him alive after she catches sight of a child who looks just like him. The series will simul-streaming on Acorn TV's sister network, Sundance Now.
Whitstable Pearl
AcornTV's big original series it has to itself is the mystery thriller, Whitstable Pearl. Kerry Godliman (After Life) plays Pearl Nolan, the big-hearted local restaurant owner who opens up a detective agency just the body of a close family friend is found under mysterious circumstances. She teams up with new arrival, DCI Mike McGuire (Howard Charles, The Musketeers).
Two episodes arrive May 24, with one a week to follow.
BritBox
Line of Duty Season 6
Did you feel like something was missing from the Acorn TV May lineup? That's right, Line of Duty has moved house. The ratings juggernaut, which hit series highs for Season 6, will premiere on BritBox in the U.S. and Canada this May.
The streaming service has not dropped a date yet, but I'd put an educated guess around the middle of the month.
---
By
for on May 3rd, 2021
More to Love from Telly Visions