By
for on September 20th, 2021
5 Shows Like 'The Great British Baking Show' For Your Reality Competition Needs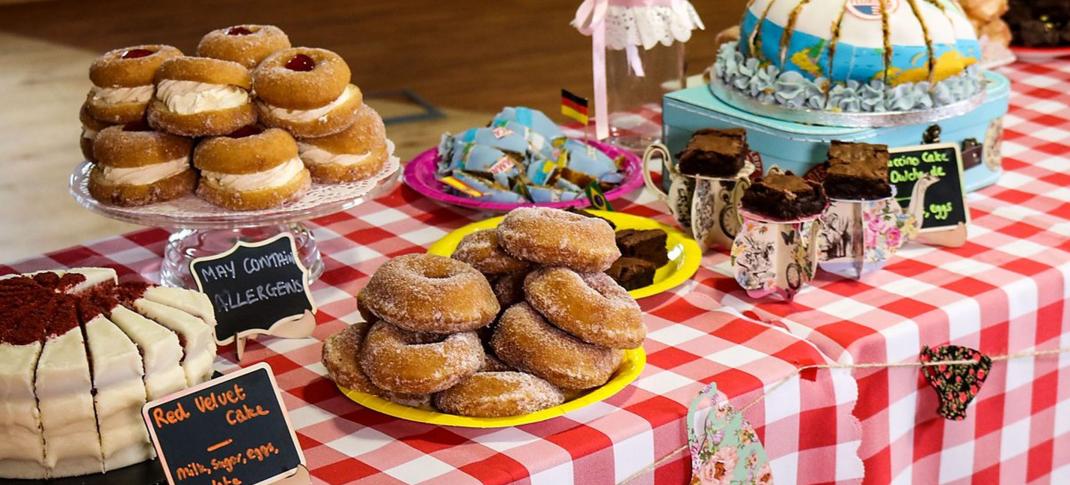 The Great British Bake Off debuted on BBC 2 in 2010 as a Kids In Need charity show enticing people to start fundraising bake-offs at home. No one realized at the time that the series, which featured BBC 2 regular Mary Berry, The Supersizers hosts Mel and Sue, and some dude who was into bread would help radically reform the reality show landscape. The series' gentle, upbeat approach and simple format ushered out the cruel Simon Cowells of the last decade in favor of cheering on those who loved to blend eggs, sugar, milk, and flour into gold.
They say imitation is the sincerest form of flattery. But in TV, it's merely the inevitable response to anything that can still score 10.4 million viewers and 39.8% share after over a decade on air, a transfer from the BBC to Channel 4 that resulted in nearly a year-long delay between seasons, and multiple casting turnovers in both the judge and host positions. And that's just in the U.K. No one knows how well the series does on Netflix because the streaming service doesn't release officially confirmable numbers. But considering it has no less than four The Great British Baking Show dedicated titles and over a dozen reality shows that have followed in its wake, the answer is probably "Very well, thank you."
And the imitators keep on coming. In the last year, there's been American BBQ Showdown (Southern Cookin' GBBO), Nailed It! (Disaster GBBO), Magic Bake-Off (Disney GBBO), and Making It (Parks & Rec GBBO). And more are on the way, with Baker's Dozen (Literally GBBO, Tent And All, Just With Americans) and Baking Impossible (Not Actually GBBO But Still On Netflix). And that's not even including Discovery+, which debuted in January and has wall to wall baking and cooking shows from Food Network, Cooking Channel, Magnolia Network (Chip and Joanna Gains have their own network), not to mention Disco+'s bizarre ideas, like having Duff Goldman bake with Jim Henson's muppets.
So which of these imitation series should an anglophile check out? Here's a rundown of some of the best Baking Show clones and spinoffs on streaming.
The Great Pottery Throwdown
One of the two honest-to-god spinoffs from the same production company that makes GBBO, The Great Pottery Throwdown, is HBO Max's hidden gem. Did HBO Max grab its rights from Channel 4 because it was looking for its own GBBO? Of course it did. Is that bad? Hell no, it is not. You have not lived until you have seen a bunch of contestants attempt to throw bowls blindfolded or watched judge Keith Brymer Jones weep for joy at the perfect vase.
GBBO has Bread Week, GPTD has Bathroom Week. Even better, unlike GBBO, which has gotten weaker each time it changes the judge/host line up, GPTD gains strength. It's fantastic, and you should watch all four seasons. On your mark, get set, sculpt.
The Great Pottery Throwdown Seasons 1-4 are streaming on HBO Max.
Flour Power
When Love Productions attempted to force the BBC to pay £25million or they'd take their tent elsewhere, the austerity strapped channel waved bye-bye to the popular series. It's been struggling to develop a replacement ever since, including The Big Family Cooking Showdown.
The newest version, Flour Power, comes courtesy of BBC Scotland, and it's the closest thing to a winner the channel has managed to land so far. Like GBBO, it's got charity-themed ideals, but its Scottish landscaping and adorably accented contestants are what put it a cut (or a cake) above.
Flour Power is streaming on PBS Passport.
The Big Flower Fight
Netflix's only non-Americanized Knockoff Original of the batch, The Big Flower Fight, does feature some American contestants (and a few Canadians as well). But it's set in Kent and features hosts Natasia Demetriou and Vic Reeves, giving it the proper GBBO flair. Moreover, like GPTD, it goes all out in selecting the weirdest skillset for a reality show competition.
It isn't just flower arranging, but flower sculpture creation, with fantasy art that belongs on floats in network broadcasts parades. There has only been one season, but it's worth it.
The Big Flower Fight is streaming on Netflix.
The Great Interior Design Challenge
If someone crossed GBBO with Trading Spaces, The Great Interior Design Challenge is about what one would expect the result to be. There are a few failings, the biggest being that each contestant is in a different building doing their interior design work, so they can't run and help each other as time winds down.
Also, there's a real Escape to the Country feel, with the need to tell people just how much houses are worth instead of focusing on the design. But even so, it's the closest thing to a large-scale version of GBBO. It's worth a watch on that alone. 
The Great Interior Design Challenge is streaming on Amazon.
Blown Away
What if GBBO but Glass? That's the concept behind Blown Away, which also has the distinction of being Canadian produced, not U.K. based. That means there are more American contestants than any other kind, but the sheer amount of skills that go into this amateur competition is enough to overcome that failure. Also, it's got the best of all the accidental innuendo commentary because it's never forced, and half the time, no one seems to have noticed they've just made several remarks that concern glory holes. Season 2 also has one of the best reality show villains for this new kinder, gentler type of series. 
Blown Away Season 1-2 are streaming on Netflix.
The One You Can't Watch: The Great British Sewing Bee
I am once again asking a struggling streaming service, any struggling streaming service, to bring me all six seasons of The Great British Sewing Bee. Love Production's other-other GBBO spinoff was the first of the clones to hit the BBC when Bake Off became a hit.
Taking Project Runway and turning it into a kinder, gentler amateur competition is a natural fit (far more so than pottery), and the result is a show that would be a massive success for someone if they just got the rights to it. BritBox, Acorn TV, PBS Passport, I'm looking at you guys. Someone step up, please.
The Great British Sewing Bee Seasons 1-6 aren't streaming in the U.S, and I have a big problem with that.
---
By
for on September 20th, 2021
More to Love from Telly Visions