By
for on June 3rd, 2023
5 British Shows to Stream for Pride Month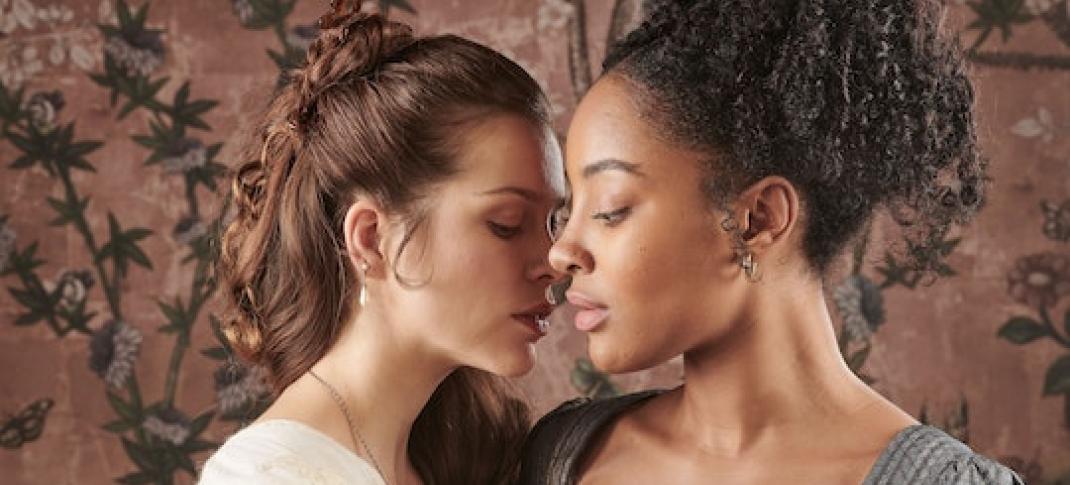 Pride Month is upon us, and this year it seems there are more high-profile shows centering queer characters than ever. The buzz around queer British TV is heating up this summer as we await Season 2 of Heartstopper, the movie adaptation of Red, White and Royal Blue, not to mention fan speculation running rampant about the upcoming (but date unannounced) second season of Our Flag Means Death. While we wait for the slate of summer shows and movies, there are plenty of British shows available to stream that tell a wide range of queer stories.
It's rare that a show centering on a queer love story receives as much attention as Heartstopper, and plenty of great ones have flown under the radar in recent years. Sure, Bridgerton and Sanditon have thrown some crumbs to their queer audiences, but for Pride Month, we're all about shows that put queer stories at the center — and are primarily written and created by queer people themselves. The shows on this list run the gamut from the most buzzy to the most underrated. Whether you're looking for a laugh, a love story, or a history lesson, they have it.
Here are five queer British shows to watch — or re-watch — this Pride Month.
Best known for reviving Doctor Who in 2005, Russell T. Davies is also the creator of an impressive roster of queer TV, focusing on the lives of gay men, including Queer as Folk and the trilogy Cucumber, Banana, and Tofu. The latest in Davies' long line of creations is It's a Sin, which premiered in 2021 to rave reviews for its lovable characters and graceful mix of hilarity and heartbreak.
The series centers on four young gay men who move to London in 1981 to start their young adulthood by living authentically. Of course, as the setting suggests, the friends are quickly beset by the fear and loss of the AIDS crisis. The show presents an unflinching picture of the AIDS crisis, inextricably woven with moments of queer joy and abiding love between the characters.
It's A Sin is streaming on Max.
Man in an Orange Shirt made its way to Masterpiece for Pride Month in 2018, so June is an apt time to revisit it. This drama tells two interwoven stories, one of a gay WWII veteran Michael (Oliver Jackson-Cohen), in the aftermath of WWII, and one about Michael's grandson Adam (Julian Morris), who is also gay, 60 years later in the present day.
Michael and Adam struggle with their relationship with Flora (Vanessa Redgrave), Michael's wife, and Adam's grandmother, who is heartbroken by Michael and unaccepting of her grandson's sexuality. Family secrets and drama play out against the backdrop of Britain's changing attitudes towards queerness. The show is loosely based on the true story of the writer's parents.
Man in an Orange Shirt is streaming on PBS Passport.
The Confessions of Frannie Langton
One of the most unfairly overlooked shows of the spring season, The Confessions of Frannie Langton, has it all: romance, murder mystery, historical drama, and a clear-eyed, nuanced portrayal of queer women. It follows Frannie Langton (Karla-Simone Spence), a servant in 1826 London accused of killing her mistress Marguerite (Sophie Cookson) — who was also her lover — and Marguerite's husband.
The show weaves between Frannie's affair with Marguerite and the time after the murders. Frannie, with no memory of the night of the murders, is arrested and left to piece together what really happened that night. The four-part miniseries is based on the novel of the same name by Sara Collins, who also adapted the novel for the screen. As rare as it is to find shows about queer women, it is rarer still to find one that centers on a queer Black woman like Frannie. Fans of lesbian period dramas like Portrait of a Lady on Fire can expect to be swept up in the show's romance and mystery while also absorbing the show's commentary on race and gender.
The Confessions of Frannie Langton is streaming on BritBox.
A somewhat more lighthearted take on 19th-century lesbians than The Confessions of Frannie Price, Gentleman Jack had a small but mighty cult following during its run. Though it was canceled after two seasons (much to the despair of its fan base), it remains a rollicking good time and a window into the life of queer women in 1830s Yorkshire.
It is based on the diaries of real-life historical figure Anne Lister (Suranne Jones), a wealthy landowner who dressed and acted in traditionally masculine ways and wrote in code about her many affairs with women. The show follows her real-life relationship with heiress Ann Walker (Sophie Rundle). The show's creator, Sally Wainwright, was awarded a fellowship grant in 2016, and she knew from the start that this was the story she wanted to tell. The true stories of Lister's escapades feel made for the screen.
Gentleman Jack is streaming on Max.
The only show on this list without any historical elements, Sex Education, is very much a contemporary show. Though not exclusively a queer show, its characters cover a vast swath of the LGBTQ+ spectrum, and it weaves queer storylines throughout every season. This comedy-drama follows high school students (as well as their parents and teachers) as they contend with the teen turmoils of school, friendship, and, as the title would suggest, sex.
Most notable among its cast of queer characters is the hilarious Eric Effiong, played by Ncuti Gatwa, soon to bring his undeniable charms (and rumored gay representation) to Doctor Who. Sex Education also features rare representation of nuanced bisexual, pansexual, and asexual characters. If the rest of the shows on this list sound like downers to you (to be fair, queer period dramas are almost always at least a little bit downers), Sex Education is here for the laughs.
Sex Education is streaming on Netflix.
---
By
for on June 3rd, 2023
More to Love from Telly Visions