By
for on March 1st, 2022
14 British Shows To Stream in March 2022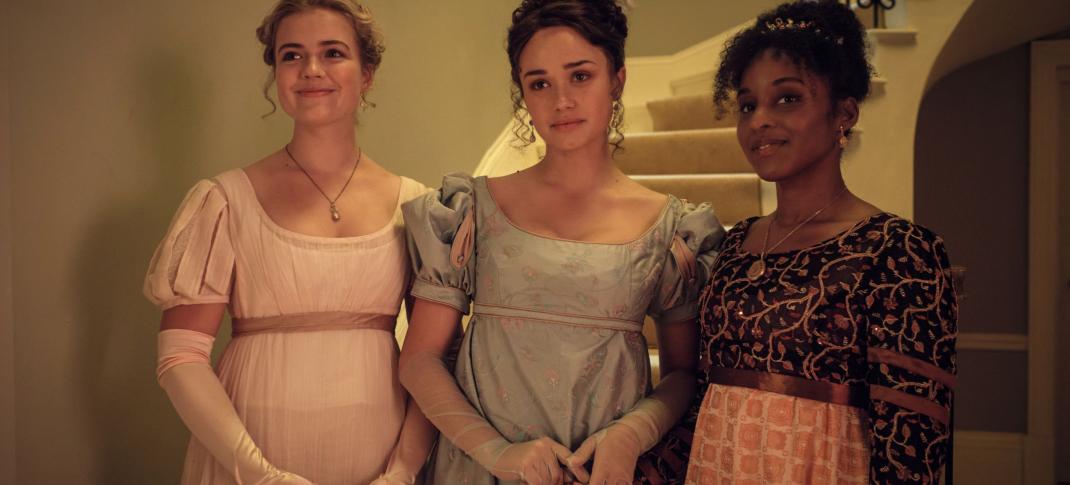 Spring is here, and with it, a bonanza of brand new series debuting in March. British imports are busting out all over with a giant crop arriving on PBS from Masterpiece, Walter's Choice, and more. Meanwhile, big debuts are everywhere, from HBO Max to BritBox to Netflix. 
So, what's coming to the U.S. in British TV this March? Let's run down the biggest titles arriving this month.
PBS Passport
COBRA Season 2
A late February addition to the PBS Passport lineup, the new season of COBRA is back with more government crises. The new season is subtitled "Cyberwar," which should give viewers a good idea of the impending crisis the members of Cabinet Office Briefing Room A will be facing.
Robert Carlyle, Victoria Hamilton, Richard Dormer, and David Haig return, with Richard Pepple joining the cast as the new Home Secretary.
Sanditon Season 2
You did it, Sanditon Sisterhood. The most offbeat Jane Austen novel of them all (because she never finished it) is now Masterpiece's big debut this March as we learn What Charlotte Did Next.
Episodes 1 and 2 will arrive on Sunday, March 20, the day of the broadcast premiere, with weekly arrivals that stay one episode ahead of the broadcast schedule, so members will get to see new episodes early.
Call The Midwife Seasons 10 & 11
Call The Midwife returns with Season 11, even though it feels like Season 10 was only last fall. The aforementioned Season 10 will be available to binge up until premiere day Sunday, March 20, for fans to catch up. (Don't worry if you don't finish, it then moves directly to Netflix.)
Season 11 will then follow the same streaming schedule as Sanditon with Episodes 1-2 streaming on launch day, and then following with weekly debuts one episode ahead of the broadcast schedule so members can watch early.
Before We Die Season 1
For fans of Walter's Choice, the new U.K. remake of one of their most popular mystery series is also coming in March. The Swedish thriller Before We Die, starring Marie Richardson, will be joined by the English Language remake starring Lesley Sharp.
All six episodes will arrive on PBS Passport the day of the broadcast premiere, Sunday, March 20, for members to binge at their leisure.
AMC+
That Dirty Black Bag
AMC+ doesn't have any direct U.K. shows arriving in March (though the final episodes of A Discovery of Witches premiere this month.) Instead, it will debut That Dirty Black Bag, as old school Spaghetti Western drama, shot in Italy and Spain and starring a passel of British actors doing Old West American accents.
The eight-part series stars Dominic Cooper, Douglas Booth, and Aidan Gillen. The series premieres Thursday, March 10, and follows a weekly release schedule. 
Acorn TV
The Chelsea Detective Season 1
The Chelsea Detective is Acorn TV's newest original mystery series. Set in London's upper-class tony Chelsea neighborhood, the series features DI Max Arnold (Adrian Scarborough) and his partner, DS Priya Shamsie (Sonita Henry), who must bring those responsible to justice, no matter their wealth or status. The series premieres Monday, March 7, and will run on a weekly release schedule with four feature-length episodes.
The Good Karma Hospital Season 4
The Good Karma Hospital is back for a new season. Amrita Acharia stars as Dr. Ruby Walker in this India-set medical drama. As with all medical dramas, there's cast turnover with two new doctors joining the staff while others take their leave. The six-episode season premieres on Monday, March 21, with two episodes to start and one a week to follow.
BritBox
Murder In Provence Season 1
BritBox's big new premiere for March is its first cross-pond production streaming exclusively on BritBoxes UK and US. Murder In Provence will arrive here first, starring Roger Allam and Nancy Carroll as the titular detectives from ML Longworth's Verlaque & Bonnet mysteries, set in the gorgeous Aix-en Provence. All three feature-length episodes arrive on Tuesday, March 1.
The Bay Season 3
BritBox's other North American premiere is Season 3 of The Bay. The mystery series, set in Morecambe Bay (hence the name), starred Morven Christie as DC Lisa Armstrong in Seasons 1-2, but she moved on to other roles. The new season introduces Marsha Thomason as DS Jenn Townsend, who takes over for Armstrong. All six episodes arrive Tuesday, March 15.
HBO/HBO Max
Our Flag Means Death Season 1
AMC+ brings cowboys, HBO Max brings pirates in Our Flag Means Death. Rhys Darby stars as the fictionalized version of real-life upper-class twit Stede Bonnet, who decided to go pirating because it was preferable to his marriage. Series creator Taika Waititi co-stars as Blackbeard because you'd co-star as Blackbeard if you made a comedy pirate show, admit it. The ten-episode series debuts Thursday, March 3 with three episodes, then three more the next week, and then two and two to follow.*
*Because if there's one thing we needed to add to the streaming madness confusion, it's an utterly bonkers release schedule.
The Tourist Season 1
HBO Max's other significant import is The Tourist, starring Jamie Dornan. Set in the Australian outback, Dornan plays a man with no memory, who is on the run from a past he can't remember while trying to solve the present of who he is. Thankfully, all six episodes will arrive at once on Thursday, March 3, so they can be found and binged easily.
Netflix
The Last Kingdom Season 5
The British historical fiction television series, The Last Kingdom, based on Bernard Cornwell's The Saxon Stories, is back for another season. Originally a canceled BBC 2 series, Netflix picked it up and has made three more. Season 5 sees the return of Alexander Dreymon as Uhtred and Emily Cox as Brida, the only two cast members to star in all five seasons, as more trouble comes over the horizon. All ten episodes arrive Wednesday, March 9
Bridgerton Season 2
It's not quite British, but it looks the part and sounds the part. Netflix's hit Regency-era romance as reimagined by Americans, Bridgerton, returns for a second season this month.
Based on Book 2 of Julia Quinn's Bridgerton series, the new season will focus on eldest brother Anthony and his battle of wills with love interest Kate Sharma. All eight episodes debut Friday, March 25, so clear your schedule.
Starz
Outlander Season 6
Speaking of sexy, Starz is finally back with more Outlander. Though the show was originally set in Scotland, it moved away from there long ago, first to France and now to America, but it still counts. Based on the long-running Diana Gabaldon series of novels, the show returns to Starz and Starz streaming via Amazon with eight new episodes on Sunday, March 6, with an extended 90-minute debut and one episode a week to follow.
---
By
for on March 1st, 2022
More to Love from Telly Visions