By
for on February 11th, 2023
One Dozen Romantic Period Dramas for Valentine's Day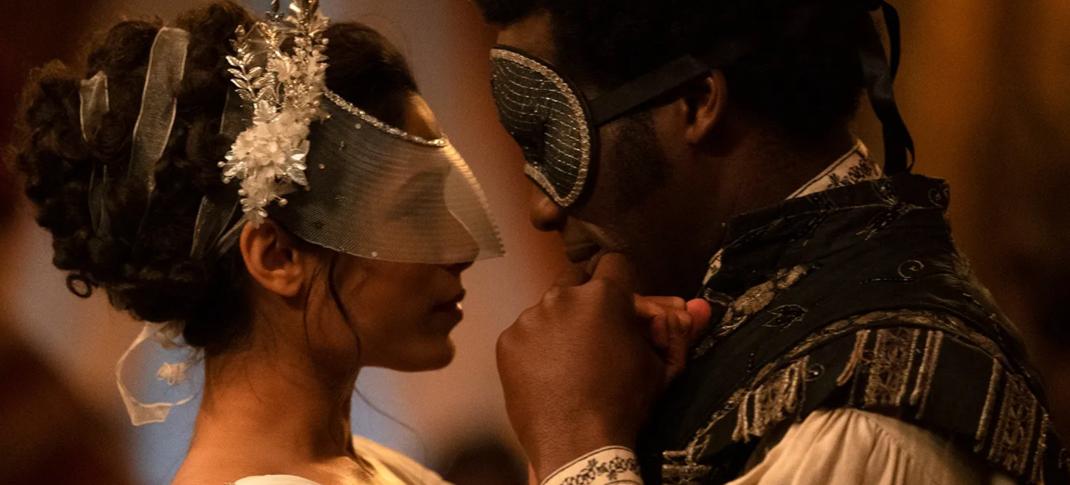 Valentine's Day may be a holiday semi-invented by a conspiracy of florists, chocolatiers, and Hallmark, but that doesn't make it any less of a symbol. It is the halfway point for the shortest (and, let's face it, dreariest) month of the year. Even if you have no sweetheart to take out or the only person to buy chocolates for is yourself, we can all celebrate February 14th as the day this month is half over. And what better way to get through the greyest month than with happy romantic tv series and movies?
Since 2023 is making the most of the holiday by putting it smack in the middle of the week, there are two weekends to sit around eating bonbons and watching fluffy feel-good romance. And there's little that fluffier that period romances, where you can ogle the gowns and sigh over the perfect drawing rooms and the beautiful people finding love in all sorts of cliched manners. 
Lucky for us, period romance tv series and films aren't limited to one or two streaming services. No matter who you subscribe to, there's something for historical drama lovers of all stripes. Here's a rundown of a dozen options to watch this month.
Edith Wharton's story of four wallflowers taking control of their ballroom fortunes, The Buccaneers, is being adapted for Apple TV+, but until that arrives, there's always the 1995 original. Starring Carla Gugino, Alison Elliott, Mira Sorvino, and Rya Kihlstedt, this 1870s set romance of American wealth meeting London aristocracy was Wharton's last book, posthumously published after being finished by Marion Mainwaring from Wharton's notes.
All episodes of The Buccaneers are on BritBox.
Sally Wainwright's dramatization of one of Regency England's most notorious LGBTQ+ landowners, Anne Lister, Gentleman Jack stars Suranne Jones as the titular landowner and industrialist. ("Gentleman Jack" was the derisive name given to her by her male peers.) Wainwright's two-season love story of Lister and her wife, Ann Walker (Sophie Rundle), is drawn directly from the collected diaries of Lister, which contain over four million words and are written largely in secret code.
Both seasons of Gentleman Jack are streaming on HBO Max.
3. 'Miss Fisher's Murder Mysteries'
The delightful series that put Acorn on the map as a streaming service, Miss Fisher's Murder Mysteries, is both a romance and a mystery of the week series based on author Kerry Greenwood's historical mystery novels. Essie Davis plays The Honourable Phryne Fisher, an independent, glamorous 1920s-era private detective determined to solve any crime, while Nathan Page is Detective Inspector Jack Robinson, the police detective who is madly in love with her. There's also the 1960s set spinoff, Ms. Fisher's Modern Murder Mysteries.
All seasons of Miss Fisher's Murder Mysteries (and the movie) are streaming on Acorn TV, as are both seasons of Ms. Fisher's Modern Murder Mysteries.
Even with its American sensibilities on racial equality and class, no period-piece romance list is complete without Netflix's regency romance-style fantasy series Bridgerton. Based on the Julia Quinn novels and produced by powerhouse Shonda Rhimes, the series revolves around the eight Bridgerton siblings and their widowed mother's efforts to marry them off, one by one per season. The first season is also surprisingly faithful to the bodice-ripper tropes inherent in the genre, though Season 2 dials it back quite a bit. The production also has a spinoff prequel in the works, which is expected later this year, Queen Charlotte: A Bridgerton Story.
Bridgerton Seasons 1 and 2 are streaming on Netflix.
A story about a vibrant young woman falling for all the wrong men and the love between her and her BFF, The Pursuit of Love stars Emily Beecham and Lily James as two cousins making their way to marriage in the interwar period. Based on the 1945 novel by Nancy Mitford, the three-episode series traces the stable marriage of Fanny (Beecham) as she watches her favorite cousin, Linda (James), flit from man to man until she finds the right one.
The Pursuit of Love is streaming on Amazon's Prime Video.
Emma Holly Jones' quest to get her period piece film, Mr. Malcolm's List, made is almost as dramatic as the romance itself. The original romance was created as a YouTube short that helped find backers to make a feature-length film, only to be released in the doldrums of the pandemic. The story centers on Julia Thistlewaite (Zawe Ashton) and her attempts to humiliate suitor Mr. Jeremy Malcolm (Sope Dirisu) by showing him his "list" for the perfect woman doesn/t exist by introducing him to her cousin, Selina Dalton (Freida Pinto). Instead, the caper goes haywire as Selina and Malcolm fall in love. 
Mr. Malcolm's List is streaming on Paramount+.
Ever wonder what happened to Rosaline, the girl Romeo was supposed to marry, before declaring he was throwing her over for Juliet? The new movie Rosaline dives into the answer of what was up with that poor girl while you were gasping and shaking your head at the idiot Montague and Capulet children doing themselves in. (They would have been just fine if somebody used their words.) Kaitlyn Dever stars as the non-star-crossed lover who dodged a bullet and wound up with her actual true love, who turns out to have been a much better bloke anyway. 
Hulu is streaming Rosaline free from Friday, February 10, through Wednesday, February 15, 2023. 
Jane Austen's unfinished final novel, Sanditon, was turned into a series by master Austen adapter Andrew Davies, but his sex-soaked take didn't do it for a U.K. audience, dooming the show to cancellation before it hit American shores. However, Masterpiece revived the series (for good or ill), and the show's final episodes are heading this way in March. The series stars Rose Williams as Charlotte Heywood and Crystal Clarke as Georgiana Lamb, two women searching for husbands in the titular resort town.
Sanditon Seasons 1 and 2 are streaming on PBS Passport.
9. 'A Discovery of Witches'
The home of Anne Rice adaptations and zombie fare can't just have a period-piece romance without some supernatural trappings, which is why AMC+'s best period-piece romance is A Discovery of Witches. The three-season series follows the All Souls Trilogy by Deborah Harkness and stars Teresa Palmer as Diana Bishop, a tenured historian witch, and Matthew Goode as Matthew Clairmont, a Vampire Professor of Biochemistry. Their romance takes them back to the 1500s and then back again to the 21st century, but the power of their love never wanes.
All three seasons of A Discovery of Witches are streaming on AMC+.
Like Netflix's Bridgerton, Dickinson is an American-esque period piece set in New England, tracing the story of the real-life poet Emily Dickinson. However, the pre-Civil War setting and the tumblr-esque stylings of the tale of Emily's alleged love for her brother's wife, Sue, make this too much of a timeless classic period piece to worry about which side of the pond it belongs on. Hailee Steinfeld stars as the titular Emily, with Ella Hunt as Sue Gilbert and Adrian Enscoe as brother Austin who married Sue and installed her next door to their childhood home so she and Emily could be together all the time.
All three seasons of Dickinson are available on Apple TV+.
The most significant period-piece romance series of the 2010s, Downton Abbey, revived the genre for the peak TV era at just the right time. The six-season ensemble series features both upstairs and downstairs romances, from star-crossed lovers Lady Mary (Michelle Dockery) and Matthew Crawley (Dan Stevens) to the late-life love affair of butler Mr. Carson (Jim Carter) and housekeeper Mrs. Hughes (Phyllis Logan) and everyone in between. But of course, it's Maggie Smith's Dowager Duchess Violet Crawley and her bon mots everyone keeps returning for, along with the romance and the outfits. 
All six seasons and both Downton Abbey movies are streaming on Peacock.
Outlander's turn from a female-focused Game of Thrones knockoff to an American revolutionary romance is remarkable, as is how good it managed to stay in every format it's run through over the last six seasons. Adapted from Diana Gabaldon's fantasy-romance novels of the same name, the show has survived partly because it never loses sight of its central two time-crossed lovers Claire Randall (Caitríona Balfe), a World War II era nurse who accidentally falls back through time to 1743, where she stumbles across true love Highland warrior Jamie Fraser (Sam Heughan). The series will end with Season 7 later in 2023, but the spinoff Outlander: Blood of my Blood will arrive soon after.
Outlander Seasons 1 through 6 are streaming on Starz.
Stream Now
Sanditon
The fan-favorite drama inspired by Jane Austen's final, unfinished novel.
Image
---
By
for on February 11th, 2023
More to Love from Telly Visions