By
for on February 1st, 2021
12 British Shows To Stream In February 2021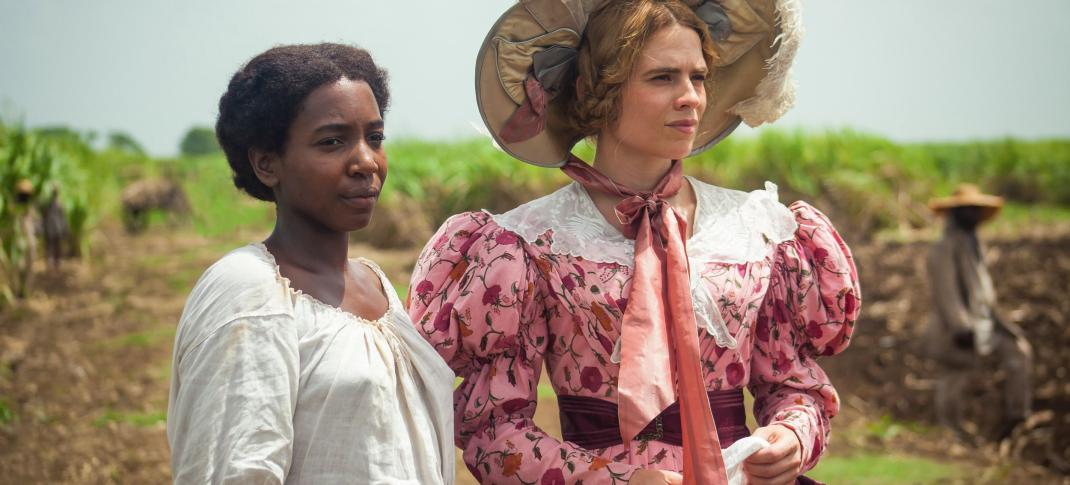 It may be a new year, but it's still the same old pandemic and binge mindset. Luckily for fans of British TV, February brings a bumper crop of new series to enjoy. From PBS Masterpiece and Walter's Choice to a plethora of new titles on Acorn TV and BritBox, hunkering down and snowbound doesn't seem like such a terrible notion.
So, what's coming to the U.S. in British TV this February? Let's run down the biggest titles arriving this month.
PBS
The Long Song
Masterpiece's latest addition, The Long Song, technically premiered on Jan. 31, but streaming begins on Monday, Feb. 1. PBS Passport isn't doing the usual "binge-watch" method. Instead, this is a PBS App weekly drop over the next month. Based on Andrea Levy's award-winning novel of the same name, The Long Song stars Tamara Lawrance as July and Hayley Atwell as her owner Caroline Mortimer in an 1830s-era historical drama, chronicling the end of slavery in Jamaica.
Seaside Hotel
The latest arrival from the Walter's Choice collection is Seaside Hotel. Originally titled Badehotellet, this period piece is a Danish series that has been airing overseas since 2013.
Set in 1920s Denmark, the titular holiday spot is located on the North Sea's sleepy and remote shoreline. This lighthearted series focuses on Fie (Rosalinde Mynster), a sheltered teenager who leaves her widowed father to seek work at an upmarket hotel. All six episodes of Season 1 arrive on Feb. 11.
All Creatures/Miss Scarlet
These Masterpiece premieres from mid-January continue to air new episodes over the next month, with finales for both All Creatures Great & Small and Miss Scarlet & The Duke scheduled for Feb. 21. Both have their full seasons available on PBS Passport for those who can't wait. 
Netflix
Nadiya Bakes Season 1
For fans of Nadiya's Time To Eat, which debuted on Netflix in 2020, the follow up is here. Nadiya Bakes is the latest cooking series from The Great British Baking Show winner Nadiya Hussain, focusing on baked goods rather than overall British favorites. For those who thought Time To Eat was too short at six installments, there's even better news: this series runs eight episodes, all of which arrive on Feb. 12.
Behind Her Eyes Season 1
Unlike Nadiya's Bakes, a BBC Two program that came over here via Netflix, Behind Her Eyes is a Netflix original created by British director and showrunner Steve Lightfoot. The miniseries is about Louise (Simona Brown), who starts an affair with her married boss, David (Tom Bateman), which takes an unexpected turn into a poly triad/love triangle when she winds up seduced by David's wife, Adele (Eve Hewson). All six installments arrive on Feb. 17.
HBO/HBO Max
C.B. Strike: Lethal White
HBO continues its commitment to the J.K. Rowling/Robert Gailbraith Strike series, though, from all appearances, it hopes that if everyone ignores C.B. Strike, it will go away. Initially set to run on HBO proper, the channel shifted the first set of episodes to Cinemax. Now the adaptation of the fourth book, Lethal White, is quietly airing weekly on HBO Max.
The finale arrives on Feb. 10, for those who would like the binge the whole thing. Tom Burke and Holliday Grainger are great in it, for what it's worth.
Acorn TV
Balthazar Series 3
After a year of Acorn originals, the streamer takes a well-earned break and returns to importing exclusive European series for February. The first, Balthazar, arrives on Feb. 8.
It's the third season of this French procedural starring Tomer Sisley (Messiah) as the titular forensic pathologist Raphaël Balthazar. Once again, he teams up with chief inspector Hélène Bach (Hélène de Fougerolles) for a new, darker case. All eight episodes land at once for binging.
Muse of Fire: A Shakespearean Road Movie 
Fans of Shakespeare will love this straight half-documentary/half-road movie of Giles Terera and Dan Poole discovering their love of the Bard and how 400 years of storytelling can't be wrong. Their trip of playwright discovery includes cameos by some of the U.K.'s greatest living Shakespearean actors, including Dame Judi Dench, Sir Ian McKellan, Ewan McGregor, Ralph Fiennes, and Jude Law. Premieres Feb. 8.
The Circuit Series 1-2
Arriving from Australia, The Circuit is a courtroom drama set in the remote communities of the continent's northwestern part. Aaron Pedersen (Mystery Road) stars as the newly-hired Aboriginal lawyer Drew Ellis, who grew up sheltered in white communities back east, only to discover how unequal the law is for black and white communities in the outback. His move also inspires a search to find his lost family. At six episodes a season, this is a 12 episode bing starting Feb. 15.
BritBox
The Pembrokeshire Murders
BritBox is rapidly closing the gap between when shows air in the U.K. and premiere in the U.S.. The latest is The Pembrokeshire Murders, which will start dropping episodes weekly on Feb. 2.
The murder mystery starring Luke Evans as Detective Superintendent Steve Wilkins only began airing on ITV in mid-January and is already a massive hit of 2021. From the producers of Bodyguard, it's a true-crime drama focusing on the cold-case pursuit of the most notorious serial killer in Welsh history.
Honour 
BritBox's newest drama is closer to the norm, having aired overseas in 2019. Keeley Hawes (The Durrells in Corfu) stars as DCI Caroline Goode in Honour, another true-crime drama, this one centered around the death of Banaz Mahmod, a London woman whose family did an "honor killing" because she brought shame to the family.
Banaz went to the police multiple times for protection, only for the mainly white and male force to fail her. Both halves of this two-parter arrive on Feb. 16.
Silent Witness Series 1-21
In BritBox's continuing commitment to completionism, the streamer brings 21 seasons of Silent Witness to streaming on Feb. 26. The BBC pathology procedural, airing since 1996, is on its 23rd season, but BritBox will most likely be picking those up presently.
Fans who have never seen it can start with original star Amanda Burton as Professor Sam Ryan, who starred in the first eight seasons before the lead transferred to Emilia Fox as Nikki Alexander, who still headlines the show today.
---
By
for on February 1st, 2021
More to Love from Telly Visions