By
for on December 29th, 2021
10 British Shows We're Looking Forward To In 2022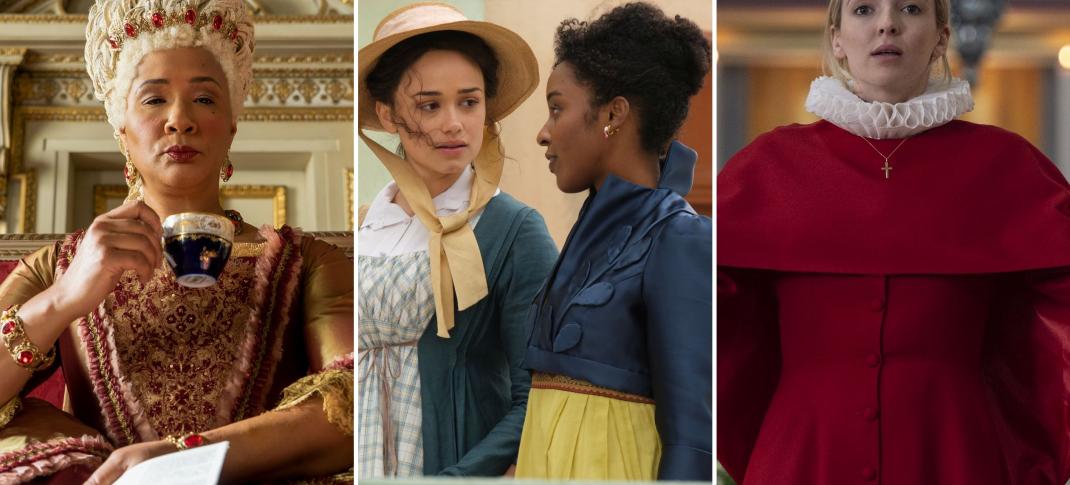 The past year in British entertainment has felt odd, especially for American viewers. The delayed lack of programming from 2020 hit over here in the first half of 2021, leaving us with nothing to watch, while the rush of content the second half of the year made it almost impossible to keep up. The new year will also likely feel like an overload as 2022 continues to work through the backlog of delayed shows.
But the rush of content is better than its absence, and fans have a lot to look forward to in the coming year. With sophomore seasons for multiple dramas, and longtime shows undergoing significant shifts, older titles promise to keep us on our toes. Meanwhile, at least one new show holds the promise of costume drama goodness. Here are the British shows we're looking forward to the most for 2022.
10. The Gilded Age/Downton Abbey: A New Era
A two-for-one, there is nothing PBS fans want more than more Downton Abbey. The early part of 2022 brings a double dose with the long-gestating no-longer-a-straight-prequel The Gilded Age. with Christine Baranski and Carrie Coon. After a long time stuck in development over at NBC, where no one knew what to do with it, the series finally transferred to HBO, where it will have a whole lot bigger budget, but probably more sex and violence than PBS.
Speaking of big budgets, the big screen Downton sequel, Downton Abbey: A New Era, is also coming in the first quarter of 2022, having convinced Maggie Smith to come back once more, and this time the Crowleys are having a summer vacation in France.
9. Unforgotten Season 5
Killing off your big-name lead is usually reserved for fantasy series on HBO, but Unforgotten went there in 2021, taking out Cassie Stuart in a senseless car crash. Though the departure of Nicola Walker is a blow to longtime fans, seeing how the team does in her absence, especially partner Sunny Khan, played by Sanjeev Bhaskar, brings a whole new level of interest to the long-running show.
Whether or not a new lead also means the standard four suspect format will be ripe for an overhaul also is a question, though a far more unlikely change. Either way, fans have a lot to look forward to in Season 5 when it arrives.
8. Killing Eve Season 4
The final season of Killing Eve arrives earlier than usual on the BBC America calendar, pushed up to February from the standard April slot. But after three seasons of the delightful-if-uneven cat-and-mouse game between Eve (Sandra Oh) and Villanelle (Jodie Comer), all good things must come to an end. Laura Neal takes the showrunner reins for this final installment of the spy-vs-serial killer black comedy. The only question is if it ends up with both women dead or riding off together into the London sunset.
7. Grantchester Season 7
Unforgotten wasn't the only show that shook up its cast in 2021. Grantchester gave Al Weaver a tour-de-force as Leonard in his hour of crisis as his sexuality became a public spectacle. But the character has come out the other side stronger, with a clarity of purpose he never had before. Robbed of his vocation in the Church of England for his supposed crime of loving the wrong person, he's discovered a relationship with teaching the word of God he could never find in an organized format, and fans are eager to see where his story takes him next.
6. All Creatures Great & Small Season 2
The All Creatures Great and Small remake with Nicolas Ralph as James Herriot was always going to be a hit among the PBS set. However, last year's timing was impeccable, taking it beyond the usual viewers-like-you and into the mainstream.
The second season of long shots of Yorkshire vistas, low-stakes dramas of who's cow needs saving this week, and doses of human kindness are on the menu for January 2022. And with winter cold arriving and case numbers rising, it looks like the timing will be perfect once again.
5. The Great British Baking Show Season 13/The Great Pottery Throwdown Season 5
Two out of three of Love Production's hit comfort reality series have found homes here in the states. The Great British Baking Show hit new highs in its second decade and larger audiences than ever on Netflix, while The Great Pottery Throwdown finally stabilized its cast after four seasons and found a home on HBO Max. While fans still wait to see which streaming service figures out there's a natural hit waiting in the wings with The Great British Sewing Bee, both GBBO and GPTD continue to be the pandemic comfort foods we all crave.
4. The Crown Season 5
It took four seasons and the arrival of Emma Corrin as Princess Diana to turn The Crown from Netflix's little-watched awards-bait budget-buster series into one of the hottest properties in its arsenal, but the wait was worth it. Season 4 was so influential the current British royal family practically panicked over it. If they think that's bad, just wait for Season 5 in 2022, when a new cast, including Elizabeth Debicki as Diana and Imelda Staunton as Queen Elizabeth, arrives. If one shot from filming can cause this kind of excitement, the season will have royals everywhere reaching for the smelling salts.
3. Miss Scarlet & The Duke Season 2 
One of the brightest spots of 2021 was the arrival of the brand new Victorian-set mystery series Miss Scarlet and The Duke. A mix of fluff and hardcore feminism, this fictional story of London's first female private detective starring Kate Phillips and her struggle to get the patriarchy to take her seriously is also the Moonlighting-in-period-clothing you've wanted your whole life. Season 1 concluded with Miss Scarlet having found her footing and a found family, but left her love interest and BFF William Wellington at odds and ends. Season 2 promises to have Eliza in the driver's seat as they solve mysteries together.
2. Bridgerton Season 2/Queen Charlotte
Viewers may highly anticipate The Crown, but it has serious competition in 2022 with Bridgerton returning to the small screen. The far more fantasy-laden look at royalty was a masterclass in how to reimagine romance for prestige streaming, one that was so hot Netflix isn't even waiting for next Christmas to deliver new episodes.
The new season, starring Simone Ashley as newcomer-to-London Kate Sharma alongside Jonathan Bailey as Anthony Bridgerton, will be just as trope-laden and sex-and-soapy as before. But Season 2's early arrival leaves room for Bridgerton spinoff Queen Charlotte to come in 2022, and fans are hoping that a double dose of the ton is on the way.
1. Sanditon Season 2
Only the Sisterhood believed Sanditon Season 2 would happen, but they were right. Masterpiece announced the surprise renewal (through Season 3) in the spring of 2021 to the shock of all. The PBS anthology series officially picked up the canceled ITV series with an across-the-pond assist from BritBox UK. The timing was such that lead actor Theo James could no longer return as Sidney Parker. However, Rose Williams' Charlotte Heywood will be just fine without him. Season 2 will also bring back Crystal Clake as Georgiana to be Charlotte's BFF and add in Charlotte's younger sister Alison (Rosie Graham) as well. All that and an entire phalanx of eligible men to swoon over? Let the drama and romance begin.
---
By
for on December 29th, 2021
More to Love from Telly Visions